SALT LAKE CITY — Let's make one thing clear: Jordan Clarkson is having an incredible season.
The Utah Jazz's breakout bench player is averaging 18.0 points, 4.1 rebounds and 2.4 assists per game on 42% shooting off the bench for the currently top-seeded Jazz, including five-straight games of 21 points or more as he topped 29 in Utah's 105-98 loss Wednesday night to the Portland Trail Blazers.
He's finding new ways to score, even as teams are able to scout him more, defend him better, and throw an extra body (sometimes two) his way for the well-regarded Jazz player.
But even the Flame Thrower has his limits.
In the absence of Donovan Mitchell and Mike Conley, Clarkson has continued his torrid scoring pace, averaging 28.4 points off the bench in the last five games — but the Jazz have found it isn't always enough as Utah (50-20) dropped its second game of the week in the regular-season home finale, now just 1.5 games up on Phoenix for the No. 1 seed in the Western Conference with two games remaining.
"Both of those guys are missed so much," said Clarkson, who wasn't trying to make excuses for a loss as much as state a fact and share his admiration for the two All-Star guards. "You see a lot more where I'm not in catch-and-shoot situations as much. I'm on the ball a lot more as well as Joe (Ingles), as well as Bojan (Bogdanovich).
"Those two guys come in, make big plays, break the defense down and do things that a lot of teams don't have. Those guys are missed, and we can't wait to get them back for the playoffs. You'll see a good team by then, as well."
It's been just under a month since Mitchell was helped off the court, unable to apply pressure to his right ankle after landing on it awkwardly during a 119-111 win over the Indiana Pacers. Since then, Utah has had a mixed bag of results, an 8-6 record that includes a five-game home winning streak.
JC: 29p | 4r | 3 3pm | 3a
Rudy: 20r | 15p | 2a | 1s | 1b
Joe: 14p | 4a | 4r | 3 3pm
Bojan: 12p | 4r
Georges: 11p | 3 3pm | 2r | 1s
Royce: 8r | 3r | 2p
Trent: 5p | 4r | 1a | 1s
Jarrell: 5p | 1a
Fav: 4r | 3b | 2p
Miye: 3p | 1r#podiumpostgame | @podiumhqpic.twitter.com/CKHQOPdF23

— utahjazz (@utahjazz) May 13, 2021
Among the highs: sweeping a Monday-Wednesday doubleheader with the San Antonio Spurs, who remain in strong contention to play the Jazz after a potential play-in tournament. The lows? Back-to-back losses to Minnesota in a similar time frame, and the current two-game skid.
Like we said, a mixed bag. And Clarkson has surged, not necessarily in the scoring column, but in the video room. Instead of being the third, fourth or fifth product of an opposing team's scout, he's now one of the early looks. Alongside All-Star center Rudy Gobert, Clarkson has been a prime target of opposing defenses, who have keyed on him, Bogdanovich and Ingles as the team's primary offensive threats (no offense to Gobert).
"I've seen everything this second half of the season," he said. "But it's good; I like the challenge.
"It's good I'm seeing it in the regular season, so if teams start doing it in the playoffs, I'm ready for it. I'm starting to get used to it."
The benefit of that mix is obvious: this isn't the playoffs, and for as frustrating as nights like Wednesday were — to both the players, fans and head coach Quin Snyder — Utah still has a 1.5-game lead on Phoenix for the top spot in the West.
Despite some troubles, some hiccups, and a whole bunch of different defensive looks, the Jazz are still in first place in the West.
"Every team is trying to prepare for the game the same way we are," Bogdanovich said. "It's normal that they are going to throw different looks and different defense on us right now."
Overall, the stretch has gone "well" for Snyder — not poorly, but not great, either; a keen choice of word, even if the media will likely overanalyze its use.
"We won five in a row at home, and last night (in a 3-point road loss to the Golden State Warriors) took a game where we were down to the last possession," Snyder said. "I think sometimes when the ball doesn't go in, it has an impact on you. That's something we talk about, playing through that and keep attacking.
"It has a tendency to have an impact, and you can see that. We just have to keep at it, keep helping each other and keep playing together."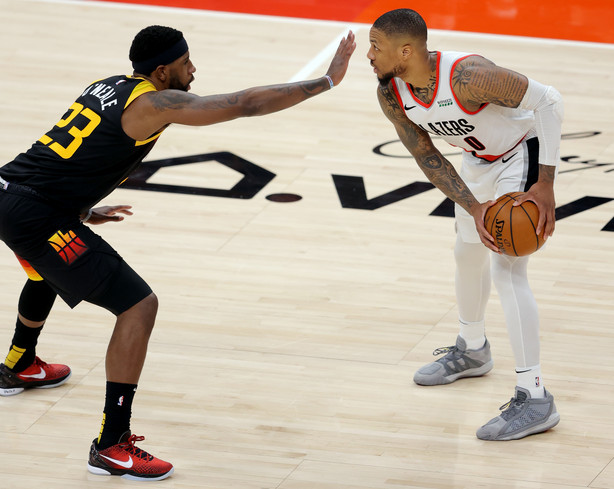 The hope, of course, is to have Mitchell and Conley back in time for the playoffs. Mitchell won't play for the remainder of the regular season, and he'll stay in Salt Lake City during the team's two-game road trip to Oklahoma City and Sacramento to close out the season. Add to it the play-in tournament, where four teams will compete for the last two spots in the conference quarterfinals, and the 24-year-old Louisville product, who averaged 26.4 points per game prior to his absence, should be fully healthy for the postseason.
Ditto for the 33-year-old Conley, who has been out while resting a tight hamstring.
Again, that's at least the hope. The pain and mixed bag of results over the last three weeks is a temporary pain for a greater gain.
"When those guys are not here, the defense can really focus on Joe, Bojan or Jordan, and make their life tougher," Gobert said. "I think it's great for us to go through that phase right now, and it just makes us better. Despite all that, we still played — for the most part of the game — the right way. The ball was moving. We had a lot of wide-open shots. It was a really physical game, and we could've been on the line a few more times. But that's the way it's going to be in the playoffs.
"Having those type of games right now, I think it's good for us to understand we can raise our physicality. It's on us to get into that playoff mode, and keep fighting through it. Keep getting better every night."
Win and you're in, not in the playoffs, but in the top spot in the West. All Utah has to do is beat two teams — the previously eliminated Thunder (21-49) on Friday and a trip to Sacramento (31-38), which is fighting for its postseason life, on Sunday.
So while the old mindset doesn't apply anymore to the once-playoff fringe Jazz, the "win-and-in" mantra will still serve them well.
"It's going to be pretty good teams in the play-in tournament," Bogdanovich said. "We've got to secure the No. 1 spot; we have two games left, and we have to win both of them.
"Whoever we play, it's going to be a tough matchup."
×
Related Stories