SALT LAKE CITY — The massive Temple Square renovation has led to yet another fascinating historic discovery while work on the future of the temple continues.
Officials with The Church of Jesus Christ of Latter-day Saints on Thursday published an update to the large-scale project, sharing both discoveries of old construction from when the Salt Lake Temple was completed in 1893 and updates of new components, including a new tunnel underneath North Temple in downtown Salt Lake City.
Among the pieces of the old construction were square-headed nails upwards of 6 inches used to construct the temple between the 1850s and 1890s. Church officials said the nails actually showed few signs of corrosion.
The nails were discovered as preparation work continues on a new seismic base isolation system, and on capstones and stonework repair and restoration work above ground.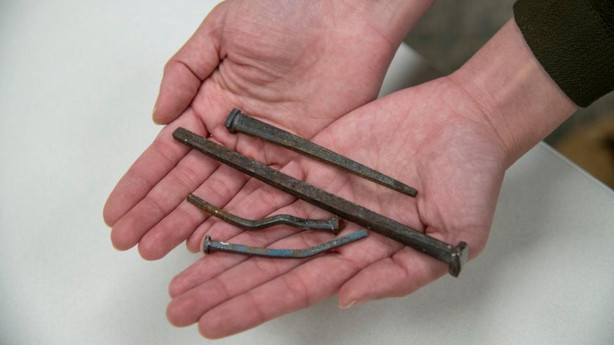 A new tunnel to the temple
Meanwhile, the biggest update to the future of Temple Square is that crews have "reached the end" of a new 180-foot long tunnel that will run underneath North Temple and connect the temple with the Conference Center parking garage.
That means that people can park at the Conference Center for any trips to the Salt Lake Temple in the future. Church officials said the tunnel is about 20 feet below the roadway and its construction hasn't disrupted traffic on the downtown street.
The construction companies were required to do extensive planning because the soil by the tunnel isn't very stable. Michael Conner, superintendent for the company Drill Tech, said the soil is "mostly" cobble and sand.
"And it's not cemented together very well. It's very loose," he said. "There's nothing locking it in place."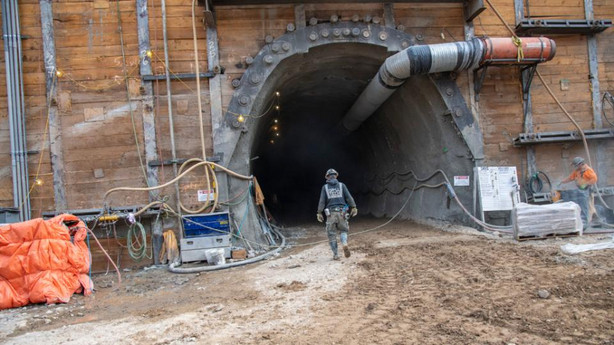 Michael Tinney, an engineer with Kilduff Underground Engineering, said the design process began about a year ago because it was a "big challenge and big undertaking."
Crews installed 8-inch canopy tubes, which are pipes used to ensure that the tunnel doesn't collapse and the ground doesn't cave in on the project's workers. Chris White, superintendent for Jacobsen Construction Company, said they are mining "4 feet at a time" for safety precautions.
In addition to the canopy tubes, workers spray a concrete mixture onto the walls after a new area is excavated. Experts said this is also done to prevent the tunnel from collapsing.
Other odds and ends
Work is also well underway to remove a fountain located in the east plaza of Temple Square, church officials added Thursday.
That's in addition to repairs to water-proofing above the employee parking garage and new landscaping coming to the site.
The entire project is still scheduled to conclude in time for the temple to reopen in 2024.
×