Estimated read time: 5-6 minutes
This archived news story is available only for your personal, non-commercial use. Information in the story may be outdated or superseded by additional information. Reading or replaying the story in its archived form does not constitute a republication of the story.
SALT LAKE CITY — For organizations that deal with graffiti and vandalism outdoors, the vandalism found at the Birthing Scene Petroglyph in Moab late last month was just one in a growing list of cases reported in Utah in recent months and years.
The recent case at the Birthing Scene Petroglyph and another case also found in the Moab area in April capture the most attention, but there are many cases of cultural and landscape vandalism reported at lesser-known sites. In fact, specialists and preservationists say they have found themselves handling all sorts of reports of cases across the state on a weekly basis.
"My question here, that I've been grappling with for a little over a year, is how do we stop archeological vandalism? … This is a pernicious problem," said Elizabeth Hora, an archaeologist for the Utah State Historic Preservation Office, during an online event hosted by the state organization.
The virtual event wasn't sparked by last month's incident in Moab; rather, that incident in Moab just so happened to put a face on the ongoing issue they planned to discuss. And the growing number of cases has made it difficult for groups to remove it in a timely manner, which can lead to even more problems.
"The longer you let vandalism stay out the world, it often attracts more vandalism," Hora continued. "Problems beget problems, so the best thing we can do is nip it in the bud."
Wednesday's online meeting featured not just leaders of the Utah State Historic Preservation Office but also Bekee Hotze, the Salt Lake City district ranger for the U.S. Forest Service, and volunteers from the group Wasatch Graffiti Busters, who regularly find themselves cleaning up graffiti all over the Wasatch Front canyons.
Chris Merritt, Utah State historic preservation officer, said most of the effort is damage done to public lands and artifacts that are over 50 years old or have other significance. After the incidents in Moab, he said he saw comments from people who questioned why it mattered, especially since graffiti and vandalism have occurred quite often since pioneers arrived in the area in the 1800s.
But he argued that people today know better not to damage landscapes and that the graffiti left a century ago didn't disrupt any of the ancient Native American rock art already there.
"The folks that came before us should be respected," Merritt said. "We shouldn't be defacing petroglyphs or pictographs with names and dates."
Despite the laws and protections in place to prevent vandalism and graffiti, which can carry large fines and even jail time in more extreme cases, experts pointed out that the only real way to stop it is for people to choose not to deface public lands. That's the philosophy behind a program the state preservation office launched last year and already planned to gear up this summer before the recent incidents in Moab.
Hora explained that the agency's hope is that the "Stop Archaeological Vandalism" campaign will help educate Utahns and people heading out onto public lands in Utah so that it will stop the "disrespect" of the state's public lands and historic resources.
In the case of the Birthing Scene Petroglyph, or Birthing Rock, Bureau of Land Management officials said earlier this week that they believe they can make the damage less noticeable but the rock will never be like it once was.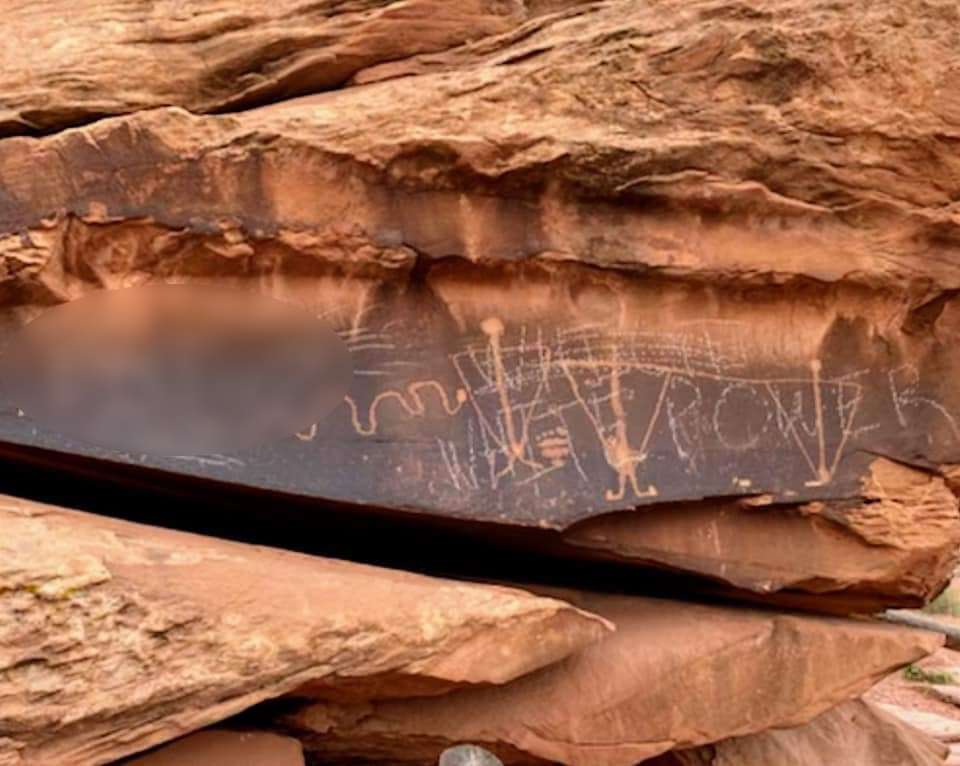 While its damage was a blow to the Utah State Historic Preservation Office, Hora said it could very well help illustrate the growing problem in Utah better than anything else.
"Sometimes when damage has occurred, the best thing to do is use that as a teaching lesson," she said, pointing out that it's not always the right solution or even feasible to fix land vandalism.
In addition to preventing graffiti or vandalism, experts say people shouldn't try to remove paint or scratches from rocks because that can make the damage worse. Anyone who spots vandalism is instead encouraged to contact the manager of the public land, such as the U.S. Forest Service, National Park Service or Bureau of Land Management, or the Utah State Historic Preservation Office.
"Cleaning it up is just adding more impact," Merritt said.
The process for handling graffiti is typically handled differently from how vandalism through scratches is handled. A chemical referred to as fe Snot or brushing can remove graffiti that's sprayed onto rocks. It's also possible to paint over the rock through a rigorous and technical process.
When it comes to scratches, such as what happened to the Birthing Scene Petroglyph, there's bad news. Scratches on rock can't be removed. Experts instead work to make the damage less visible.
"When things get scratched into rock, you're removing, physically, some of that material — and you can't put it back," she said. "You can decrease the brightness of it by removing some of the dust around it, but that scratch is always going to remain."
The other bad news is that as more people choose to recreate on public lands, experts say they expect to continue to receive more reports of vandalism and graffiti.
But they hope that as more people become educated about the issue and are aware of the damage they do, that eventually that type of mindset will spread and reduce the problem in the long run.
"You are going to get more of us who are out there, who are watching these resources, so we don't need to be all doom and gloom about this," Hora said. "Yes, there's going to be more damage, but we can turn that around because there's also more good guys."
×
Related stories
Most recent Outdoors & Rec stories