Estimated read time: 8-9 minutes
This archived news story is available only for your personal, non-commercial use. Information in the story may be outdated or superseded by additional information. Reading or replaying the story in its archived form does not constitute a republication of the story.
PROVO — One of the first things that stood out to New York Jets general manager Joe Douglas about Zach Wilson — and one key reason why he selected the former BYU quarterback with the No. 2 overall pick in Thursday's NFL draft — was his emotion and passion.
Wilson doesn't just enjoy football. He eats it, drinks it, chews it up and spits it out — then goes back to do it over again tomorrow.
But those emotions caught up to Wilson as he walked out of the green room at the NFL draft theater in Cleveland on Thursday night, grabbed a Jets' "Flight Crew" hat off a pedestal, and went to shake NFL commissioner Roger Goodell's hand after slapping palms with a half-dozen Jets fans in the pits as the highest pick in BYU football history.
One of them was already wearing a Jets jersey with "Wilson" on the nameplate, and the BYU signal caller's now-trademark No. 1 on the back. To say the pick was expected is an understatement.
But that didn't make it any less emotional.
"I had a pretty good idea, but how excited I was to be in that situation," Wilson said during a press conference an hour after he was selected Thursday night. "I hugged my parents, and said, 'We made it.'
"But this is a stepping stone for what's to come."
Wilson's career is just beginning, even if he will be celebrated — certainly, for now — as the next great quarterback to wear the Mean Green, the second time in four years the Jets have selected a quarterback with a top-five pick.
The Jets have struggled to find a face of their franchise since the days of "Broadway Joe" Namath, and the names to dot the starting spot have been numerous since.
From Boomer Esiason to Vinny Testaverde, Chad Pennington and an aging Brett Favre, to Mark Sanchez, Geno Smith, Ryan Fitzpatrick, Josh McCown and Sam Darnold — those are just a few of the names that have lined the "quarterback graveyard," with varying degrees of success in the Big Apple.
Wilson believes he's in the best position in the NFL. He's the highest-picked draft selection in BYU history and top pick from the state of Utah — and he couldn't be happier to be in New York, where Saks Fifth Avenue will meet Zach's Fifth Avenue and fans of Broadway Joe will soon meet Wall Street Wilson.
To him, it doesn't matter that the Jets have been a struggling franchise for the better part of the last 20 years. All that matters is that he's here now, and confident things can turn around.
When Wilson first got to BYU, the Cougars were coming off a 4-9 season, had just fired legendary quarterback Ty Detmer as offensive coordinator, and was among the worst-recruited spots on the west coast. Fast forward three years, and Wilson leaves Provo with more than 7,000 yards passing and 56 touchdowns, an eye-popping 74% season completion rate that tops all quarterbacks from the once-nicknamed "Quarterback U.," and an 11-1 season that vaulted Wilson into the top-10 in the Heisman Trophy discussion.
Wilson knows a thing or two about turnarounds. He's confident that he can do it again as a professional.
"You know what, every single team is different each year," Wilson said "There are some different circumstances that happen, different things that start clicking. But every team can come back from that.
"I think what makes something so special is being able to be a part of something, and it make it special. When a team is struggling and you are able to go in there and be a key piece to flip an organization around, I think that is so special. I'm so excited, me along with this new coaching staff, to go in and do the best that we can to flip this thing around."
BYU coach Kalani Sitake took a chance on Wilson as a three-star recruit out of Corner Canyon High School, and he's willing to bet on the new quarterback of the New York Jets.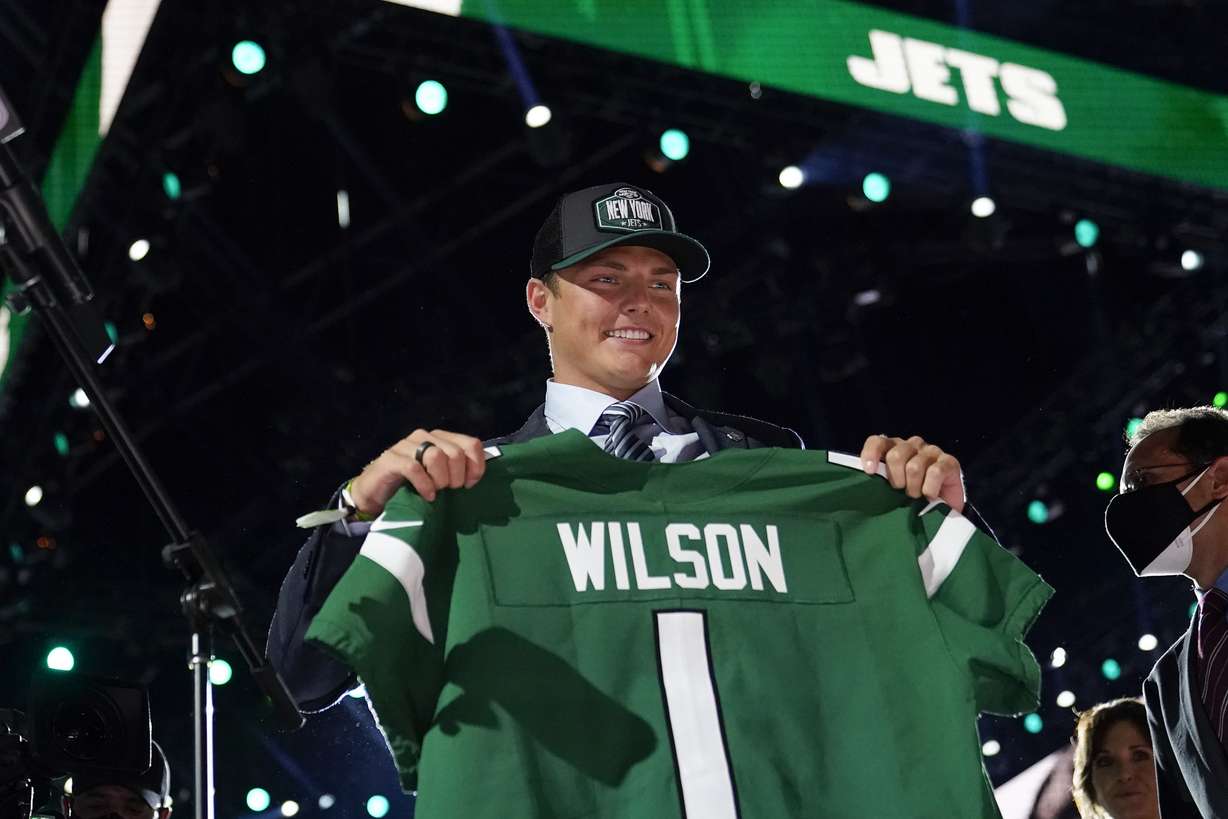 "I know a lot of the guys work hard. But I'm just telling you, this guy eats, drinks, sleeps football," said Sitake, who was joined at the draft by BYU offensive coordinator Aaron Roderick, passing game coordinator Fesi Sitake and Corner Canyon coach Eric Kjar, who all played a role in Wilson's success. "He's a football junkie.
"I don't know how many NFL draft picks watch their alma mater's spring practices, but he watched every one of our 15 practices and then called me after to give me his feedback. While everybody else is playing video games, he's watching Patrick Mahomes, Aaron Rodgers, and the greats. I know it's a tough task, but he's going to work really hard at it."
It's that confidence — in himself and in the people around him — that drew new Jets coach Robert Saleh to Wilson, as well. The Jets run a west coast offense under new coordinator Mike LaFleur that is similar to the one established by Roderick and former BYU offensive coordinator Jeff Grimes, the one run by Kjar at the three-time state champions in Draper, and the one used by Saleh's former team in San Francisco, as well.
"I'm biased towards the scheme we've run for many, many years," Saleh said. "But when you look at Zach, they ran a lot of our system in college. You can see him making all those throws.
"During his pro day, they ran a lot of routes that we run. You could see him have success in our system. But I think this system is built for quarterbacks; it is a quarterback-friendly system, pitch-and-catch, max protection, and the ball is in and out of their hands as quick as possible. You need a quarterback that has a tremendous amount of mental horsepower, and Zach has it."
Wilson's also going to need some help, which is why the Jets traded up midway through the first round to select USC guard Alijah Vera-Tucker at No. 14 overall. With plenty of draft picks and cap space, New York will attempt to do for Wilson what it didn't do for Sam Darnold before shipping the former USC starter to Carolina.
Vera-Tucker is a good start, a 6-foot-4, 315-pound lineman who was responsible for just two sacks and two holds in 849 pass blocks in the last two seasons with the Trojans.
"Where we were sitting at 23, we felt we had a unique opportunity to get a top-10 player like Alijah Vera-Tucker," Jets general manager Joe Douglas said. "He's started at tackle, he's started at guard, and he's been highly productive at both."
Douglas believes Wilson is the player to run his new staff's offense, in part because of his experience with it and also because of what he called tremendous "mental horsepower."
"I love the confidence, love the energy, love the passion," Douglas said. "In our Zoom calls, one of the things that really stood out was his intensity. He was on the edge of his seat, close to the camera; you could tell how intensely focused he was.
"On top of it, the mental horsepower and recall, going through his plays and knowing the situation, the audibles, how the defense would react. It was just really impressive. Every hurdle we had in our pre-draft process, we felt like he cleared."
It's been three years since Wilson stood in his parents' basement, surrounded by Utah swag and gear left over from his father Mike's days as a Ute defensive lineman. Back then, Wilson had just de-committed from Boise State, and had offers from Cal, Iowa and Syracuse, to name a few (noticeably absent: his dad's alma mater, where the Wilsons were season ticket holders for most of Zach's youth).
By their own admission, his family couldn't imagine him ever going to BYU — even after Sitake and Grimes extended a last-minute scholarship offer that caused him to rethink his future in Boise.
Three years later, Wilson embarked on his professional career in a similar fashion: a year early, but with the confidence of an NFL veteran. Like that day that capped the end of his high school career, his parents were by his side.
After a lifetime of sacrifice — from his grandparents to aunts and uncles to a father who took time off his budding business empire to drive him from basketball practice to 7-on-7 camps — Wilson took the first step toward his final destination.
"There's no way I could list every person who's helped me get here," Wilson said. "Looking back, since I was a little kid to my grandparents and my actual parents, everything they've put in for me. My dad sacrificed so much time and money to be able to get me to different basketball camps and football camps, traveling for 7-on-7 camps.
"It extends to my college coaches and my teammates; no one talks about how amazing we were as a team this last year at BYU. I think that's the amazing thing about football: it's truly a team game, and every single guy on that roster had a huge role in this."
---
The Zach Wilson File
Position: Quarterback
Age: 21
Height: 6'3"
Weight: 209 lbs.
School: BYU, Corner Canyon HS
Stat that makes you 👀: Threw for 3,692 yards and 33 touchdowns with just three interceptions as a junior at BYU, leading the Cougars to an 11-1 season and AP Top 25 finish.
×
Related stories
Most recent BYU Cougars stories