Estimated read time: 8-9 minutes
This archived news story is available only for your personal, non-commercial use. Information in the story may be outdated or superseded by additional information. Reading or replaying the story in its archived form does not constitute a republication of the story.
PROVO — Zach Wilson and Penei Sewell are about to rock in Cleveland.
The former Corner Canyon quarterback will be one of 13 players on-site Thursday for day one of the 2021 NFL Draft, while the one-time Desert Hills pass protector and run blocker will be among the 45 players scheduled to drop in virtually — a list that includes presumed No. 1 pick Trevor Lawrence and likely top-10 pick Justin Fields.
Each day leading up to the draft, KSL.com will take a look at the Utah products projected in the latest mock drafts.
Let's start with Thursday's first round (6 p.m MT, ABC/ESPN/NFL Network), where Wilson and Sewell could be the highest-drafted duo in Utah high school football history.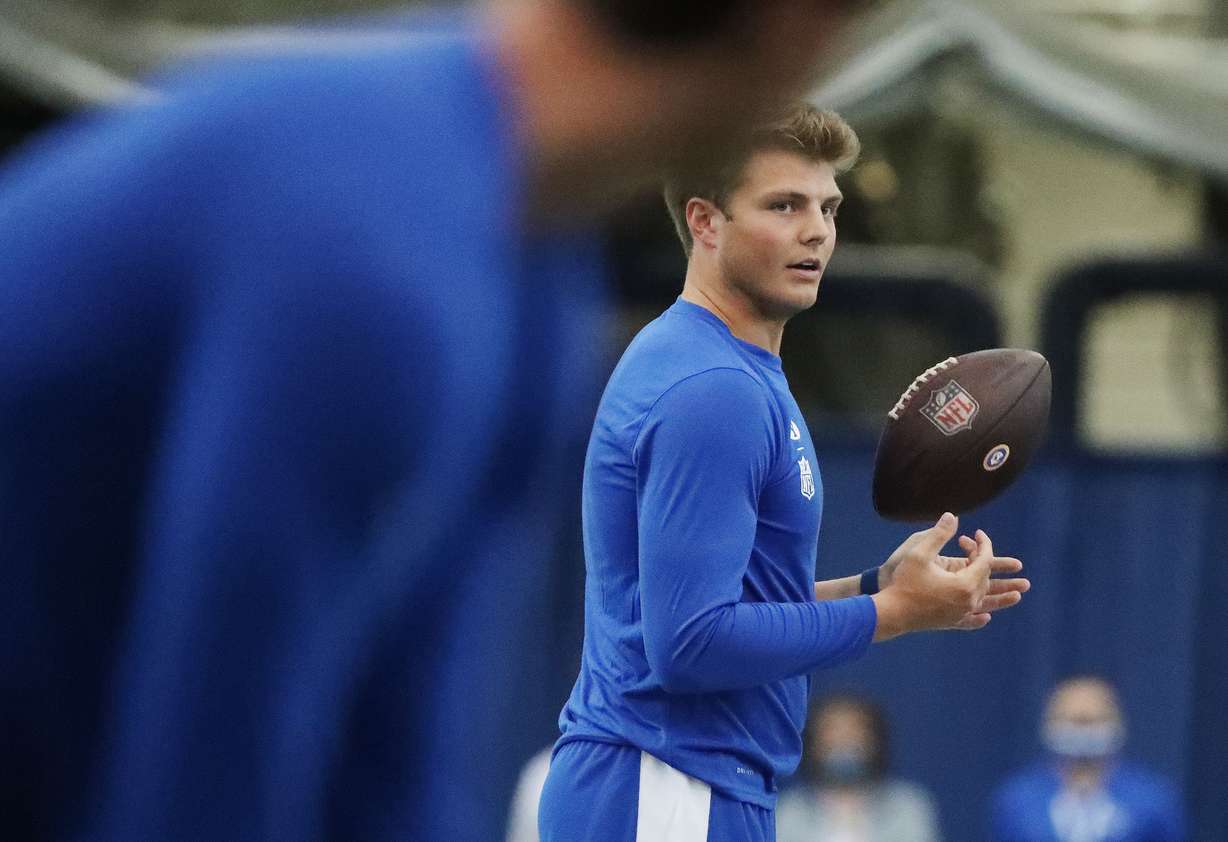 Zach Wilson, QB, BYU (Corner Canyon HS)
To call Wilson's rise up NFL draft boards "meteoric" would be an understatement.
Just three years ago, Wilson stood in the basement of his Draper home, surrounded by friends, family and three reporters from local publications, as he made what was then the hardest decision of his life.
Wilson had just decommitted from Boise State, canceled a recruiting visit to Iowa, and was about to put on a BYU hat for what was probably the first time in his life. For a lifelong Utah fan and the son of former Ute defensive lineman Mike Wilson, the weight was heavy.
The Corner Canyon product was about to take a huge risk on his future — and that risk is now paying off, as Wilson is the near-unanimously projected No. 2 pick in the 2021 NFL draft to the New York Jets.
"It's a risk, anywhere you go, and I think for me, it was a risk to go to BYU," Wilson told BYUtv. "They were a 4-9 team, struggled in recruiting, and it was a risk. But it worked out, I had an amazing experience, and I don't think things would be going this well unless I went to BYU.
"I had such a great support staff, amazing teammates … and being close to home was awesome, as well. It's so crazy how well it worked out."
Three years later, Wilson is coming off a high-flying season, leading the Cougars to an 11-1 campaign and top-15 national ranking after completing 74% of his passes for 3,692 yards and 33 touchdowns with three interceptions during a season that landed him among the top-10 Heisman finalists.
The rise in Wilson's pro football career has seemingly come out of nowhere, at least according to national observers.
But what those observers didn't see were the weekly 13-hour road trips to Southern California to work with former BYU quarterback John Beck, the hours on the practice field or in the park with his dad, or Wilson's insatiable appetite to get better that goes back to the days of his youth teams in Sandy.
Wilson wasn't always the quarterback star he is today, the baby-faced Nike athlete whose pearly whites now carry their own sponsorship and a signature bowl at Chipotle.
At one point during his BYU career, he was just a backup. At another point — just a year ago, even — he was coming off a .500 performance when he threw for 2,382 yards with nearly as many interceptions (9) as touchdowns (11), and whose offseason shoulder surgery presented plenty of challenges to overcome — both externally, as well as internally.
"It takes 10 years to become an overnight success," Beck said. "The entire country is saying, 'where did Zach come from?' But behind closed doors, he's been working a long, long time for this one."
Wilson was mad after his sophomore season — the one that saw him throw three times as many picks as either of his other two years at BYU — and he doesn't mince words about it. Maybe that's why his junior year came as much of a surprise as anything — not just because of his success or his ascension, but because of the hole in which Wilson found himself following a 38-34 loss in Hawaii that capped his 7-6 sophomore year.
"The anger I had after that sophomore season was so high," Wilson recalled. "It was really on myself; I didn't blame anybody but myself. I was frustrated in myself, in my shoulder, in my recovery process.
"What a great experience that was, because I experienced the highest of highs in my freshman year and the lowest of lows after my sophomore season. Not a lot of college guys can say that. A lot of them have been at winning programs since their freshman year, and they're in the national championship every year. I think it's such a benefit for me, that I know what it's like to be on the low end of things; it's going to happen in the NFL. I'm going to hit some adversity, it's going to be tough, and I know how to handle it now."
It's all part of the Zach Wilson story — the good, the bad, and everything in between. On Thursday in Cleveland, Wilson will likely ascend to the top of the NFL draft, becoming highest draft pick in BYU history, and top the record of highest-drafted Utah high school product that has stood since Logan and Utah State alum Merlin Olsen was taken No. 3 overall by the Los Angeles Rams in 1962. But Wilson won't forget where he came from.
After all, that was just a year ago.
"It's a tremendous story for Zach, and a tremendous accomplishment," Beck said. "It's great for him to get that opportunity, because of all the hard work he's put in."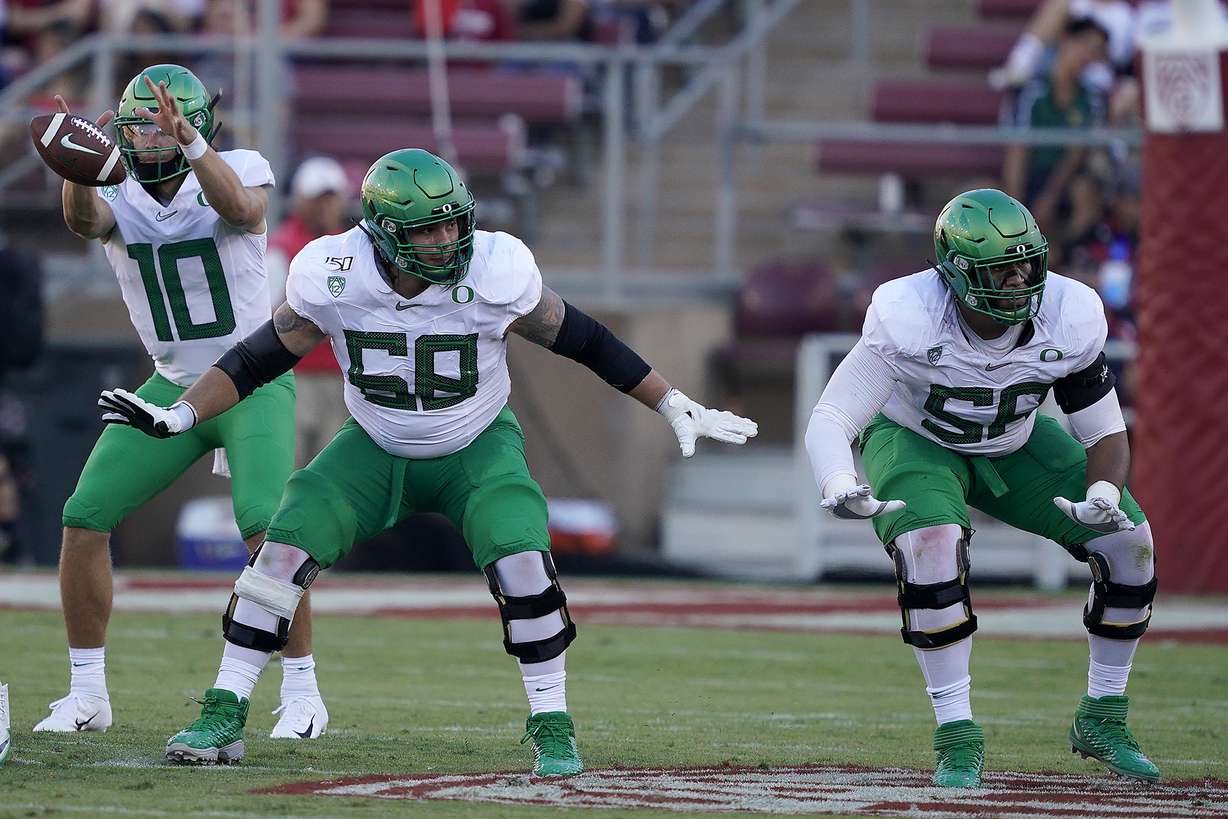 Penei Sewell, OT, Oregon (Desert Hills HS)
It's been over a year since Sewell played a live football game, but if there was any doubt that he was the top offensive tackle in the 2021 NFL draft class, the Desert Hills product eviscerated them during a spectacular Pro Day in Eugene.
Performing drills alongside older brother Gabe Jr., who played at Nevada, Sewell ran a 5.09-second 40-yard dash and 30 reps at 225 pounds on the bench press. The 6-foot-4, 331-pound tackle also posted a 28-inch vertical jump, a 109-inch broad jump and ran a 7.80 in the three-cone drill, showcasing that he's more than a lineman — but an athlete, as well, after opting out of the fall 2020 season due to coronavirus concerns.
"I think people kind of forgot about my name a little bit," Sewell told the NFL Network after his workout. "I just wanted to wake people up and know I'm still OT1 in the draft, and that what I bring to the table is something totally different than everybody's seen."
Most mock drafts have Sewell being selected in the first round, and as high as No. 5 by the Cincinnati Bengals, according to NFL.com's Chad Reuter. He's routinely mentioned alongside Florida tight end Kyle Pitts to be the first non-quarterback selected in the draft.
Sewell's projections also include No. 7 to the Detroit Lions and No. 8 to Carolina, though a trade Tuesday could also send the American Samoa-born, Utah-raised tackle to Miami, as well.
"Whatever it is, if the Bengals pick me, just know that I'm going to give my heart to the organization, to keep Joe Burrow clean as best as I can," said Sewell, the 2019 Outland Trophy winner and Pac-12's Morris Trophy winner the same year. "If they pick me, it's a dream and it's a goal. But if they don't, it's not the end of the world."
The Dolphins, who own the No. 6 overall pick, traded left guard Ereck Flowers to the Washington Football Team, brokering a deal with Flowers' former team to pick up the lineman's three-year, $30 million contract while swapping a pair of late-round picks, as well. Reports also indicate that the Dolphins plan to move left tackle Robert Hunt to left guard to replace Flowers, which opens the door for Sewell to protect the blind side of quarterback Tua Tagovailoa with one of their four picks inside the top-50.
At the very least, it seems unlikely that Sewell will fall below No. 13. That's where he could be reunited with former Oregon quarterback Justin Herbert, who is coming off an Offensive Rookie of the Year season with the LA Chargers.
Herbert hasn't been shy in pushing for his former teammate from Eugene to join him in La-La Land, either.
"I'm doing my best," he told the NFL Network. "He's an incredible player.
"Whenever you get a tackle like that in the draft, he can change your program. Always a big fan and I'm an even bigger fan of the way he is off the field."
---
Zach Wilson
Position: Quarterback
Age: 21
Height: 6'3"
Weight: 209 lbs.
School: BYU, Corner Canyon HS
Penei Sewell
Position: Offensive tackle
Age: 20
Height: 6'6"
Weight: 331 lbs.
School: Oregon, Desert Hills HS
×
Related stories
Most recent NFL stories