Estimated read time: 6-7 minutes
This archived news story is available only for your personal, non-commercial use. Information in the story may be outdated or superseded by additional information. Reading or replaying the story in its archived form does not constitute a republication of the story.
DRAPER — The Wilsons were a University of Utah family, through and through.
Twenty-year season ticket holders. Crimson Club members. A family package on the 50-yard line, two rows up, and seated next to head coach Kyle Whittingham's family for the past several years.
Living in Draper in the south end of the Salt Lake Valley, Lisa Wilson — whose maiden name is Neeleman — and her husband Mike, who played for the Utes in 1993-94, couldn't imagine sending their son to college in Provo at rival BYU.
The thought terrified her, she even admits.
So when her son, Corner Canyon standout quarterback Zachary Wilson, began receiving interest from head coach Kalani Sitake, she had to think long and hard about it.
"We started with pro and con lists," Lisa Wilson said. "In the beginning, the only con to BYU was that we hated BYU.
"It was a big con. We were stressed out."
The family visited the campus in Provo, met with Sitake and his staff, visited with several professors and began falling in love with BYU for Zachary's education and football career — despite their previous allegiances.
"It was amazing," Lisa Wilson said. "We get it all in our heads that these people are a certain way, but they were amazing. They treated us like kings."
After the visit, the Wilsons went to a family Christmas party in the Salt Lake Valley, with 50 dyed-in-the-wool, multi-generational Ute fans. As per tradition, they ended the evening with a Nativity and rousing rendition of "Jingle Bells," broken into verses by household.
When it got to the final verse, the family — red sweaters and all — began with slightly modified lyrics.
"Rise and shout, the Cougars are out …" they began, singing (the best they could) the words to the BYU fight song.
The Wilsons teared up. The decision was made, and on the second day of the NCAA's inaugural early signing period Thursday, Zachary Wilson signed a national letter of intent to play football at BYU in front of nearly a hundred friends and family members.
"That was their way of saying, 'we are so supportive and we love Zach,'" Lisa Wilson said with emotions swelling just recalling the memory. "From that moment on, I knew this is where he was supposed to be."
Wilson, the former Boise State commit, was rated the No. 2 quarterback in Utah by 247Sports, trailing only Washington State signee Cammon Cooper of Lehi.
"It was crazy. There were a lot of schools coming in late, and a lot that I really considered growing up," Zachary Wilson said. "When you get those opportunities, you have to consider them.
"I picked up one right before I was planning on signing, and I just wanted to re-confirm that BYU was the place I wanted to be."
The KSL Game Night Live Class 5A MVP originally committed to Boise State this past summer, but re-opened his recruitment a week ago when new offers came along. He picked the Cougars over offers from a top-four that also included Boise State, Cal and Oregon State.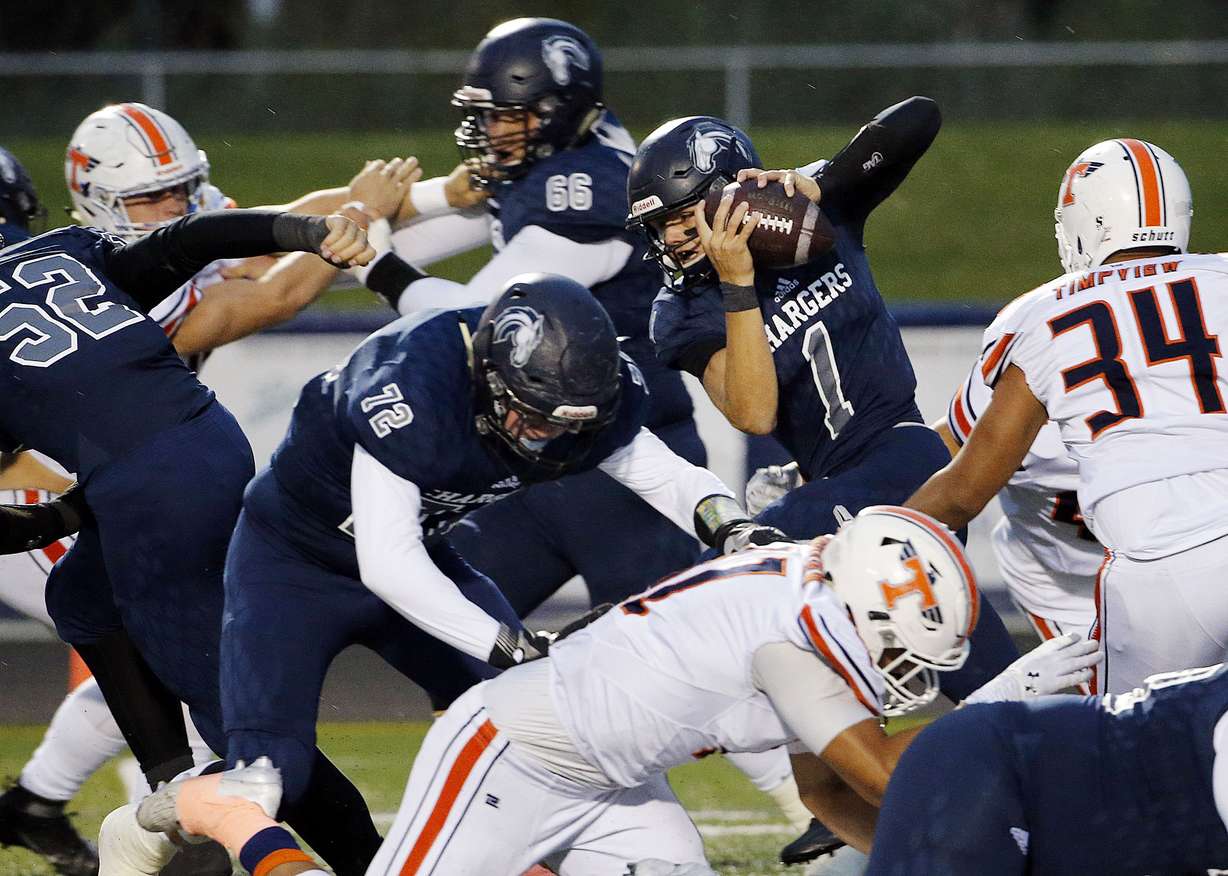 In the end, rivalries died at the prospect of a full-ride athletic scholarship and the chance to compete for playing time in the quarterback room. The Utes could never provide anything more than a preferred walk-on role for Wilson, his family said — and the emergence of four-star quarterback Jack Tuttle in Utah's Class of 2018 didn't help the scholarship crunch.
"Anyone who really cares about me told me they would support me in anything I do," the teenager said. "I've had countless Utah fans tell me they wouldn't normally cheer for BYU, but if I wear blue, they'll cheer for me.
"That meant a lot to me — to know that people care enough to cheer, whatever color I am wearing."
Wilson becomes the 14th player to sign with BYU in the NCAA's inaugural early signing period, and the second quarterback alongside Texas signal caller Stacy Conner. The duo will enroll Jan. 8 and join a quarterback room that includes incumbent starter Tanner Mangum, Beau Hoge, Koy Detmer Jr., Joe Critchlow, Kody Wilstead from Pine View and returning missionary Jaren Hall from Maple Mountain.
"It'll be nice going in early," Wilson told reporters after making his intentions known. "It will be nice to get an intro to school, to football, to everything.
"It's new to everybody right now — a new offense, a bunch of guys who have been hurt, and there's an open opportunity for everybody."
The Cougars entered the picture late, meeting with Wilson and his family and offering a scholarship around the same time as they were hiring offensive coordinator Jeff Grimes from LSU.
"I always knew the head coach (Sitake), and he was a great guy. When the offensive coordinator changed, they found somebody who really wanted me," Wilson said. "If you can play in front of your family, there is nothing better than that."
Wilson only visited Boise State and BYU, but was en route to an official visit at Iowa last weekend before the Hawkeyes signed a five-star quarterback from California, ending the family's visit before it began. He took unofficial trips to both Oregon State and Cal, as well.
In its place, the family made the trip to Provo and met with head coach Kalani Sitake and his new staff. It was Wilson's first official visit since traveling to Boise, Idaho on Nov. 4, though he had granted a verbal commitment to the Broncos in June.
The 6-foot-3, 200-pound dual-threat signal caller threw for 2,976 yards and 24 touchdowns and ran for 719 yards and eight scores while leading Corner Canyon to an 11-1 record and a spot in the Class 5A state semifinals as a senior. Wilson missed three games for the Chargers with a left ankle injury, but said returned for the state playoffs and nearly led his team to the state title game.
He also had offers from Minnesota, Syracuse, Hawaii, Utah State and Weber State, among others, during a senior season where he missed three games with an injury.
"Boise wanted me to be 100 percent, and I wasn't when I had some other opportunities," Wilson said.
Wilson finished his 32-game high school career completing 61.4 percent of his passes for 6,691 yards, 54 touchdowns and 19 interceptions.
"I had a friend whose son moved from Utah to BYU," Lisa Wilson said. "She told me to cheer for my son, no matter what color he wears. He's still my son.
"I knew she was right."
×
Related stories
Most recent Sports stories