SALT LAKE CITY — As supply for COVID-19 vaccines is starting to outpace demand in Utah, and the state appears to be in the midst of another plateau in new cases of the disease, state officials reminded Utahns Thursday that we're very close to the finish line but haven't crossed it yet.
"We're in a plateau right now, a clear plateau," Utah Gov. Spencer Cox said at his weekly COVID-19 pandemic news conference. "This is just a reminder that the pandemic is not over."
Utah's number of COVID-19 cases increased by 472 on Thursday, with one more death and 34,402 vaccinations reported, according to the Utah Department of Health.
Health department state epidemiologist Dr. Angela Dunn said some states across the U.S. have seen cases go up in the last few weeks, but Utah has been able to avoid that scenario by continuing its "rapid uptake" in vaccinations. There hasn't been any indication yet that the April 10 end to Utah's statewide mask mandate is splaying a factor in why the state has plateaued again, Dunn said.
Utah is expected to deliver its 2 millionth COVID-19 dose at some point Thursday, Cox added. State officials are now working to continue that momentum by increasing vaccine accessibility in more hard-to-reach areas and populations across Utah.
Dunn encouraged people who haven't found the time thus far to schedule a vaccination appointment to do so now because there are plenty of doses and appointments available. People who are still feeling hesitant about getting the vaccine should talk to their medical providers or reach out to vaccinated family and friends to make sure they're getting the best information available about the vaccine.
"This is the way we're going to end the pandemic," Dunn said.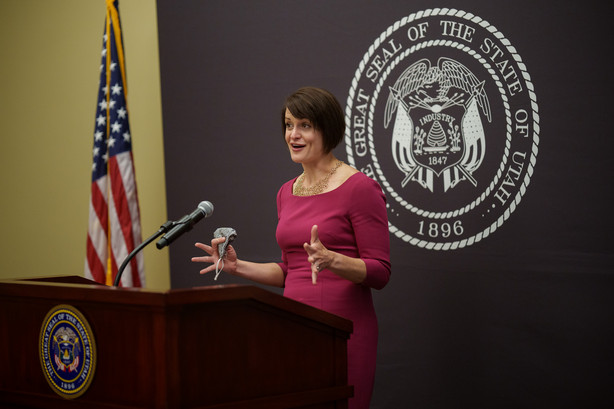 Thursday was Dunn's first public appearance since announcing earlier this week that she will leave the state's health department this summer to become the executive director of the Salt Lake County Health Department.
Dunn didn't comment on her career change except to clarify that she isn't being fired from the Utah Department of Health. She said she will be focused solely on informing the statewide COVID-19 response until she makes the transition in the summer.
Cox thanked Dunn for her work with the state's COVID-19 response effort and joked that he would try to institute an executive order barring her from leaving her position.
"We're so excited for her and so sad for us," Cox said.
---
Utah Gov. Spencer Cox, along with Lt. Gov. Deidre Henderson and Utah Department of Health state epidemiologist Dr. Angela Dunn, provided a COVID-19 pandemic update at a Thursday morning news conference. Watch the replay of the event below.
---
State focusing on vaccine equity
While vaccine equity and accessibility are improving across Utah, there is still ground to be made up.
About 37% of vaccine-eligible Asian adults in Utah have now received at least one dose of the COVID-19 vaccine. Just under 29% of Hispanic adults have at least one dose, and just under 20% of Black adults have received at least one dose, according to Lt. Gov. Deidre Henderson.
However, about 47% of white adults have received at least one dose, so there is still a discrepancy, Henderson said.
"We want to make sure that our doses administered really, truly do reflect the population of the state," she said.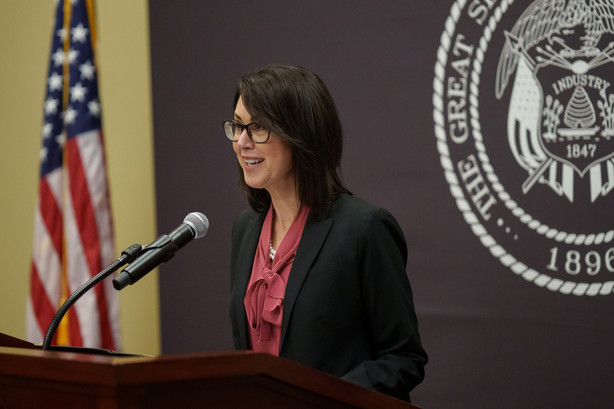 The state is still focusing on harder-to-reach populations such as rural and frontier Utah communities, long-term care facilities and homebound individuals, Henderson said.
Additionally, the state is focusing on vaccinating 16- and 17-year-olds before the school year ends, Henderson. Parents still have to give permission for those teenagers to get vaccinated, but doing so will ensure students will be able to return to school in person in the fall, she said.
In another effort to improve vaccine access, people will now be able to book a free Lyft ride to their vaccine appointment. Regence Blue Cross Blue Shield of Utah donated $250,000 to United Way Worldwide and United Way Salt Lake to fund the free Lyft rides. People can schedule a free ride through the United Way by calling 211.
The nationwide pause on the Johnson & Johnson vaccine over rare blood clotting issues has complicated some of the state's vaccine equity plans, Cox said. An update on the pause could come on Friday or Saturday from the federal Centers for Disease Control and Prevention and the Food and Drug Administration, which instituted the pause, Cox said.
"There is no question that this has impacted the national effort," the governor said.
In many cases, the state has been able to use the Pfizer vaccine instead of the Johnson & Johnson because more doses of the former are available, the governor said. However, since the Pfizer product requires a second dose, it's more complicated than the Johnson & Johnson.
One example of complications arising from the pause is college students, Cox said. Many students may have planned to get the sole dose of the Johnson & Johnson vaccine in Utah, but they may now have to get their first dose of the Pfizer or Moderna vaccine in Utah and then schedule their second dose in another state after returning home for summer break, Cox added.
New COVID-19 cases
The state now estimates there are 8,525 active cases of COVID-19 in Utah.
The rolling seven-day average number of positive cases per day is now at 386, down from about 390 last week, according to Dunn. The positive test rate per day for that time period calculated with the "people over people" method is now 6%, down from about 7.4% last week, Dunn said. The positive test rate per day for that time period calculated with the "test over test" method is now 2.96%, down from 3.7% last week, Dunn added.
There are 137 COVID-19 patients currently hospitalized in Utah, including 51 in intensive care, state data shows. About 69% of intensive care unit beds in Utah are now occupied, including about 73% of ICU beds in the state's 16 referral hospitals. About 55% of non-ICU hospital beds are now occupied in Utah, according to the health department.
A total of 1,985,296 vaccine doses have been administered in the state, up from 1,950,894 Wednesday and up about 176,000 since last week. A total of 1,231,125 Utahns have now received at least one vaccine dose, and 840,382 are now fully vaccinated. A total of 2,284,780 vaccine doses have been shipped to the state so far.
About 51.8% of vaccine-eligible Utahns ages 16 and older have now received one dose of the vaccine, and 35.3% are now fully vaccinated. About 38.4% of all Utahns, including children under 16 who aren't currently eligible for the vaccine, have now received at least one dose, and 26.2% are fully vaccinated, state data shows.
About 86% of Utahns age 65 and older have now received at least one vaccine dose, and 74% are now fully vaccinated, according to Cox. About 77% of people 70 and older are now fully vaccinated, he added.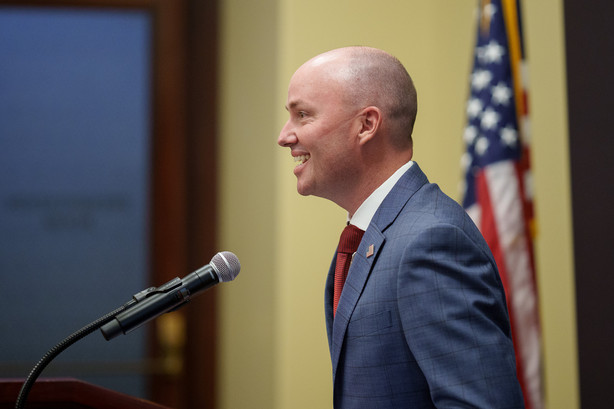 Thursday's new numbers indicate a 0.1% increase in positive cases since Wednesday. Of the 2,512,546 people tested for COVID-19 in Utah so far, 15.7% have tested positive for the disease. The total number of tests conducted since the pandemic started in Utah is now 4,525,584, up 16,394 since Wednesday. Of those, 6,650 were tests of people who hadn't previously been tested for the disease.
The death that was reported Thursday was a Summit County woman who was between the ages of 45 and 64 and was hospitalized when she died.
Thursday's totals give Utah 394,334 total confirmed cases of COVID-19, with 16,004 total hospitalizations and 2,178 total deaths from the disease. An estimated 383,631 Utah COVID-19 cases are now considered recovered.
For the first time in several weeks, a county has gone back up to the high COVID-19 transmission level under Utah's transmission index system. Grand County is now the only Utah county to be rated at the high transmission level.
Washington County also went back up the scale Thursday, from the low transmission level to the moderate level. Beaver, Box Elder, Cache, Davis, Duchesne, Iron, Morgan, Salt Lake, Summit, Tooele, Uintah, Utah, Wasatch and Weber counties are also rated at the moderate transmission level this week. All 13 other Utah counties are at a low transmission level.
More small business grants available
At the Thursday press conference, Cox also announced that there will be another round of grant funding available for small businesses in Utah that were severely impacted by the pandemic.
The $15 million in funding will be reserved for businesses, nonprofits and organizations that have been among the hardest hit by the pandemic, the governor said. This includes organizations that have experienced a revenue loss of 90% or greater when comparing any four-month stretch of 2019 to any of the same four months in 2020, Cox said.
As of Wednesday, the Governor's Office of Economic Development had received about 300 applications for the funding, but only about 68 of those applications fit the requirements.
Businesses can apply for the funding until April 27 at 5 p.m., Cox said. More information about how to apply is available at coronavirus.utah.gov/business.
×
Photos