Estimated read time: 10-11 minutes
This archived news story is available only for your personal, non-commercial use. Information in the story may be outdated or superseded by additional information. Reading or replaying the story in its archived form does not constitute a republication of the story.
SALT LAKE CITY — Utahns are bracing for the next battle in the ongoing war over public lands and wondering if President Joe Biden, like three of his predecessors, intends to invoke the Antiquities Act and unilaterally determine the fate of lands previously included in Bears Ears and Grand Staircase-Escalante national monuments.
Following what has become a traditional visit to Southern Utah from all newly sworn-in Secretaries of the Interior, Utah waits with bated breath for Biden's decision.
Seemingly anticipating the expansion or restoration of Bears Ears and Grand Staircase-Escalante national monuments, Gov. Spencer Cox has preemptively stated Utah will likely sue if President Biden decides to "unilaterally" restore or expand Utah's national monuments.
Expect "unilateral" to show up often in this debate. It is the linchpin to the debate over national monuments and the Antiquities Act. Should a U.S. president be permitted at their discretion to determine the fate of federal lands in Utah?
While Utahns continue the debate, let's take the opportunity to rise above the political maelstrom and discuss how unilateral land proclamations came to be and examine Utah's surprising history with presidential land proclamations.
Related:
A pre-Antiquities Act era
To understand presidential land proclamations and their effect on Utah, we have to go back long before the controversies over Grand Staircase-Escalante or Bears Ears. Utah's experience with and resistance to sweeping presidential land designations is far older than most Utahns realize. It even predates the Antiquities Act.
Article 4 Section 3 of the United States Constitution states: "The Congress shall have Power to dispose of and make all needful rules and Regulations respecting the Territory or other Property belonging to the United States…" In short, Congress holds the keys to federal lands.
So, if disposal and regulation of federal lands is the constitutional responsibility of Congress, then what business do U.S. presidents have to unilaterally designate federal lands as monuments?
Following the Civil War, sweeping changes washed over the entire country. American Indians, bison herds, pioneers and virgin landscapes were replaced by homesteaders, industrial mining operations, and large-scale logging interests. Many Americans began fearing that the nation's natural resources were not inexhaustible as was commonly thought at the time.
The U.S. Forest Service points out that a growing national interest in "responsible stewardship"led Congress to pass the Forest Reserve Act of 1891. That act is where Congress delegated a portion of their authority over federal lands to the president who could "set apart and reserve, in any state or territory … wholly or in part covered with timber undergrowth, whether of commercial value or not, as public reservations; and the president shall, by public proclamation declare the establishment of such reservations and limits thereof."
Within a month, the Forest Service says then-President Benjamin Harrison established, by proclamation, the Yellowstone Park Timberland Reserve (now part of Shoshone and Bridger-Teton national forests). Harrison would also go on to create 15 forest reserves, setting aside 13 million acres in the states and territories of Wyoming, Colorado, California, Oregon, Washington and Alaska.
His successor, President Grover Cleveland, would add 15 more forest reserves, including 13 on Feb. 22, 1897. That day would go on to be known as the "Washington's Birthday Reserves," which included, among others: Mt. Rainier Forest Preserve, Olympic Forest Preserve, Teton Forest Reserve and the Uintah Forest Reserve in Utah — the predecessor of today's Uinta-Wasatch-Cache and Ashley national forests. The National Park Service notes that Cleveland is credited with preserving more than 21 million acres of forest lands and watersheds in the nation's early forest system.
The outcry was immediate and intense and would come to foreshadow every conflict to be repeated time and time again in America's battles over public lands for more than a century. The Western states, in particular, wanted the new forest preserves eliminated, including Utah's delegation to Washington.
Joseph Rawlins, a Democratic senator from Utah declared Cleveland's forest proclamations "as gross an outrage almost as was committed by William the Conquerer, who … drove out and destroyed the means of livelihood of hundreds of thousands of people."
Because of the backlash and souring Western views of the new forest system, the president's authority, under the Forest Reserve Act, was altered under the McKinley administration. The change required that lands set aside as forest reserves preserve watersheds and provide for managed uses like timber harvest and other "necessities of citizens of the United States,"according to a History of the Uinta National Forest by the U.S. Forest Service.
Presidential forest reserves would be defined using a multiple-use philosophy intended to provide a sustained resource yield, effectively managing forests like crops and public spaces. The American Presidency Project says McKinley would add a couple of forest reserves to the system, including the Payson Forest Reserve (now a section of Uinta-Wasatch-Cache National Forest).
But following McKinley's assassination, Theodore Roosevelt, his vice president, would assume the office of the president. Roosevelt would go on to passionately — and controversially — stretch presidential powers under the Forest Reserve Act far beyond any of his predecessors.
He would also be the first president to see the Antiquities Act added to his unilateral presidential tool kit.
Roosevelt and the Antiquities Act
During Roosevelt's presidency, an article on the U.S. Embassy and Consulate in the Republic of Korea's website says the "inexhaustible" view of America's natural resources remained popular. But "Teddy," as the president was often called, had witnessed the degradation of natural resources and the loss of wildlife firsthand and concluded that the nation's resources were "certain to be exhausted," the National Parks Service says. That would greatly burden coming generations if action was not taken to preserve the nation's natural resources. Roosevelt made it his mission to preserve what he called "the most glorious heritage a people ever received."
The U.S. Department of the interior notes that Roosevelt created 150 forest preserves, mostly by proclamation, averaging 1 million acres apiece. Among them are several names Utahns will undoubtedly recognize:
While the Forest Reserve Act allowed a president to set aside watersheds and timberland for multiple-use purposes, it could do nothing to stem the rampant looting and destruction of archaeological sites across the country. After a generation-long effort to provide for fast-acting legislation to halt the exploitation of historic and scientific resources, the Antiquities Act, the effectual younger sibling of the Forest Reserve Act, was signed into law on June 8, 1906.
Unlike the Forest Reserve Act that set aside timber and watersheds, the Antiquities Act allowed for the rapid preservation of the nation's historic and scientific heritage via unilateral presidential proclamation.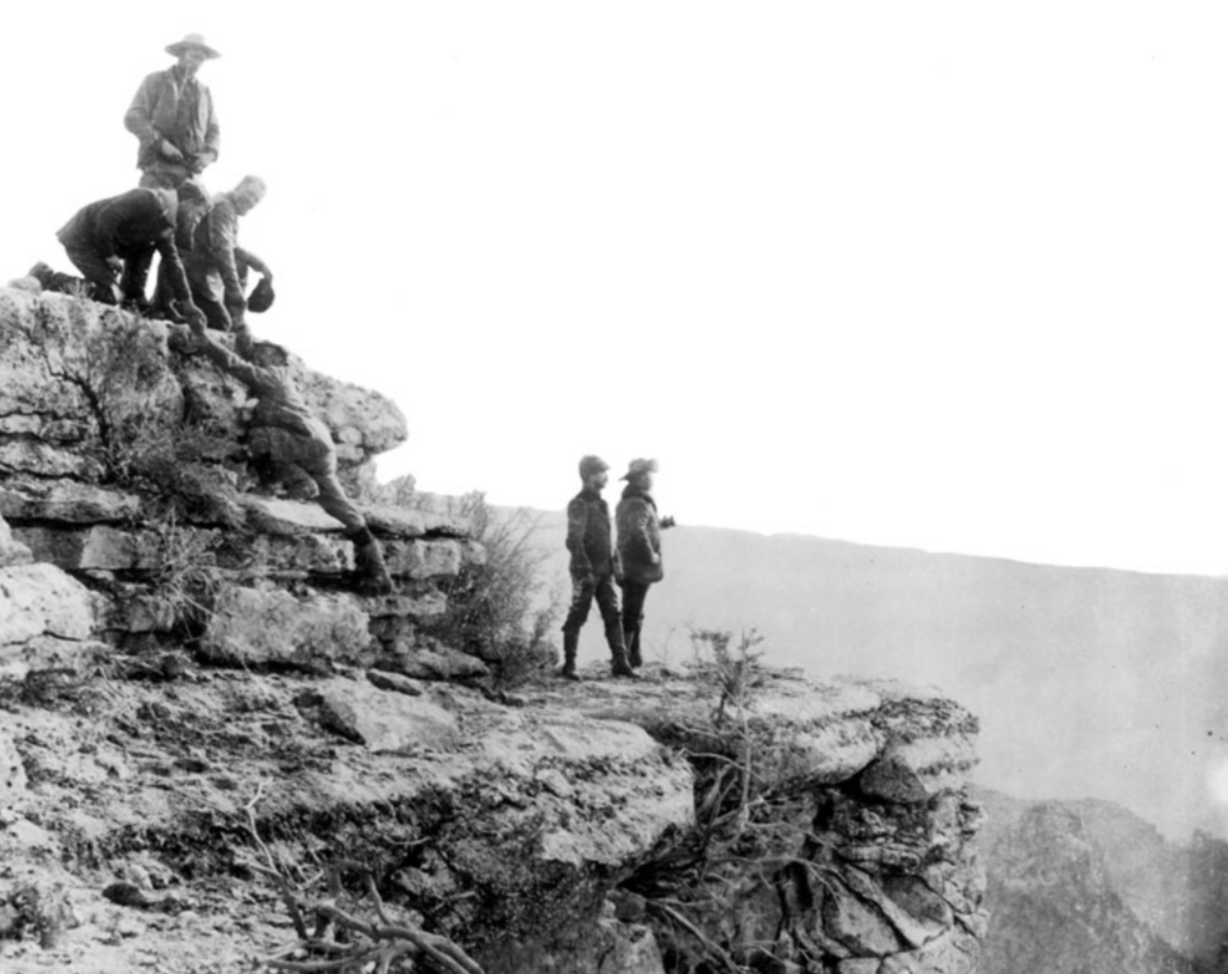 Almost immediately, Roosevelt began exercising his new authority creating four national monuments in the remaining six months of 1906, the National Park Service says. The first was a curious geological structure called Devils Tower in Wyoming. By the end of his second term in 1909, Roosevelt had created 18 monuments including Natural Bridges National Monument in southeastern Utah.
In the beginning, Roosevelt showed restraint by creating only small monuments. A popular interpretation of the language of the Antiquities Act states that monuments are to be "confined to the smallest area compatible with proper management…"
But the interpretation of "smallest area" was ultimately left to the acting president's "discretion." Roosevelt soon began creating larger monuments like Petrified Forest National Monument, Olympic National Monument, and Grand Canyon National Monument. The latter proclamation controversially set aside more than 800,000 acres of the monument's namesake.
Efforts to preserve the Grand Canyon as a national park had persisted since the Harrison administration but failed again and again in Congress.
Having grown impatient and frustrated by Congress's failure to protect the canyon and concerned by the increasing commercial development along the canyon rim, Roosevelt decided to act unilaterally. Putting pen to paper, he preserved the better part of 1 million acres of canyon scenery, testing the powers granted to him by the Antiquities Act. This wasn't the first time Roosevelt had exercised what he called "implied presidential powers" regarding federal lands.
In 1903, faced with the destruction of many of the nation's native birds, Roosevelt created the nation's first bird reservation on Pelican Island, Florida. While no law expressly allowed Roosevelt to create wildlife refuges, the courts went along with Roosevelt's designation, according to the U.S. Fish and Wildlife Service, and the nation's system of wildlife refuges was born. By the end of his presidency, Roosevelt would create 51 bird refuges and four national game refuges, testing the limits of the powers implied by the Forest Reserve Act and the Antiquities Act.
It's estimated that Roosevelt preserved more than 230 million acres of federal land as national forests, monuments, wildlife preserves and parks — 10 times the amount of any of his predecessors.
Today, close to 193 million acres of public lands remain under the management of the National Forest Service. The overwhelming majority were preserved unilaterally by presidents Harrison, Cleveland, McKinley and Roosevelt.
Land management decisions after Roosevelt
Four of Utah's five national parks were unilaterally declared monuments prior to becoming national parks. They include Zion National Park, which was previously Mukuntaweap National Monument; Bryce Canyon National Park, previously Bryce Canyon National Monument; Arches National Park, previously Arches National Monument; and Capitol Reef National Park, previously Capitol Reef National Monument — many of which were expanded via executive order prior to Congress granting them national park status.
Whatever your favorite national park, forest, monument or wildlife refuge, it was almost certainly preserved unilaterally — at least at first — by a U.S. president. Though controversial from the beginning, presidential executive orders have been the primary mechanism whereby federal lands have been protected.
So, should the authority granted to presidents under the Antiquities Act remain, be altered or repealed? Make sure to share your thoughts in the comments.
---
×
Photos
Related stories
Most recent Outdoors & Rec stories