Estimated read time: 2-3 minutes
This archived news story is available only for your personal, non-commercial use. Information in the story may be outdated or superseded by additional information. Reading or replaying the story in its archived form does not constitute a republication of the story.
SALT LAKE CITY — A tribute fit for a hero – on a hero's 100th birthday. One of the last remaining survivors of the attack on Pearl Harbor, Ken Potts, is one of only two living survivors that were aboard the battleship USS Arizona during the attack on Pearl Harbor.
For his centennial birthday, Potts was taken for a ride on a UH-60 Black Hawk helicopter from the Utah National Guard's 2nd General Support Aviation Battalion.
"It is an honor for the Utah National Guard to celebrate this incredible birthday milestone with Mr. Potts," said Maj. Gen. Michael Turley, adjutant general, Utah National Guard. "On behalf of the Utah National Guard, we want to express our gratitude to Mr. Potts for his exemplary service to this nation."
Mr. Potts now has his own day after Utah Gov. Spencer Cox declared April 15, 2021 as Ken Potts Recognition Day in Utah, saying our state and nation are indebted to Ken and all other veterans for their heroism and bravery. Mr. Potts also received a personal message from the White House Secret Service on his special day.
Mr. Potts capped off his big day with a parade in his honor in Provo, as a line of cars turned down his street, neighbors honked, waved and saluted him for his service to his country and wished him a happy centennial birthday.
Potts was born on a farm in Honey Bend, Illinois, and relocated to his current residence in Provo, shortly after WWII, where he lives with his wife, Doris. He served in the U.S. Navy from 1939 to 1945, mostly at Pearl Harbor, leaving the Navy as a petty officer first class.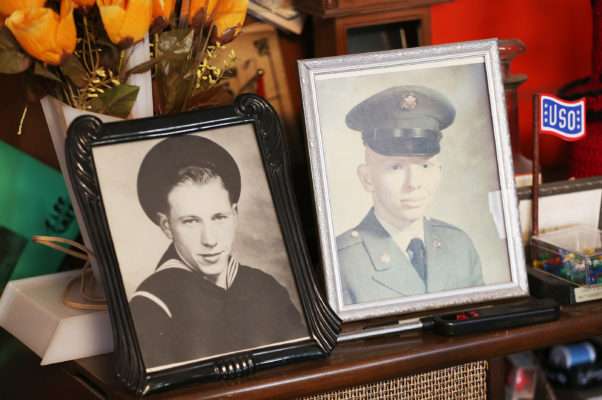 During the attack on Pearl Harbor, Potts was a boatswain mate working as a crane operator, up early that Sunday shuttling supplies to the USS Arizona. When the attack started and sailors were thrown into the water, Potts used his boat to retrieve them and move them to Ford Island.
Throughout the attack, he was back and forth from the harbor to the island, delivering dozens, if not a few hundred, sailors in all sorts of conditions to the relative safety of Ford Island. Potts was in the harbor when the Arizona exploded, a moment he said he'll never forget.
"I still see and feel it … most times as a nightmare. It was unbelievable how it could happen. It was turmoil," said Potts. "The whole place was on fire. The water was burning because the oil was on fire." Later, Potts was assigned with five others with the grim task of pulling bodies from the Arizona. They looked for survivors, but they found only bodies, a task Potts said was a hell of a job.
×
Related stories