This archived news story is available only for your personal, non-commercial use. Information in the story may be outdated or superseded by additional information. Reading or replaying the story in its archived form does not constitute a republication of the story.
SALT LAKE CITY -- One of the clichés about WWII veterans is that they don't like to talk about their experiences. In this case, it's only half true. Two Utah men remember a very terrible day, one of them sharing all and the other keeping his dark memories to himself.
They rode together in a parade through Honolulu, the Timpview High School band close behind. Thanks to money raised by the students, they traveled to Hawaii to pay their respects and to remember the attack on Pearl Harbor that took place 70 years ago.
These two Utah veterans shared a moment in history, but they came away with very different ways of dealing with it.
Ken Potts made a return trip by boat with the Timpview band. His ship, the USS Arizona, is resting on the bottom of Pearl Harbor.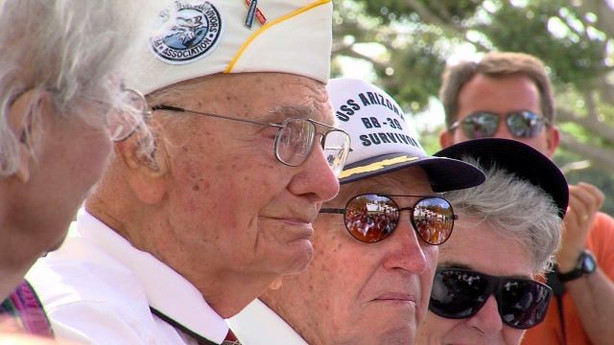 Until five years ago, Potts never visited the Arizona memorial.
"I went 65 years. I didn't want to come over here," he said. "Just because I didn't want to go through it again."
Potts will not talk about that day when 1,100 shipmates went to the bottom. Afterward, he had to put on a diving suit and recover bodies.
Potts and the band paid their respects to the names on the wall Wednesday, on the anniversary of the Pearl Harbor attack, as the tears flowed.
Even 70 years later, Ken Potts will not share what he saw on Dec. 7, 1941.
"I get invited to talk to schools quite often, but I don't do it because I can't" talk about it, he told KSL.
Max Burggraaf helped the band pay respects to the USS Utah, its wreckage still visible in Pearl Harbor.
Burggraaf is eager to share his story.
On that Sunday of infamy, he was assigned to the USS Nevada but he was ashore at church when the explosions started.
"I'm sure we set a new speed limit for the distance from the church to the dock here," he said. "I was able to catch a boat right away and get to the ship."
"We were damaged severely by bombs, but we managed to get the ship underway," he continued.
On this return visit to Pearl Harbor, Burggraaf met another veteran, Delton Walling, who was on a tall communication tower 70 years ago, watching the Nevada try to limp out of port.
Related
"I was 180 feet in the air, looking right down on you, and they was hitting you so hard," Walling, of Wallace, Calif., told Burggraaf. "I couldn't see how you could get very far."
"We didn't," Burggraaf answered.
Wherever he went, Burggraaf seemed eager to share his story.
"We tried to get out but they wouldn't let us go. We were sinking too fast, didn't want us to block the channels," he recalled with a laugh.
"And of course your commander run you aground on hospital point," Walling said.
"I was on that communication tower 180 feet in the air. I'm the only one living today off the tower," he continued.
The ease with which some veterans share their stories cannot conceal their pain. Burggraaf was moved to tears repeatedly during the ceremonies, thinking about all that was lost on that fateful morning.
"As you can tell, I'm emotional about it now," he said.
Today, Burggraaf is 93 and Potts is 90. It seems likely this is the last time any Utah survivors will return to Pearl Harbor to honor their fallen shipmates, in silence or otherwise.
Email: hollenhorst@ksl.com
×
Photos
Related Stories