SALT LAKE CITY — In an effort to give officers more less-lethal options — meaning options other than shooting a person with a gun — the Salt Lake City Police Department recently put 87 less-lethal shotguns into use.
Such shotguns are sometimes referred to as "beanbag guns."
The guns are fully functional shotguns but will only be loaded with "Super Sock" rounds, or small beanbags, in an effort to bring some situations to a resolution without the use of deadly force.
On Monday, the department demonstrated its new shotguns at the Salt Lake City Police Airport Training Facility near 4000 West and 2100 North.
The shotguns have been replaced with bright orange parts to signify they are only to be used for less-lethal rounds. To avoid any possible mix-ups, an officer will not be allowed to carry both a regular shotgun and a less-lethal shotgun at the same time. Currently, fewer than 20 officers in the department still carry regular shotguns, according to Salt Lake police.
Salt Lake Police Sgt. Keith Horrocks said the department has been trying to get the new shotguns for two years. The problem was acquiring enough of them to be useful for the city's large department. Now, there are enough that at least two or three officers will be armed with the less-lethal weapons on every shift.
Lt. Alma Sweeny, head of training for the Salt Lake City Police Department, said the most likely scenario the beanbag guns would be used for is for a suicidal person who is armed with a weapon such as a knife and threatening to harm themself. The goal is to shoot the person with the beanbags until he drops the weapon and can be taken safely into custody.
"If we're hitting them in the arm, the goal is to get them to drop that weapon, drop that knife. Obviously there is some pain associated with it that is preventing them from picking that knife up again or continuing to do that action they were doing," Sweeny said.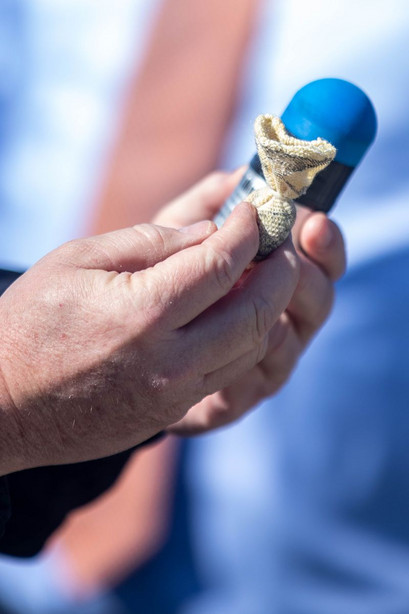 The beanbags will leave bruising, but are not intended to puncture the skin, he said. Officers are trained to avoid shooting a person with the head, throat or groin areas if possible.
The other scenario the shotguns would likely be used is for crowd control or riots.
If police spot a person about to throw a rock at officers, for example, they could fire a beanbag gun at that person. The shotgun shells come in both a regular beanbag and ones that are covered in red chalk. Horrocks say the chalked rounds serve a dual purpose in that it helps control a crowd and the chalk marks a person so that officers can locate them later.
The police department was in the process of acquiring the less-lethal shotguns even before last May's riot in downtown Salt Lake City and the many protests that followed.
Officers, who are given about four hours of training on use of the gun before being allowed to use it, are taught to shoot from between 5 and 20 yards away, Sweeny said.
Before, officers used what was called a .40 mm round, or a "foam baton." Those projectiles were much larger and police were not able to fire them as accurately as the beanbag rounds. Furthermore, the foam rounds could only be loaded one at a time. The new shotguns can be loaded with eight rounds at a time with the ability to carry an additional six rounds for reloading.
Both Sweeny and Horrocks said that while the less-lethal shotguns are designed to bring a potentially dangerous situation to a peaceful resolution, officers will not be expected to only use the beanbag guns. Backup officers will be nearby with their guns ready if a situation becomes more violent.
"This is not going to take the place of safety factors that we would use for our officers. We're not going to ask our officers to engage in risky behavior to use this tool," Sweeny said. "We're not expecting officers to only use these or only have that coverage. We still want to add that lethal coverage."
The department hopes to have 100 less-lethal shotguns in use in the near future.
According to statistics compiled by the Deseret News, there were 17 fatal officer-involved shootings during 2020 and 12 in 2019. In 16 of those 17 fatal shootings last year, the suspect was armed with a gun, rifle or a realistic-looking gun.
×