SALT LAKE CITY — Plenty of players made moves on moving day at The Masters, and Utah native Tony Finau took a call.
Finau carded 1-over-par 73 to finish in ninth place, eight shots off the lead with 18 holes remaining in his fourth Masters appearance Saturday at Augusta National Golf Course.
The 31-year-old former Lehi resident struggled to open Saturday's third round, eventually settled down, but did not make any major moves on moving day.
Hideki Matsuyama moved atop the leaderboard, carding a sparkling 7-under 65 to move to 11-under on the tournament. Xander Schauffele, Marc Leishman, Justin Rose and PGA Tour rookie Will Zalatoris are four shots back — and four shots ahead of Finau, who stands alone in ninth.
Finau will tee off in Sunday's final round at 12 p.m. MDT with playing partner Robert McIntyre of Scotland. That will leave four groups behind them, including the final pairing of Matsuyama and Schauffele, scheduled to go off at 12:40 p.m. MDT.
"A lot of us in the single digits have to race to get to double digits as fast as we can," Finau told golf media after Saturday's round. "Hideki has experience and a world-class game; I don't think any of us expect him to lose ground. But things can happen here at Augusta pretty fast.
"I'm going to have to put something together pretty special tomorrow. But I've shot some low rounds out here on this golf course, and I'm going to need one of those tomorrow."
While play was suspended for inclement weather for an hour and 15 minutes in the middle of the afternoon, Finau took a phone call. The Rose Park native had just opened his third round at 1-over, with bogeys on Nos. 1 and 5 around a birdie on the par-4 third hole.
So while waiting out the storm, Finau took a call from one of his friend's phones while a group of players waited in the clubhouse. He saw the iPhone's video on a FaceTime call. Who could it be on this day, one of the most important of the year for the four-time Masters participant?
It was the defending Super Bowl champion, the GOAT himself — Tom Brady. He just wanted to chat, to say hi for the second time in the two's shared career that includes a mutual friend in Brady's longtime personal trainer Alex Guerrero, who like Finau is a member of The Church of Jesus Christ of Latter-day Saints. That was enough, of course, for Finau to pick up, as CBS broadcaster Jim Nantz reported on the broadcast.
During the weather delay, Tony Finau got a surprise FaceTime from someone who knows about winning: Tom Brady. pic.twitter.com/SnOXPU4kkF

— GOLFonCBS (@GOLFonCBS) April 10, 2021
Like most phone calls between two multi-million dollar professional athletes, the call started with the weather.
"He was surprised it stopped. He said in the NFL, when it rains, you don't stop," Finau recalled with a chuckle. "I let him know maybe we're not as tough as you guys. We had a good laugh about that.
"He's obviously watching, and it's cool that he would call. It's only my second time talking to him; I met him once before. We have a mutual friend; his trainer Alex is one of my good friends, and we met in Boston when he was playing with the Patriots."
That seemed to settle down Finau to shoot even-par the rest of the way, until a birdie on the par-5, 530-yard 15th hole reset his round. Finau drained a 208-yard approach shot to the fringe, then smacked a ball off the fringe to drain a 7-footer for birdie
He got into trouble off the tee at No. 17, hitting into the trees en route to a bogey. Finau nearly pulled one back on No. 18 with a 143-yard approach shot within 12 feet, but his birdie putt was left inside a foot short for par to finish at 3-under.
The mostly even round kept Finau eight shots off the lead, but within four strokes of most of the pack ahead of Sunday's final round. He's still in position for his eighth top-10 finish in the last 12 majors.
"A lot of golf holes here, I think you're playing for par — just doing your best to make par," Finau said after Friday's second round. "Years in the past, I felt like when the greens are more receptive, you can attack more. This year was quite different."
While Finau found par on nearly every hole, a couple of golfers were making big moves.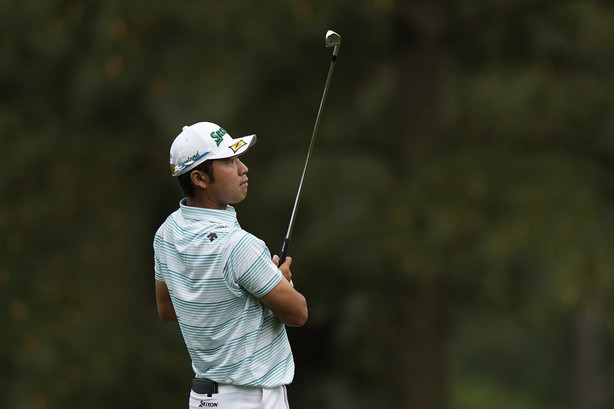 Matsuyama put together back-to-back birdies to open the back nine, then played a stretch of three at 4-under with eagle-birdie-birdie that moved him to 11-under.
The Japanese golfer who hasn't won on tour since 2017 set the stage for a flurry of big moves Saturday. Matsuyama became the first player with a bogey-free round all week, setting himself up to play in Sunday's final group.
The key to his round? The hour-long weather delay — the same one where Finau took that call from Brady.
"Before the horn blew, I didn't hit a very good drive," Matsuyama told CBS through an interpreter. "But after the horn blew for the restart, I hit practically every shot exactly how I wanted to.
"I spent the hour just sitting in my car, looking at my cellphone."
Two-day leader Rose was even-par in his second-place try, and Schauffele tied for the lead for about 20 seconds before settling in for a 4-under 68 to remain two shots off the lead.
The San Diego State grad eagled the par-5 15th to finish tied for second after 36 holes, alongside Zalatoris, who started the year without his PGA Tour card or even full-time status on the second-tier Korn Ferry Tour and recently missed a playoff by one stroke at last summer's Utah Championship in Farmington.
They'll be chasing Matsuyama, who is seeking to become the first Japanese mana to win one of golf's four major tournaments.
"It'll be a new experience for me, going into the final round of a major as the leader," Matsuyama said.
Corey Conners offered one of the biggest highlights of the day short after the delay, when he aced the par-3, 180-yard sixth hole to temporarily move into contention before Matsuyama's big run.
The Canadian's ace was the second hole-in-one of the tournament, following Tommy Fleetwood's hole-out on No. 16 in Thursday's opening round, and the 33rd in Masters history.
Conners sot 4-under 68 to move up seven spots on the leaderboard and into sixth place, just five spots off the lead and one stroke behind the four-way tie for second.
×
Photos
Related Stories