Estimated read time: 6-7 minutes
This archived news story is available only for your personal, non-commercial use. Information in the story may be outdated or superseded by additional information. Reading or replaying the story in its archived form does not constitute a republication of the story.
SALT LAKE CITY — Less than six months since the coronavirus pandemic shifted golf's calendar and forced a rare postponement of The Masters to November, America's favorite major is back in the first full week of April at Augusta National Golf Club in Augusta, Georgia.
No longer a newbie to the event, Utah's Tony Finau will tee off for his fourth-straight Masters this weekend. And even though the now-PGA Tour veteran has grown to become a mainstay on tour with top-10 finishes at each PGA major tournament, the Rose Park native admits there's a special place in his heart for the Masters.
"Everybody gets up for the Masters," Finau said this week during an episode of his podcast Let's Get It. "I don't know the number of patrons they're allowing to watch the tournament, but I still know it's going to be live and it's going to happen at the Masters again."
He's not alone, either. Tiger Woods is still recovering from injuries sustained in a car accident where he was found speeding following a charity event in Los Angeles, but most of the world's best are back at Augusta National for another crack at the green jacket.
Blink and you're likely to run into a top-10 player in Augusta, Georgia, whose population of just over 197,000 normally swells with thousands of tournament workers, PGA officials, corporate sponsors, golfers' traveling parties, and everyday fans during the first week in April. It's the kind of atmosphere that can be a little overwhelming to first-time pros teeing off Thursday.
Fortunately for Finau, he's not one of the new guys. A fully established PGA Tour veteran, the 31 year old who ranks No. 13 on the World Golf Rankings has been down this path before. That's a big deal, said his swing coach Boyd Summerhays, who admitted on the podcast that the group got stuck in traffic "on the wrong side of the road" in earlier trips simply because they didn't understand the sheer volume of people and schedules converging on one small town.
"It's just a different week," Summerhays said. "A typical week on the PGA Tour, we usually get a hotel that's in the area, close to the course. We can't pull that off at Augusta National. There are so many people who come in for the Masters, whether corporate sponsors, fans, or people who just want to be there during the event.
"You've got to choose the right location of your house, too. … Even the practice rounds a little bit different."
Finau will tee off Thursday at 11:40 a.m. MDT, when he'll play in one of the featured groups of the day alongside fellow American Justin Thomas and South African Louis Oosthuizen. The trio will turn around and tee off in the early flight Friday at 8:43 a.m. MDT.
Former BYU golfer and 2003 Masters champion Mike Weir will tee off at 9:42 a.m. MDT alongside Scotland's Robert MacIntyre and Taiwan's C.T. Pan.
But before that, Finau will pay respect — along with every other minority golfer, among others — as the Tour honors Lee Elder. The 86-year-old Dallas native was the first African American to play at the Masters in 1975, and he'll join Gary Player and Jack Nicklaus as honorary starters just after 8 a.m. local time to officially and ceremoniously kick off the week.
Elder is the first honorary starter to the ceremony since 2012, when Player was added. Nicklaus has hit the honorary first shoot every year since 2010, when he joined the ceremony alongside Arnold Palmer until the latter's passing in 2016.
"The opportunity to earn an invitation to the Masters and stand at that first tee was my dream and to have it come true in 1975 remains one of the greatest highlights of my career and life," Elder said in a news release in November announcing the move. "So to be invited back to the first tee one more time to join Jack and Gary for next year's Masters means the world to me."
Elder, who retired in 2005 with 16 professional wins and a 17th-place finish at the 1979 Masters, was a legend in golf — but moreso to Black golfers and other minorities like Finau. The West High product says he's a true believer in standing on the shoulders of those who came before, and he tries to stand on Elder's shoulders in the game of golf and making it accessible to new markets and demographics.
"This is almost turning a new leaf for the Masters organization, the Masters tournament, and the club in general," said Finau, who is the first golfer of Tongan and Samoan descent to play on the tour. "I think that's pretty amazing."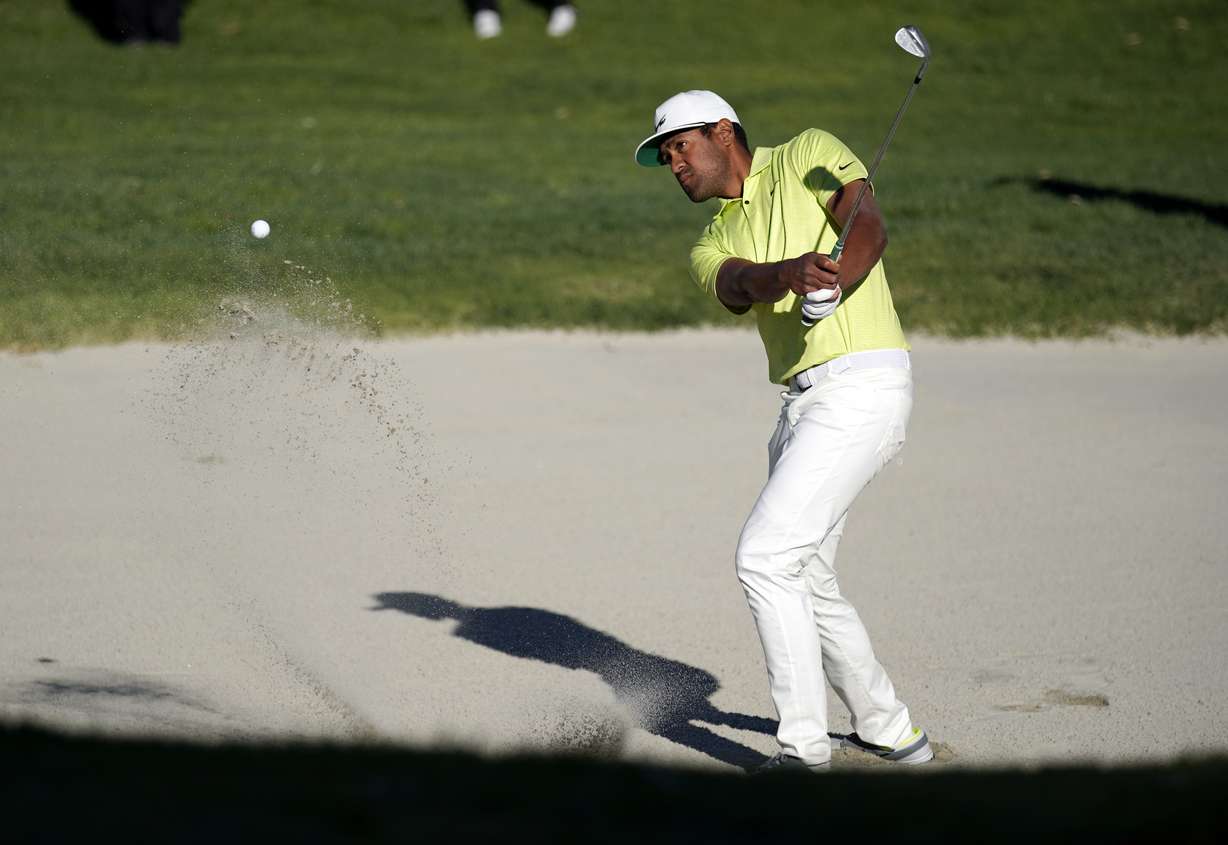 The play may also be unique this week in east Georgia, where scattered showers are projected by as much as 70% on Friday afternoon. Warm weather has baked the greens in recent weeks, leaving fast and firm playing surfaces that former champion Fred Couples said could leave the course as difficult as it's been in "a long, long time."
"On TV, it doesn't do it justice in terms of how gnarly and difficult some of the pins are," Xander Schauffele told media Tuesday. "If you're in the wrong spot, it can make a world-class player look like a fool pretty quickly."
The average winning score of the last three Masters is 16-under-par, according to PGA Tour stats and information, and the winner hasn't finished in single digits in relation to par since 2017.
Finau missed the cut in two of his last three tournaments, including The Players Championship on March 14 where he shot a two-day total of 3-over-par 147. Before that, he finished top 10 in five of his previous six events, including a second-place finish via playoff at The Genesis Invitational.
He's hopeful to recapture some of that magic this week and contend for a green jacket — like he did during a memorable run in 2018 that he played on a grapefruit-sized ankle injured during the Par-3 Contest. That Masters helped springboard Finau's career to his first Ryder Cup appearance and came in the middle of a $5.6 million season that finished as high as a career-best sixth in the FedEx Cup standings.
"There's just a special feel to it," Finau said. "The Masters is like our Super Bowl; we have four major championships, but if you ask any American and most golfers about which means the most, I think most guys would say the Masters. I definitely think it's the Masters."
×
Related stories
Most recent Golf stories