Estimated read time: 6-7 minutes
This archived news story is available only for your personal, non-commercial use. Information in the story may be outdated or superseded by additional information. Reading or replaying the story in its archived form does not constitute a republication of the story.
FARMINGTON — Everything about Daniel Summerhays' final weekend in his 13-year professional career was storybook.
Everything, that is, except for the final stanza.
After a brilliant final round, though, the former BYU All-American golfer will temporarily postpone his decision to retire.
Summerhays shot a blistering 9-under-par 62 to finish tied for second in what will likely be his last Utah Championship on the Korn Ferry Tour Sunday afternoon at Oakridge Country Club.
"I couldn't have scripted the play any better than it was today," Summerhays said. "We'll have a chat tonight, and see if I go play Colorado or not.
"I started thinking on 16 or 17 that this felt like one of those ESPN 30 for 30s, with a guy who is retiring getting to win his last tournament. I just don't want to be like Jerry Seinfield, who beat a kid in a fifth-grade race and then never ran again. Maybe I'll choose not to run again, and be like Jerry."
Kyle Jones shot 3-under-par 68 for a four-day total of 20-under 264 and survived a three-man playoff to clinch his first Korn Ferry Tour victory Sunday evening at Oakridge Country Club in Farmington.
For Summerhays, just being in contention was enough — and remembering he's still on the same level as players like Jones and fellow runner-up Paul Haley II after multiple foot surgeries, a bad back, and the wear-and-tear his 36 years have brought on him.
"It was fun to be in that position again," said Summerhays, who split $97,000 in prize money for tying for second with Haley. "It would've been unbelievable, to be honest, to take the trophy home — to have one more trophy in the study. But we'll go back to the drawing board, and I think I'm going to go to Colorado to play one more time."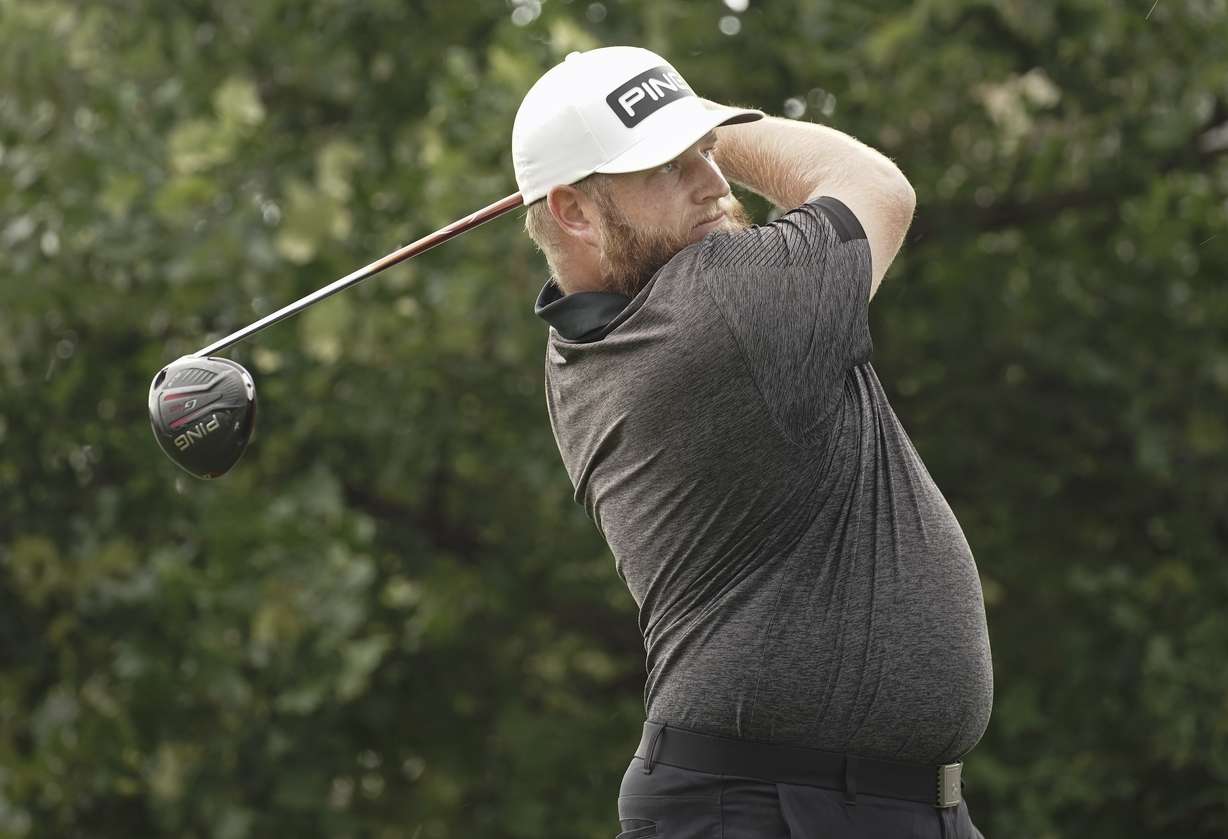 Summerhays held the lead until final-round leaders Haley, and Jones made it to the 15th hole, when Haley's second birdie on the back nine pulled him level with the Davis County product. Jones added a birdie on No. 17 to get back into the lead, and the trio headed to a playoff elimination.
Summerhays was eliminated after the first playoff hole, and Jones stuck his approach shot within a few feet of the hole en route to a birdie that gave him an impressive victory just three holes after hitting the water hazard on the par-3 15th hole prior to rallying back.
"It just goes back to grinding it out," said Jones, who pocketed a $117,000 prize purse. "You don't have to have your best game. But if you can grind it out there and make putts when you really need to, you can still post a really good number."
Even if he ultimately fell to the winners, Summerhays put the pressure on a group that was just starting on the course as he was making his ceremonial walk up 18.
In many ways, he went out of his hometown pro stop on his own terms.
But from the first tee shot Thursday, which he shared with his playing-partner nephew Preston, brothers Boyd and David, and his wife Emily and children standing just outside the fence; to his mid-round heroics that allowed him to make the cut, becoming one of three former BYU golfers to do so; to the last-gasp effort that propelled him from the edge of contention into the lead — even if it was briefly.
Summerhays' final professional go-around on his home course turned out to be his best, and certainly one that he will never forget.
"It's 100% the best round I've ever played here," said Summerhays, a member at the country club since his youth who has shot 60 on a handful of recreational rounds. "I wish I could have the last hole back. But it's hard to complain about eight birdies and an eagle.
"I'll think about that a little bit," he added. "But I'm going to think about the other eight birdies and an eagle because that was a rush. That was really fun."
After a bogey on the par-4, 442-yard — his only over-par hole of the round — Summerhays removed his cap and stared up a line of tournament volunteers, course employees and media members that welcomed him into the clubhouse.
It was a moment he'll never forget, especially because Sunday's round propelled him toward automatically qualifying for a spot in the field at the TPC Colorado Championship beginning July 1.
"I still have goosebumps," Summerhays told a socially-spaced crowd of media after turning in his scorecard. "That was the longest stretch of goosebumps I've ever had."
The former BYU All-American cruised to a 4-under 32 on the front nine, then switched into another gear on what could be the last nine holes he'll ever play as a professional.
Summerhays, who has accepted a job as a teacher and golf coach at his alma mater Davis High, shot under par on five of the final nine holes, including three-in-a-row that included an eagle on the par-5, 547-yard No. 15.
"I've never hit a 3-wood that far in my life," Summerhays said of No. 15. "If you hit a good draw, you can get it down in the water on the right. I absolutely mashed it … and surely it was."
He added an open-faced wedge shot from 55 yards to the front of the green, and then rolled his putter inside the right side.
Anything under par would've been celebrated by Summerhays. But to be in contention for the title — however briefly — with one brother David on his bag and another Boyd filming "what felt like every shot" from the cart path was an immeasurable amount of gratitude, Summerhays said.
"He took off the whole week of work without a ton of notice," Summerhays said of his caddie. "I was hoping to spread it out and have somebody different caddie for me, but with all the guidelines (for COVID-19 protection), it wasn't the right call. For him to drop everything and to give all his time and his love — there's honestly no bigger fan than my brother David.
"He's been there cheering all of us on all of the time, all of our siblings. When Dave cheers for you, you know he's there. He was with me through the bitter end. It's a huge deal, and I love him a lot."
After coming back from foot surgery and playing with a hairline fracture around his ankle, Summerhays felt at peace with his decision to retire.. He just wanted to contend one more time.
He showed he can still do that — and that job at Davis High? It'll still be there this fall.
He's got one more adventure to live out in Colorado, where his wife has family.
"Honestly, I was going to be happy with shooting under par today," Summerhays said. "I didn't know when the wind would pick up, and I legitimately thought if I could shoot four scores in the 60s, that would be a solid week. To come out and shoot 62, 9-under-par, at my home club with some shifty winds at times was more than I could ever ask for."
Former BYU golfer Patrick Fishburn shot 1-under 70 Sunday to finish with a four-day total of 13-under-par 271. The Ogden native tied for 36th to finish 48th in the projected points ranking on the Korn Ferry Tour.
Fellow BYU alum Mike Weir of Sandy shot even-par 71 to finish at 9-under 275. Will Zalatoris finished fourth with 19-under 265, one shot ahead of Dylan Wu, Martin Piller and Ollie Schniederjans.
×
Photos
Related stories