SALT LAKE CITY — Tony Finau and the rest of the field at The Masters got a taste of just how difficult Augusta National can be on Thursday.
Finau shot 2-over-par 74 to finish tied for 31st after the first day of his fourth Masters appearance Thursday at Augusta National Golf Club in Augusta, Georgia.
But he's not far out of contention, either.
Finau carded four bogeys and a double-bogey on the par-4, 350-yard third hole to go along with four birdies on the course that 1992 champion Fred Couples jokingly described as "not concrete yet, but they're brown and they're going to get there fast — which, look out."
Finau was 2-over through 10, and the Rose Park native appeared to recover with a birdie on the par-5 13th hole. But Finau carded bogeys on two of the final four holes to limp to the finish.
Fortunately, he wasn't alone. The West High graduate is just nine shots off the lead, and within five strokes of contending, as numbers soared through most of the afternoon.
Just 12 players broke par during Thursday's opening round.
"I feel sorry for the guys' first Masters in November, and then they're walking out there today wondering what the hell is going on," said Kevin Kisner, who shot a hard-earned 72.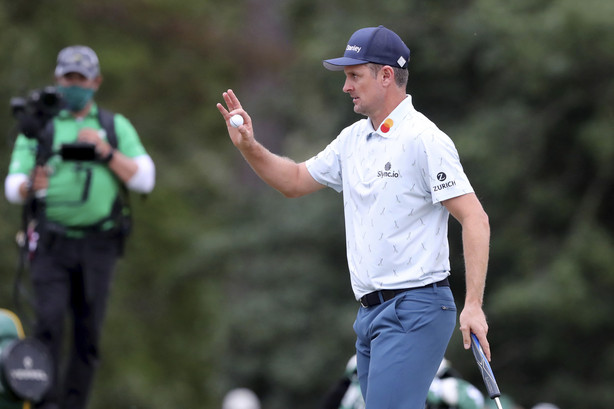 Justin Rose shot 7-under 65 to cruise to a four-shot lead atop the leaderboard after the opening day. The 40-year-old Englishman carded six birdies on the front nine and added an eagle and a birdie to balance a pair of bogeys on the back to take the dominating lead into Friday's second round.
Rose has never won the Masters in his career, but Thursday marked the fourth time in his career he's held a first-round lead. He's also settled for runner-up finishes twice.
"Even though I don't have an arm in the jacket yet, I've been there to see what it's all about," Rose said. "I kind of want to keep things in perspective a little bit until I can't ignore it anymore."
American Brian Harman and Japan's Hideki Matsuyama each shot 3-under 69 to finished tied for second, followed by a group that included Will Zalatoris, Christian Bezuidenhout, Webb Simpson and Patrick Reed at 2-under 70.
For just about everybody else, the conditions and the course were brutal. Warmer spring temperatures than initially anticipated helped tournament officials restore the course's fairways and greens to their usual, fast and firm conditions that played anything but like what they did last November.
The conditions were far from ideal — for everyone but Rose, who carded six birdies on the back nine to retire with the lead.
"I was just trying to stay out of my own way, and get into the clubhouse," said Rose, who also had an eagle on the par-5, 570-yard eighth hole. "If you had told me walking up the eighth hole that it would hold up, I would've said 'no chance.'
"It's a good reminder that you never know what's going to happen out there. Just stick with it."
The highlight of Thursday's opening round Tommy Fleetwood's hole-in-one on the par-3, 170-yard 16th hole. The world's 24th-ranked golfer crushed his wedge shot over the water that bounced just twice before dropping precisely in the hole fo the 23rd ace in Augusta National's history.
Fleetwood shot 2-over 75 to finish tied for 34th.
Draper's Mike Weir sot 6-over 78 on his first day. The 50-year-old BYU product from Canada struggled on the front nine, carding four consecutive bogeys, before collecting a pair of double-bogey sixes on the back to go along with just two birdies.
×
Related Stories