SALT LAKE CITY —The difference between Tony Finau's game between Thursday's first round of the Masters and Friday's cutdown down at Augusta National was stark.
That's a good thing for the Rose Park native.
Finau shot 6-under-par 66 to shoot two dozen spots up the leaderboard, finishing with a two-day total of 4-under 140 and just three shots off leader Justin Rose ahead of the weekend.
Finau's 66 was tied for Friday's low round. And even if he's not in the lead — he left plenty of shots on Augusta National, for as good as he was — Finau knows he can compete for his first-ever green jacket, too.
"I think I've proved myself, no matter the type of golf course. When I'm playing well, I can compete on any course," said Finau, a four-time Masters veteran who finished tied for 10th in his first Masters in 2018 and tied for fifth in a year later. "Obviously, today was a lot better — and hopefully I can continue that good golf this weekend."
In Thursday's opening round, Finau couldn't take advantage of the dry, firm course and — like all but 12 golfers on the day — found himself in black numbers with a 2-over 74.
He started 2-over through the first four holes, including a double-bogey 6 on the par-4, 350-yard third hole. Things didn't get better from there when the Rose Park native compiled three more birdies with three bogeys as he simply tried to survive the course.
But in the same four-hole stretch to open Friday's second round, Finau dropped an eagle on the par-5, 575-yard second hole. He parleyed that into three birdies on the final four holes of the front nine, made the turn at 5-under 31, and dropped to 6-under with a birdie on the par-4, 495-yard 10th.
Playing alongside Justin Thomas, who shot 5-under 67 to finish on the same tournament line as Finau, made the West High product shine in ways unseen less than 24 hours previous when he debuted on the course.
"It was a lot different than yesterday, no question," Finau said in the post-round media room. "I made double on three, and it was an uphill battle all day trying to survive. Today was a lot different; I made eagle on two and just kind of got things going early.
"I think JT added to that, and we both fed off each other and played really nicely today. I think we both learned a little bit about the golf course."
Not even a bogey on the par-3 No. 12 could derail Finau's momentum much. He pulled it back on the par-4, 440-yard 14th hole, finishing off a tap-in birdie after a 149-yard approach shot within 2 feet of the pin.
Finau then smashed his driver 342 yards off the tee of the par-5, 530-yard 15th hole, nearly holed an eagle attempt from 28 feet, and slid a tap-in birdie to pull within two shots of the lead.
"I took care of the par-5s," he said. "I think that's always important at Augusta National. Stats always show the guys that do that throughout the week usually have a chance to do something pretty good."
He gave one back with a bogey on the par-4, 465-yard 18th hole. After hitting his second shot out of a bunker, Finau got up and down to push a makeable par putt from four feet on the final green. But his putter stuttered, leaving a tap-in bogey that dropped the former Utah resident three shots off the lead.
"A lot of golf holes here, I think you're playing for par — just doing your best to make par," Finau said. "Years in the past, I felt like when the greens are more receptive, you can attack more. This year was quite different.
"I knew I needed a good one after yesterday, and I put a good one together today."
While the gap narrowed, everyone is still in the familiar position of chasing Justin Rose after an early round of The Masters. The native Englishman shot even-par 72, balancing a rough start that included four bogeys on the front nine with three birdies and bogey-free golf on the back.
Rose will take a two-shot lead over Will Zalatoris and Brian Harman into the weekend, with Marc Leishman and Jordan Spieth two shots back. Finau is in a group of six golfers tied for sixth.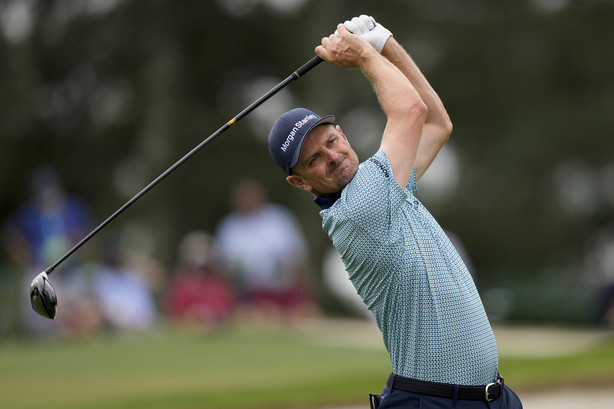 "The first six holes are always quite difficult around here," Rose said. "I felt like the turning point for me was a good two-putt on No. 9, just to let me walk on to the back nine and try to build something fresh and something new. I actually started to play pretty well from that point on, to be honest."
Several big-name players missed the cut at Augusta, including defending champion Dustin Johnson and European star Rory McIlroy. Johnson may watch from Butler Cabin, where he is scheduled to put the fabled green jacket on this year's winner Sunday afternoon. But he won't be on the course.
Finau will be there, and — barring a monumental collapse Saturday — he'll be in contention for his first career major title. He'll tee off with Thomas at 11:50 a.m. MDT Saturday. Both final rounds will be broadcast on CBS.
A top-10 player in the World Golf Rankings, Finau hasn't won on the PGA Tour since Puerto Rico five years ago. He's had several close calls since then, with a runner-up finish as recently as Feb. 21 at the Genesis Invitational. The 31-year-old former college basketball prospect won more than $22 million on tour, making 138 cuts in 177 events.
But the "big one" has always eluded him. Friday's rally gives him some hope.
"No question. It keeps me hungry, it keeps me humble, and I definitely know that I need a big win for me to even feel like I've had a good career up to this point," Finau said. "I've had a lot of close calls, and a really successful career — but not quite a winning career. That comes from winning a big one.
"I feel like I carry a lot of confidence at these big events. But missing that W keeps me humble and hungry, and hopefully I notch that this week."
Former BYU golfer Mike Weir shot 1-under 71 to finish with a two-day total of 5-over-par 149, missing the cut by two strokes.
"It was a really solid round. I had a really good ball-striking round," Weir told the Golf Channel after he finished. "That seemed to be my week; I hit some really nice shots that looked good and didn't end up close to the hole.
"That's what makes this place special. Not all of your shots turn out the way you think … If I could putt a little better, it would've been a really good score."
Weir will play next week on the Champions Tour at the Chubb Classic in Naples, Florida, an event with a $1.6 million purse. But the 2003 Masters champion isn't disappointed he came to Augusta — only in his final number.
"I'm very happy with my game," Weir said. "I drove the ball great, played very well, but had a little rust being a month off. I would've loved to have a tournament coming in. My first nine holes were not very good, so that tournament rust showed up the first day — and then I found my groove and played nicely.
"Overall, it's always great to be here."
×
Photos
Related Stories