SALT LAKE CITY — Salt Lake City police are asking for the public's help in locating Andrew Gary Ingersoll, 37, who was last seen at 2 a.m. on April 2.
Ingersoll was last seen at 455 S. 900 East in Salt Lake City. He is described as being a white man who is 5 feet, 7 inches tall and 220 pounds. Ingersoll has black hair and brown eyes; it is not known what he is wearing. He is known to frequent Liberty Park.
Salt Lake City police said that Ingersoll is considered endangered due to being diagnosed with dementia and schizophrenia.
If you see Ingersoll or have any information, call Salt Lake City Police Department at 801-799-3000, or simply dial 911.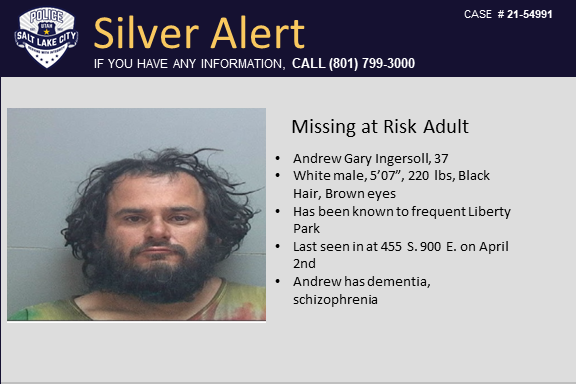 ×