PROVO — With every whoop, every holler, every repetition on the bench press and each leap leap toward a measured marker inside the Indoor Practice Facility, Brady Christensen could hear his former teammates and the limited crowd at Friday's BYU Pro Day crowing.
When Christensen posted his 30th rep on the bench press, they'd scream. When he went under 5 seconds in the 40-yard dash with a 4.89, they'd holler.
When the Bountiful High product who left BYU after a remarkable junior season posted a 10-foot, 4-inch broad jump — a mark that would've topped the NFL combine among linemen for each of the past 18 years — his teammates bellowed.
Christensen was having fun. His teammates were having fun. And with each holler, the 6-foot-5, 302-pound consensus All-American likely made a little more money on his first professional contract.
"My goal today was just to go out, be me, and have fun," Christensen said. "I was getting into it with the crowd and my boys.
"I knew if I had a good time, I would test the best."
All eyes at BYU's Pro Day were on Zach Wilson, the former BYU quarterback who wowed NFL scouts, coaches and front-office executives with a number of throws that one scout described as solidifying himself as the No. 2 overall pick.
But the 6-foot-2 signal-caller could hardly improve his stock. He's reached what most consider to be his ceiling, with Clemson's Trevor Lawrence all but guaranteed to go to the Jaguars at No. 1 overall.
Offensive Standouts from Pro Day👏🏽#BYUFootball#GoCougspic.twitter.com/FlzjEhKT5x

— BYUtv Sports (@byutvsports) March 26, 2021
The biggest stock-riser, then? Perhaps it was Wilson's trusted left tackle for each of the past three seasons.
Christensen was a projected draft pick prior to Friday. But by posting a strong Pro Day that included a 4.89 40-yard dash, 30 reps on the bench press, and a 10-foot, 4-inch broad jump, the 6-foot-4, 302-pound Bountiful High product may have vaulted into a Day Two pick in April.
"It'll probably get lost a bit today," said NFL Network analyst Daniel Jeremiah, referring both to Wilson's performance and a blockbuster trade that gave the 49ers the No. 3 overall pick from the Dolphins. "But his broad jump was 3 inches better than anything at the combine going back to 2003. That's pretty incredible; he's an explosive guy. He helped himself from that."
Jeremiah has been high on Christensen's draft prospects for a while. But performing the way he did in front of personnel from 31 NFL teams likely solidified his spot in the draft.
Christensen is no longer simply draftable; the question now becomes how high. If he's selected in one of seven rounds of the draft, Christensen will join Wilson as the first BYU teammates selected in the same draft since Austin Collie and Fui Vakapuna went in the fourth and seventh round, respectively, of the 2009 NFL Draft.
The 300-pounder faced just enough questions ahead of pro day. Those questions are all but erased, Jeremiah believes.
"On tape, there are times I wish he'd bend a bit better," Jeremiah said. "But he's strong, physical and explosive. I had him as an early Day Three guy, maybe a fourth-round (selection). But with a workout like this, he's going to have people who really like him around the league — and I think he could work his way as high as the second round. I'd be stunned if he got out of the third round.
"It's a league that's pretty starved for offensive linemen, and those guys all go pretty quick."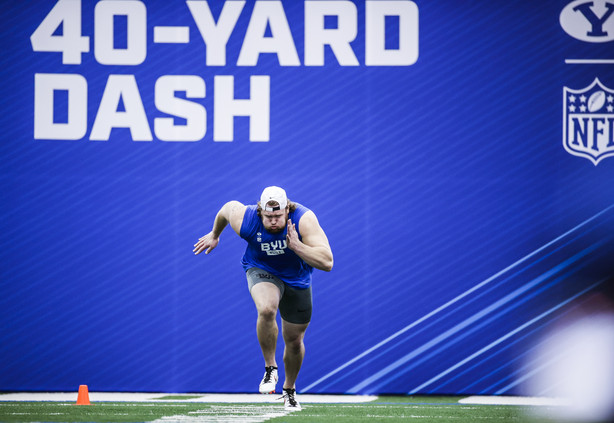 Christensen knows an offensive lineman is judged on his consistency, and for him, his consistency is shown over his past three years of work.
Still, NFL coaches, scouts and general managers may not pour over every minute of his game film. So he needed a good pro day to make some of them take a second look.
"Obviously, your film is your product," Christensen said. "That's what teams are looking at. But I think pro day can definitely make teams re-evaluate or re-think you, or maybe re-see something they missed. So I think both are very important, even if film is the most important."
A quarterback is only as good as his offensive line, and Wilson knows that. It's why the recently departed junior was followed into the pro ranks by fellow junior Christensen, and why seniors Tristen Hoge and Chandon Herring also didn't flirt with staying at BYU for a free year of eligibility due to COVID-19.
Hoge and Herring are likely free-agent candidates to begin their NFL careers, but the two didn't do much to hurt their draft stock by participating in Friday's pro day.
In fact, just being at the same event as Wilson and Christensen likely aided the two. At the very least, they provided a Pro Day backbone — much like they have for the Cougars over the past three years.
"That brotherhood runs deeper," Hoge said. "Being able to do this with my brothers beside me is my favorite part. I test a lot of my growth in college to being able to play against Khyiris every day."
The linemen weren't the only ones who improved their stock, either.
Defensive Standouts from Pro Day 👏🏽#BYUFootball#GoCougspic.twitter.com/I5VahVJ1tU

— BYUtv Sports (@byutvsports) March 26, 2021
Chris Wilcox posted a 4.31 40-yard dash — fastest on the day — in a bid that likely earned him a spot on an NFL roster. It may even have earned him a spot in the draft this April, said Jeremiah, who gave Wilcox a "draftable grade" — likely around the fifth round — because of the 6-foot-2 cornerback's speed.
Ditto for wide receiver Dax Milne, whose 4.54 40 combined with a 4.19 shuttle run may have bumped him into a third-day selection, somewhere between the fourth and seventh round.
"I went out and worked him out in LA, and timed him at 4.58, 4.60, so I feel like I know how fast he is," Jeremiah said of Milne. "I think he has a chance to be picked on Day Three, as well."
Such is a tenuous spot for most draft picks — a seventh-round selection is rarely guaranteed a full-time roster spot, though it does come with guaranteed compensation that most free agents don't see.
But the measurables — and the speed — likely gave players likely gave a chance to players like Wilcox, who initially posted a 4.37 40 before running a second time to drop beneath former BYU wide receiver Micah Simon's time for the low spot of 4.34 on the day.
"They like my length, height, speed," said Wilcox, who said he's interviewed with "over half" of the 32 teams in the NFL, mostly over Zoom. "But I just want to let them know I can play football as well, play corner, get out of my breaks.
"Of course, I'll play any special teams. Whatever they need me to play. I'll do whatever."
Ditto for Christensen, who stands to be the Cougars' first drafted lineman since Scott Young was a fifth-round selection by Philadelphia in 2005.
"I'm really enjoying the process," Christensen said. "I get to do football as a full-time job right now, so I'm loving every minute of it."
×
Related Stories