PROVO — Even after just four matches in the 2021 season, BYU women's volleyball team has already had to adapt.
They've adapted to the upending of the fall season, when the West Coast Conference and most of the NCAA moved women's volleyball to the spring.
They adapted when Santa Clara was forced on pause due to COVID-19 concerns, postponing what would've been their home opener last week, by adding a nonconference match with neighbor Utah Valley.
In Tuesday's home opener against Gonzaga, the Cougars adapted again.
And so far, they've adapted just fine.
Taylen Ballard-Nixon had 17 kills, five digs and a pair of blocks, and Leilani Dodson added 13 kills and six blocks to help No. 12 BYU stay undefeated with a 25-17, 23-25, 25-12, 25-17 over Gonzaga in the Cougars' home opener Tuesday evening in the Smith Fieldhouse.
Dodson's adaptability was the biggest move yet, though.
The 6-foot-1 native of La Grange, Illinois, had moved to outside hitter when she signed with BYU about six months ago. But when injuries forced her to move back to middle block, Dodson took it like a champ.
"We've been practicing for this moment for a year, to be adaptable, and to problem solve," BYU coach Heather Olmstead said. "It's what we've been doing for a year.
"Being able to put Leilani back in the middle, though, was such a smooth transition for her," Olmstead added. "We have so much confidence in her, and she brought so much joy and fun to the game."
Kate Grimmer supplied 12 kills and three digs for BYU (4-0), and Whitney Bower had a stat-stuffing 41 assists, 19 digs, seven kills, two blocks and the Cougars' only two service aces of the match.
Freshman Madi Allen had 17 digs and 13 assists, and Whitney Llarenas supplied six kills and four blocks.
Kennedy Croft led Gonzaga (1-2) with 14 kills and six digs, and Tia Andaya dished out 38 assists and five digs.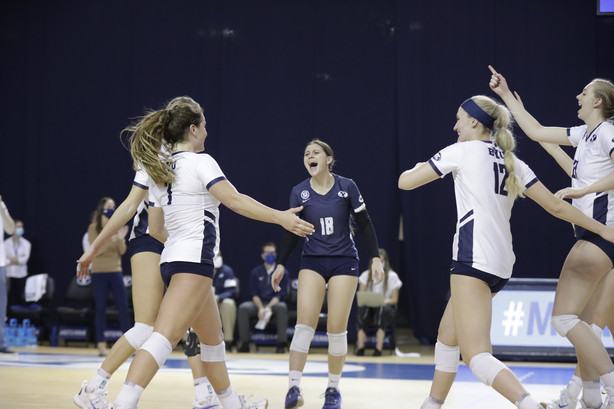 Llarenas helped the Cougars open the match hitting better than .450, slamming home a kill that capped a 9-1 run to go up 16-7. Ballard-Nixon led five BYU players with multiple kills, finishing five sets in the 25-17 win on Grimmer's kill in the opener.
But Sarah Penner gave the Bulldogs momentum in the second set with back-to-back aces during a 3-0 run to take an 8-4 lead. Ballard-Nixon brought BYU all the way back, capping a big run to give the Cougars their first lead of the set, 21-20.
But Croft forced a big run to set up set point, 24-23, before a long ball past the service line gave the Bulldogs a 25-23 win to even the match.
The Cougars didn't make the same mistake in the third set, scoring nine kills without an error en route to a 16-9 lead on a strike by Ballard-Nixon. BYU hit .560 in the third set, putting away 14 kills on 25 attempts without a single hitting error before Llarenas finished off the 2-1 advantage with a block.
"After that set, we just needed to focus on our energy and not what they were doing," Ballard-Nixon said. "We just came out and had fun, and played for each other. I think that was the big turnaround: we just had fun."
The Cougars weren't perfect in the third set.
But after ending the second set on an offensive mistake, they were about as close to it as possible, at least offensively.
The Cougars were unblockable until Livingston's attempt slammed into Alyssa Hughes and Tia Andaya midway through the third set. But Ballard-Nixon and Dodson combined on a block to take a 17-13 lead, Bower's second ace of the match forced match point, and Ballard-Nixon sealed the win to keep the Cougars' unblemished record intact.
Even with fan interaction limited to players' families and a handful of BYU administrators and volunteers, the Fieldhouse advantage remained intact for BYU. With coaches and bench players wearing masks, the crowd spread out in a socially respectable way, and white noise piped over the speakers, it almost felt normal as the Cougars improved to 22-1 all-time against Gonzaga, including an 11-1 mark at home.
"It's definitely different," said Ballard-Nixon, a senior from Clovis, California. "But I love the surround sound of the crowd (noise), because it still feels like a packed house. I still love playing at home, and the fans that can come, we love that they are here to support us every game."
The Cougars will host the Zags in the second of the two-match series Wednesday at 4 p.m. MT. The match will be broadcast on BYUtv, as will next week's home series Feb. 16-17 against Loyola Marymount.
×
Photos
Related Stories