PROVO — For the first time in two years, BYU football will close spring camp Friday.
In most seasons, the end of the spring football session isn't a big deal. It's a rite of passage, a signal that "real football" is coming, and that March and April are turning toward the summer, with fall immediately behind it.
But a year after the COVID-19 pandemic shuttered campus and sent BYU players home early — without a spring game, pro day or the end of camp — getting to the end means something.
To quote the tongue-in-cheek meme, nature is healing. As case counts lower and vaccine rollouts continue to climb, life is slowly returning to normal. And for head coach Kalani Sitake, that means the Cougars are getting better a year after their remarkable 11-1 season that finished in the top 15 in every major national poll, the best finish in two decades.
Time stops for no one. But if Sitake takes a step back on that final day — probably at or near the end of it, because there's still plenty of work to do — it's easy to understand why.
"For me, it's just trying to utilize that last day," Sitake said. "I've seen a lot of guys make some huge strides and get better overall."
The Cougars won't have a traditional spring game, but what about this spring — or this past year — has been traditional? Instead of an 11-on-11 mini-game that usually amounts to little more than a scrimmage, with limited tackling on either side, the Cougars will hold an open practice at LaVell Edwards Stadium. BYU has opened up a limited number of seats for Friday's practice (6 p.m. MDT), and a handful of $15 tickets among the 7,500 socially distanced, mask-required seats remain available to the public.
But don't expect a game to break out in the middle of the evening. With the final day of the 15-practice spring session approaching, a few minor injuries have crept up among several key position groups and Sitake doesn't want to jeopardize depth for a blue-and-white game. The only "football" that will be played Friday at LaVell Edwards Stadium will be the annual alumni game held at 4 p.m. MDT.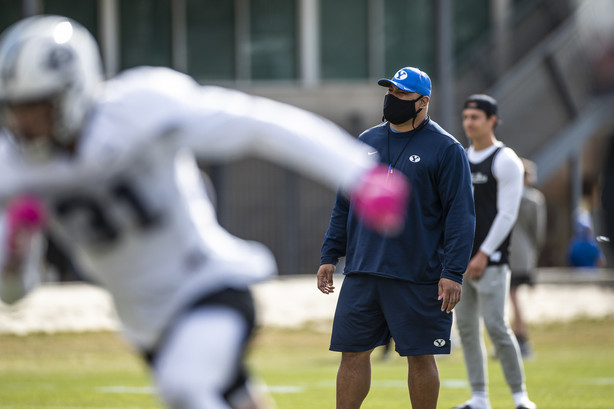 The position about which Sitake feels the best is the linebacker corps, with guys like Payton Wilgar, Max Toole and Keenan Pili leading the way. The coach added he likes the depth at the position, which includes rising sophomore Josh Wilson. The younger brother of now-former star quarterback Zach Wilson — who returned to Provo this week in anticipation of Friday's pro day that will be televised by the NFL Network — amassed five tackles in eight games.
"I've seen a lot of growth for myself," Josh Wilson said. "I think it's just being more comfortable. I know the guys — they're all my friends now. The playbook has just come easier. I think I've just gotten smarter; and when I feel like I'm knowing all the players and all that, I can play better because I'm just more comfortable."
Sitake also likes the Cougar wide receivers, where Gunner Romney and Neil Pau'u return to lead a group vying to replace the production of Dax Milne, who joined Zach Wilson in opting out of his senior season in favor of the NFL draft. BYU will also add brothers Puka and Samson Nacua, though the transfers from Washington and Utah, respectively, have yet to enroll at BYU and Sitake can't formally talk about them.
Regardless, there's a group of talent that remains among BYU's pass-catchers — a group that also includes record-setting tight end Isaac Rex and Lehi product Dallin Holker, who is returning from a two-year mission for The Church of Jesus Christ of Latter-day Saints and is expected to rejoin the Cougars by June.
"We've really just been working and making sure we know our assignments. That's the most important thing, is being reliable," BYU receiver Chris Jackson said. "They don't really care how good you are; if you're not reliable, you're not going to play. We really just want to make sure, as a receiver corp, that we know what we're doing on the field, and everything else will fall into place."
Still, there are plenty of areas of concern for BYU's depth — Sitake didn't report any significant injuries, outside of one, this week — that make the head coach reticent to roll out his whole team for an 11-on-11 full-sided spring game. Sitake said depth on the offensive and defensive lines continues to be key, with minor injuries catching up to several players, and those groups need to be healthy for the season — especially as the Cougars look to replace several standouts on the offensive line, including most notably Brady Christensen's vacated spot at left tackle.
But there's still a ways to go on the back end of the secondary, where BYU recently lost Micah Harper to a season-ending injury. Keenan Ellis and D'Angelo Mandell are back and should anchor the secondary, plus "Super Senior" Jared Kapisi — one of just two defensive players taking advantage of the NCAA's free season of eligibility provided by the pandemic. Sitake added that freshmen Dean Jones and former Orem standout Ethan Slade have also emerged during camp.
"It's unfortunate because he's a starter for us," Sitake said of Harper. "But we've seen other guys at that position. It's still a deep group at corner, and we've seen other guys come along. I feel good about the DBs."
Sitake and new offensive coordinator Aaron Roderick also still need to decide on a starting quarterback, with Jaren Hall, Baylor Romney, Jacob Conover and Sol-Jay Maiava-Peters still locked in a four-way battle to replace Zach Wilson. One of them will eventually emerge from the scrum, though it won't happen until the fall — any time before the Sept. 3 opener against Arizona in Las Vegas is all that's really needed.
But Sitake would like to pare down the competition this week, perhaps make the job a 2-3 man race instead of four after Friday, and begin to establish some semblance of a depth chart at college football's most important decision.
"We still have three more practices, including the one on Friday," Sitake said. "We'll see how it works with those guys, and then try to whittle it down.
"We're going to need to get more reps to the guys competing for it, and that'll happen at the end of this week."
Hall likely remains the frontrunner, according to limited sources who have been allowed to view the fan-less and media-free spring camp, for both his experience and athleticism. But no one has taken a commanding lead over the field, either. Jackson did say Monday, however, that Hall and Romney have stepped into a strong leadership role in the absence of Zach Wilson and defensive stalwarts like Troy Warner and Khyiris Tonga.
Does that alone give them the edge? Probably not; each signal-caller brings his own unique skill set and strengths to the position.
"I think they're all great quarterbacks," Jackson said. "They all have their own style of play. Some may be more athletic than others; some just have a different style. They all work very hard, they all rotate, they all do the job."
Editor's note:Due to inclement weather forecasted for Friday, the BYU football team announced Tuesday afternoon that the fan-friendly open practice had moved to the Indoor Practice Facility and closed to the public. Refund information for fans and further details are available here.
×
Related Stories