PROVO — Uriah Leiataua was as good as gone last year.
Ready to leave an impact in his senior season with the BYU football team, the 6-foot-4, 265-pound defensive end from Compton, California, reported to spring training to get a jumpstart on the 2020 season.
He was all set to fade off into the sunset with his senior class, a group that includes likely NFL-bound tackle Khyiris Tonga, Zac Dawe and Bracken El-Bakri, among others. When COVID-19 forced the cessation of camp — as well as all athletic activities on BYU's campus — Leiataua made an appointment with long-time BYU supporter Stroshine Performance in Pleasant Grove and continued his training with the same goal in mind.
"I was fast, man," he joked. "I was flying around."
Then, tragedy. Leiataua broke his leg early in the offseason, and defensive coordinator Ilaisa Tuiaki immediately launched a plan to bring him back for a medical redshirt season in 2021.
That was the plan. When the NCAA granted a blanket waiver on behalf of the pandemic to all seniors to return for another free year of eligibility, it simply expedited Leiataua's plan.
He returned in time to play sparingly across eight games in 2020, notching 13 tackles, 2.5 tackles for loss and a forced fumble during the Cougars' 11-1 campaign that finished with their highest national ranking in over a decade.
Fast forward a year later, and Leiataua — along with Hawaii-born defensive back Jared Kapisi —are the only BYU players who ended up taking advantage of the NCAA's blanket waiver. They'll be the only "Super Seniors" — and two of three seniors on defense, along with Taylorsville product Mufi Hunt — on a roster ranked in the bottom of the Football Bowl Subdivision for returning production, tasked with leading out on a defense that — in many ways — sorely needs it.
Leiataua can't wait to get started.
"I just felt like I had a lot of business left unfinished, and a lot of things on the table," Leiataua said Monday after the Cougars' first spring practice of 2021. "Last year was supposed to be that year, but God has bigger plans and I'm going to take advantage of it."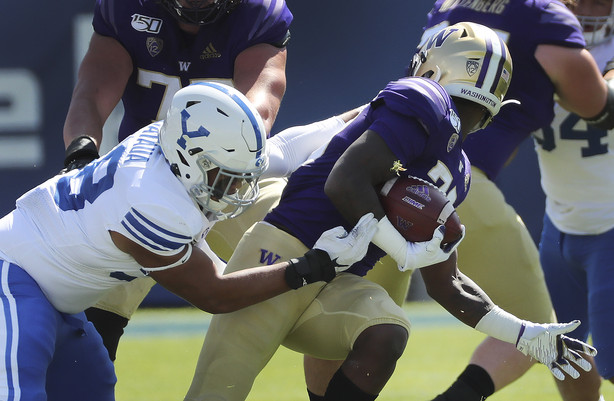 The only thing constant in college football is change. But for Leiataua, perhaps the biggest change was watching the Cougars' pregame ceremony on senior night against San Diego State — and not being a part of it.
He understood why he was coming back. He wanted to come back.
But after grinding in the trenches for four years — well, it's easy to understand why he might've felt the smallest ounce of remorse.
Mostly, though, it was happiness.
"As hard as it was for me to watch them walk across the field on senior night, I was so happy for them," he said. "We grinded all of 2020 to have a season like we did.
"It sucks not being with them, but I was so happy for my guys like Zac Dawe and Khyiris — for all the things we've done. We've been there since the beginning. Yeah, it was hard for me to watch it — but I'm so ready for this year. I'm just going to put it all into this year, and give it my all."
There were plenty of new things as the Cougars opened spring practices Monday — new assistants like offensive line coach Darrell Funk and linebackers coach Kevin Clune, new offensive adjustments under coordinator Aaron Roderick, and new personnel that include replacing three of five starters on the offensive line following the departure of Brady Christensen, Tristen Hoge and Chandon Herring.
There were plenty of other changes, too. Former Cedar High quarterback Mason Fakahua has moved to running back, as BYU officially opened the quarterback competition between Jaren Hall, Baylor Romney, Jacob Conover and Sol-Jay Maiava-Peters.
Incoming freshman Donovan Hanna, an athletic, highly touted tight end from Queen Creek, Arizona, who came with a personal recommendation from former BYU quarterback Max Hall, has moved from tight end to offensive line; and former Sky View standout Caleb Christensen will don the No. 4 jersey left vacant by both Warner brothers, most recently safety Troy as well as current 49ers linebacker Fred.
But mostly, there was excitement for another round of spring football — and gratitude.
"It still feels like we've got a big group of guys with a lot of experience who can step in," center James Empey said. "We're confident in everybody.
"We wish those other guys the best success when the draft rolls around. I'm confident in the guys that we've got right now, that we can keep it rolling and keep our culture rolling."
Empey himself had his own decision to make about the future. The fourth-year junior from American Fork could've joined Christensen in declaring early for the NFL draft, and he likely would've been able to start his pro career.
But that wasn't in the cards for Empey, nor for his wife Maddie, a junior cross country runner at Utah Valley who recently placed in the top five at the Western Athletic Conference championships and qualified for the NCAA national meet March 15 in Stillwater, Oklahoma.
BYU has helped build Empey, and Utah County is his home (at least, in the past and present). He has sisters who play soccer for the Cougars, and his father Mike is a BYU grad who previously coached the offensive line in Provo on two separate occasions.
Empey will have time to focus on a pro career soon enough. But for now, his place is in Provo — like Leiataua, Kapisi and the other players tasked with building on a generational football season played under extraordinary circumstances.
"It's an incredible place," Empey said. "I'm so excited for this last season, to go to work with my friends and to have a good time."
There's plenty of doubt that the Cougars can build on last year's success, which saw six Power Five opponents cancel from the originally scheduled season as athletic director Tom Holmoe rebuilt BYU's schedule on the fly.
But there were also a lot of doubters that the Cougars would play a fall season — and they made it through 11 games, including a 49-23 win over UCF in the Boca Raton Bowl that served as Josh Heupel's exit from Orlando for the Tennessee job.
One year ago, there were plenty of doubters in the BYU program. Nothing has changed, Hall and head coach Kalani Sitake both said Monday.
"A year ago, we had five practices and then had to put a stop to it," Sitake added. "But we made a lot of progress as a team, and I think our society has made a lot of progress. Hopefully we can get better, and can be together soon, too.
"What it drives me to do is just be thankful for the people who put in a lot of work so we could play football. It means a lot to me, and I know it means a lot to our players."
×
Photos
Related Stories