PROVO — Jacob Conover has to pinch himself from time to time.
Ever since the BYU freshman was a little kid, he's dreamt of this moment — of waking up on Saturdays and playing quarterback for the BYU football team.
As a four-star recruit at Arizona's Chandler High, the 6-foot-1, 205-pound rising star had plenty of offers to play college football. Alabama came calling, with head coach Nick Saban texting him several times per day. Arizona State's Herm Edwards called him regularly to play for his hometown school.
Arizona. Northwestern. Ole Miss. Washington State. They all wanted Conover — and then some.
But BYU was where he wanted to be. So as soon as head coach Kalani Sitake and offensive coordinator Jeff Grimes extended him a scholarship offer, Conover knew he couldn't turn it down. He committed to his dream school soon after and imagined the day when his dream would be a reality, after his signing day in December 2019.
Now, it is.
"I think I take for granted that I get to wake up every day and do something that I love," Conover told reporters during the Cougars' weekly teleconference during the second week of spring football. "To be here at the university and get the education I've had, it's literally living a dream I planned out as a young kid. Me and my dad, since I was in third grade, we had every year mapped out.
"It's cool to finally make dreams become reality."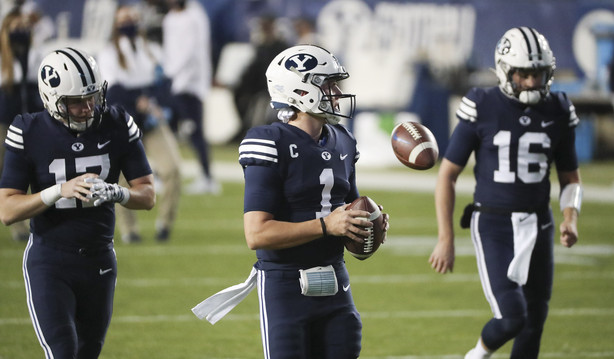 Conover hasn't made his debut for BYU yet. But after returning early from a two-year mission for The Church of Jesus Christ of Latter-day Saints in Paraguay due to the COVID-19 pandemic, the freshman was working part-time in the Phoenix area when Sitake called him to enroll at BYU and be ready as an emergency, fill-in quarterback for his dream school.
Conover didn't think twice about it. He wanted to help his team however he could. So the pro-style quarterback who isn't afraid to run with the football packed up his car, and he and his father Jeff drove to Provo, enrolled in classes two days before school started, and got to work on the scout team. Between him and fellow freshman Sol-Jay Maiva-Peters, the Cougars got some of the best work out of practice as Sitake's seen in his time at BYU. It was a key reason for the Cougars' success during the 2020 campaign, one that finished 11-1 with a top-15 national ranking in every major poll.
Conover took plenty out of that first semester, too. First of all, "mission body" — the term most Latter-day Saints use to describe how they feel after trying to jump back into athletic endeavors following two years of proselytizing — is real, he says. But Conover also got to learn from junior quarterback Zach Wilson, who led the 11-1 season and has departed for the NFL Draft, where he is expected to be a first-round pick.
Conover watched Wilson every day in practice. He lined up next to him during pregame warmups and similarly watched fellow backups Jaren Hall and Baylor Romney. His time would come, Conover reminded himself; for now, he was watching and learning.
"I was thrown into the fire," Conover said. "But it was awesome to be able to learn under Zach; he was doing something right, obviously, since he's going to be a first-round draft pick. To be able to learn from him and dive into the playbook — I know a lot of kids from my class are just getting here now, but I had a full season to learn from Baylor, from Jaren, from Zach, from coach (Aaron Roderick). I just really took advantage of the opportunity to learn.
"It's almost now like I'm coming in like a veteran."
Conover says he's learned the BYU playbook now, and he's ready to do what the Cougars need him to do. That includes competing for the starting job, where he's working against Hall, Romney and Maiava-Peters every day in practice.
One of them will be named the full-time starter, though Sitake says that decision likely won't be made until the fall. For now, four quarterbacks are splitting the reps in spring evenly — which isn't an easy task.
But Conover doesn't feel like he's competing against the other three signal-callers. Sure, there's competition, and each of them wants to win the starting spot. But there's no animosity, no hyper-competitiveness that causes hurt feelings or ill intentions.
It's competition, but at the end of the day, it's teamwork.
"At the end of the day, we're all on the same team and we all have the same goal, which is to win football games," said Romney, the winningest quarterback on the team. "We can joke around with each other, but we understand that we need to take our reps seriously, as well."
Hall has the athleticism, Romney has the experience, but Conover and Maiava-Peters may have the biggest upside. The Chandler product threw for more than 10,000 yards and 102 touchdowns in high school, winning three consecutive Arizona 6A state titles and 3,306 yards and 38 touchdowns as a senior.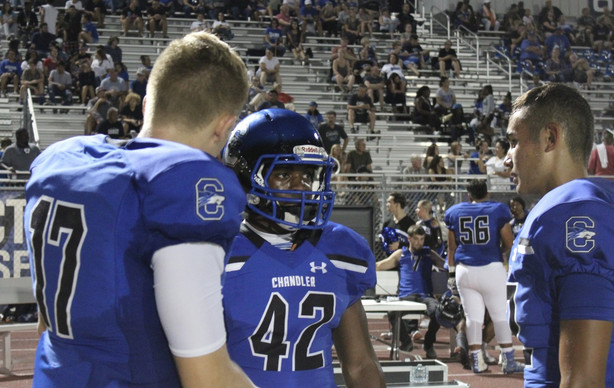 "I think all the quarterbacks have something unique about them," Sitake said. "But Jacob — the guy's a winner. You look at what he's done in high school, and he's a great leader. He works hard. There's never a job that's too little or too big for him.
"Jacob's got a bright future, and it just depends on when his time starts. The competition is going to get the best out of all these guys, and he's embracing that competition. All of those guys are."
In high school, Conover did all that while also establishing BYU's recruiting footprint in his home state, as well. Among Conover's current teammates is Gunner Romney, who played with the quarterback at Chandler. Fellow Wolves alum Cash Peterman just enrolled in school as a kicker and punter, and Chandler offensive tackle Sione Hingano signed with the Cougars in the Class of 2021.
Conover was constantly on the phone with BYU recruits. Other coaches often called him to ask about Arizona players they were recruiting, too. His voice turned into leadership before he set foot on campus.
"He's a guy who you don't have to ask him to do anything; he just does it," Sitake said. "It's how he is as a player. He took advantage of all the reps he got as a scout team quarterback against our defense, and he gave our defense a lot of issues and fits with his accuracy and his ability to make plays and make accurate throws."
"Whenever faced with adversity, he'll turn it around and make it a positive. That's exactly what our culture is on our team, and he's a perfect fit for the program."
Conover may be BYU's quarterback of the present. He may be the quarterback of the future. Whatever the case, he's confident he's going to leave a mark on BYU.
The Cougars have already left a mark on him.
"Last year, getting home from my mission and working on the scout team, it was a blast," Conover said. "I enjoyed every moment. But now it's time to shine, and rock and roll."
×
Photos
Related Stories