PROVO — Puka Nacua is coming home.
Not long after the former Orem High standout put his name in the transfer portal, the 6-foot-1, 210-pound wideout who spent two seasons at Washington committed to continuing his playing career at BYU, the former Washington receiver announced Monday on his Instagram page.
In addition to Nacua, older brother Samson Nacua — a Timpview High product who most recently played at Utah — will also be moving back home to play in Provo.
"Coming home, momma," Puka Nacua said in an Instagram post.
The Orem alum clarified earlier in the day on a Seattle-area radio station that "some family issues that came up" led to his decision to transfer from Washington. He added that he needed to be close to home to help his mother and grandmother, but declined to say where his end destination would be.
A few hours later, he made up his mind. So, too, did his brother.
"Talked with Dad," Samson Nacua wrote on Instagram, referring to his late father Lionel who died in 2012. "Told me mom needs us home. #GoCougs."
In the era of the transfer portal — and even with the NCAA-mandated recruiting dead period — recruiting never stops. That includes at BYU, which is looking to replace the most lost production in the country, according to ESPN.
At the top of the list is Dax Milne, the 1,000-yard receiver who departed Provo with a year of eligibility remaining to enter the NFL draft. Milne is looking to maximize his potential playing with quarterback Zach Wilson, the projected first-round draft pick, but there's little doubt he leaves a hole in the Cougars' offense. The Nacua brothers could fill a big chunk of that hole, with Samson coming off a 1,000-yard career and Puka being arguably the most athletic receiver the state of Utah has ever seen.
In addition, the Cougars are also set to return former American Fork star Chase Roberts, the 6-foot-4, 185-pounder who recently returned from a two-year church mission. Under head coach Kalani Sitake, BYU is becoming an option for the state's top talent — whether out of high school, off missions, or through the portal.
"I think it's the opportunity to grow and learn. The fact that BYU is hard is the key," said Sitake, who can't comment on the Nacuas until they enroll at BYU or sign grant-in-aid with the university. "It'll test you in academics. We'll put you in uncomfortable situations in football, and then you have to commit to a lifestyle that is new and unique from anywhere else in the country.
"I think we hang our hat on the fact that this is going to be tough go at it. But you're going to learn a lot of great things about yourself. It's very similar to what you go through on a mission. … I think there's an opportunity for these young men to grow and get better. We feel like our culture is built on love and learn, and we can really thrive on those guys looking to test themselves and get better."
Puka Nacua, the younger brother of former BYU (and currently San Francisco 49ers) safety Kai Nacua, put his name in the portal Sunday, but declined to elaborate on his decision to various media. That set off a serious round of speculation, with many believing Nacua could find his way back home.
"Thank you so much for accepting me and being apart of this chapter in my life," Nacua later wrote in an open letter to Washington fans. "Memories and relationships made here will last a lifetime. My heart is filled with gratitude for my brothers on the team and to Coach Lake, Coach Adams, Coach Socha and Coach Sammons and the training staff as well. But at this time, it's best for me and my family, my path to go elsewhere and I'm excited for what the future has to hold."
Nacua, who hails from the Las Vegas area, grew up in Provo and set state records at Orem High, led all Washington receivers in catches (9), receiving yards (151) and touchdowns (1) as a sophomore in 2020 — despite playing in just three of the Huskies' four games during the truncated, coronavirus-affected season. A former MaxPreps and USA Today first-team All-American in 2018, Nacua burst onto the scene as a freshman in 2019, when he played in each of the season's first eight games — including three starts — before an injury shut him down for the rest of the season.
The former Gatorade Utah player of the year who totaled a state-record 260 catches for 5,226 yards and 58 touchdowns in his career notched his first collegiate catch for the Huskies on a 28-yard touchdown against Hawaii, and finished his time in Seattle with 16 receptions for 319 yards and three scores. That's an average of 19.9 yards per catch, or 29.0 yards per game.
But Nacua's production — along with the entire wide receiver room — declined as the Huskies transitioned from former coach Chris Peterson to new coach Jimmy Lake. Following a season-opening win over Oregon State that included 51 running plays and 24 passes, the former Washington defensive coordinator wore a hat to his weekly news conference with the words "Run the d*** ball" scrawled across the front.
Indeed, when Nacua first committed to Washington on live television in the middle of a Utah snowstorm — he selected the Huskies over the likes of BYU, Utah and UCLA, among others — Peterson played a key role in his decision. Immediately following his declared intentions, Nacua took a phone call from Peterson — still on set — and told him, "Yes coach, I'm a Dawg, coach."
"I get to go play football at Division I and continue my education," Nacua told KSL.com that night. "It was really hard to say there was a bad choice. But there is definitely a place for me, and I feel like that is Washington."
Or at least, it was.
Nacua is the third wide receiver to transfer away from Seattle this offseason, including former Provo High standout Ty Jones (now at Fresno State). The Huskies are also set to return every scholarship player at offensive line, running back and tight end.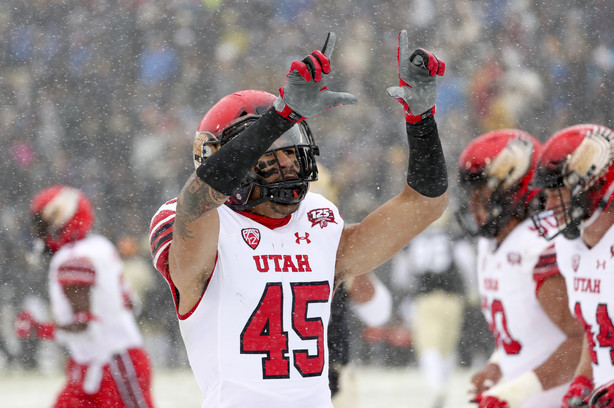 Nacua confirmed his entry into the transfer portal Sunday night. By Monday morning, he was no longer listed on Washington's spring football roster. Players are not bound to leave once they enter the portal, but schools are also no longer required to uphold their scholarship if a player opts for the departure mechanism.
Washington also recently picked up from the portal Ja'Lynn Polk, who made 28 catches for 264 yards and two touchdowns in 10 games as a true freshman at Texas Tech in 2020.
Potentially complicating Nacua's decision was that his older brother Samson had also recently entered the transfer portal. The 6-foot-3 wideout who prepped at Timpview High finished with 82 receptions for 1,015 yards and 11 touchdowns during his career at Utah, which ended just a few short weeks before the Utes dismissed wide receivers coach Guy Holliday and brought in former graduate assistant Chad Bumphis from Austin Peay.
The Utes also lost former wideout Bryan Thompson to the transfer portal. He has since transferred to Arizona State.
But the Nacuas' decision always seemed in tandem together. On Monday, they just made it official.
×
Related Stories