Estimated read time: 5-6 minutes
This archived news story is available only for your personal, non-commercial use. Information in the story may be outdated or superseded by additional information. Reading or replaying the story in its archived form does not constitute a republication of the story.
PROVO — There's no denying that Zach Wilson had an incredible junior season for BYU.
Playing in a pandemic after the Cougars' original schedule had been blown up by Power Five teams canceling the season, Wilson led BYU to one of the all-time great football seasons in school history with an 11-1 record — and the Cougars' highest national ranking since 1996 — which propelled the baby-faced signal-caller into the first round of the NFL Draft.
How far up in that first round is the big debate of the predraft process, but there's no denying Wilson had a great year.
And he wasn't the only one — which is why BYU offensive tackle Brady Christensen and wide receiver Dax Milne, among others, also left school a year early to enter the draft.
Don't forget the other guys around Wilson when considering his rapid ascent, ESPN draft analyst Mel Kiper Jr. cautioned this week during an hourlong conference call with reporters around the country.
"Those offensive players certainly did help," said Kiper, who also credited James Empey, the senior who returned for his redshirt junior season next year. "It wasn't like he was dealing with an inferior supporting cast. He had some really good players around him on the offensive line and wide receiver."
Wilson threw for 3,692 yards with 33 touchdowns and just three interceptions, a top-three mark nationally by ESPN. But Milne caught 70 of Wilson's 247 passes for 1,188 yards and eight touchdowns — and a QB is only as good as the line that protects him.
Kiper called Christensen a "key entity" in Wilson's success, which is why he wasn't surprised when the consensus All-American from Bountiful joined his quarterback in declaring early.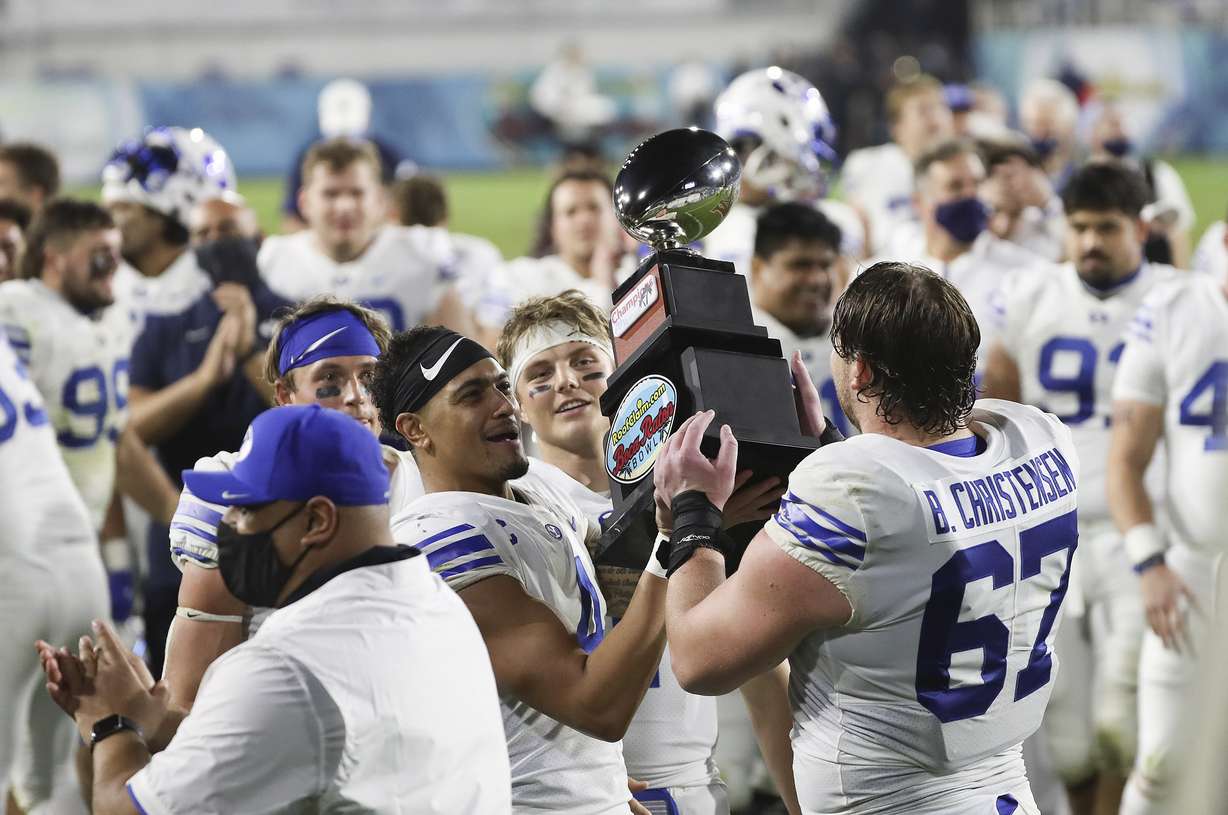 "That's my dude," Empey said of Christensen. "We were roasting him a little this year because when he first came in, he was all over the place. If you saw his first-year film to his film now, you'd see how hard he worked and how dedicated he was to getting better.
"The dude works hard and he deserves it."
Still, don't discount Wilson's traits altogether; the Corner Canyon product improved every year of his BYU career, going from 1,578 passing yards as a freshman to 2,382 as a sophomore to more than 3,600 as a junior. He cut his interceptions by a third between 2019 and 2020, healing a previously injured shoulder to drop from nine picks to three, and eliminating fumbles and ball security issues as well as anyone.
"He eliminated all of that this year," Kiper said, "and became a great college quarterback."
Add to it the athleticism of a former high school basketball player — and one who has worked with former BYU and NFL quarterback John Beck almost exclusively for the past two years — and Wilson seems like a selection worth picking.
All of that has Kiper believing Wilson is a top-10 quarterback from each of the past two draft classes — trailing only likely No. 1 pick Trevor Lawrence this year, and Joe Burrow, Tua Tagovailoa and Justin Herbert from a year ago. Former Utah State signal-caller Jordan Love, a late first-round pick by the Green Bay Packers a year ago, also made Kiper's top-10 of the past two years.
It's also why Kiper continues to keep Wilson as his second quarterback off the board for this April's draft. Even if that doesn't mean going to the New York Jets at No. 2, Kiper believes Wilson has all the tangibles of a top-five quarterback, and he could even see a scenario where the Atlanta Falcons swap picks with New York at No. 4 to grab the BYU product.
Such a scenario makes the most sense even for Kiper, who still believes Sam Darnold is a better option at QB than any pick in this year's draft outside of Lawrence. Wilson, after all, still has his question marks.
"In terms of Zach, he was great for one year against a cupcake schedule," Kiper said. "No question in the arm strength, the release; there's a lot to like about Zach Wilson. But he didn't do it over a three-year period, and there were times earlier in his career when he held the ball too long or fumbled the ball. Then he got better.
"He had a great, great year. He could be the second pick in the draft. But I had a higher grade on Darnold, and I would move forward with Darnold rather than draft Zach Wilson and lose out on Kyle Pitts or Devonta Smith or Ja'marr Chase."
Put another way, when Kiper made an appearance last week on "First Take": "I think Sam's a better quarterback than Zach Wilson. End of story."
Kiper's rankings aren't without controversy, especially in Columbus, Ohio, where Buckeyes fans feel that their own star quarterback Justin Fields is being overlooked.
But Wilson's mobility and athleticism, combined with Fields' struggles twice during the pandemic-altered 2020 season, gives him the edge in Kiper's mind.
"Zach is going to go high. Justin Fields is probably going to fall into that seven area," Kiper said. "Had Justin not had a few hiccups, he probably would be in the second guy in the field. They're both going to go high and, hopefully for the NFL, they both end up being really good quarterbacks."
×
Related stories
Most recent NFL stories