Estimated read time: 4-5 minutes
SALT LAKE CITY — The killings of eight people at massage businesses in the Atlanta area have reminded college administrator Kathryn Coquemont of the collective mourning in the U.S. following the terrorist attacks on September 11, 2001.
But instead of an entire nation sharing in the grief, the Tuesday attacks in Georgia have caused especially profound despair for Asian Americans already facing harassment in the pandemic, and especially Asian-American women. Six of the eight victims were women of Asian descent.
"The thing that is so hard is that you might have the same feelings that you had when something tragic like 9/11 happened, because it's tragic to you and your community. But everything else just continues," Coquemont said Friday. "And people don't understand why it's something you're still thinking about two days later, or three days later, or four days later."
Coquemont and about 100 others gathered at Salt Lake Community College's campus on State Street for a vigil honoring the eight people killed more than 1,800 miles away. They called out the names of the victims, drew them in chalk and shared a moment of silence. Several took turns calling for unity as others held a banner reading "Against Terrorism: Love & Solidarity AAPI."
Asian Americans across the country, including many who are older, have been targeted in assaults during the pandemic. Former President Donald Trump and others have described the virus first identified in China in racial terms.
On Friday, Tien Van Pham said he moved to the U.S. from Vietnam 40 years ago and has long felt at home in the Salt Lake Valley. But when the coronavirus reached Utah, people began making comments like, "If you guys didn't eat bats, this wouldn't have happened."
"I didn't bring it here. I'm here already," said Pham, 59, who is an academic advisor at the college. "Whoever says those things, they should remember that."
Since March 2020, 3,795 incidents — four of them in Utah — have been reported to the California-based organization Stop AAPI Hate and groups it works with.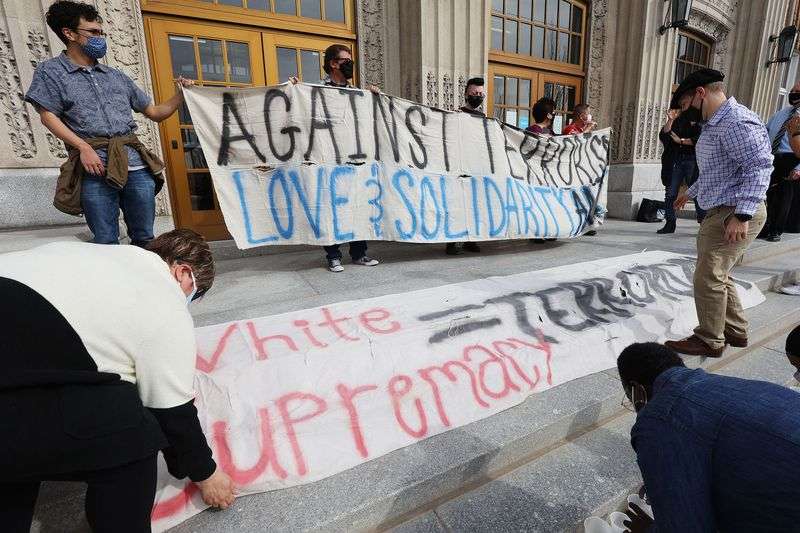 The Beehive State is home to nearly 76,500 people of Asian heritage and about 30,700 who are native Hawaiian or Pacific Islander. Many members of those communities feel at once invisible and conspicuous, said Coquemont, the college's vice president for student success.
"Being conspicuous is what can lead to you being harmed," she said. "And yet you being invisible is what allows for that harm to continue to happen over and over."
Mary Stout, an administrative assistant at the college, agreed.
"We're known as the model minority, but what that essentially means is that we're invisible," she said. "People think Asians aren't discriminated against, because 'Oh, they're so successful. They're doing so well.' That's actually not the case. A lot of Asians are living in poverty."
Stout said most of the women killed in the Atlanta shootings were working low-wage jobs that required them to deal with the public in the pandemic, instead of being able to work from home.
She held a sign that read, #StopTheViolence: "A bad day is no excuse" — a reference to the sheriff's captain who said of the gunman, "It was a really bad day for him."
Authorities said Robert Aaron Long, 21, told them the attack was not racially motivated and that he targeted the spas because of a sex addiction. Many have said not calling the attacks hate crimes will discourage others from seeking help.
Bianaca Teh, 28, who immigrated to the U.S. from the Philippines with her family 14 years ago, said her mother sent an urgent text to Teh and her siblings last year. She warned them to stay home not just because of the pandemic, but to stay safe from xenophobia.
"She told us to wear sunglasses and just cover our faces to make sure that no one knows what kind of race you are, because she doesn't want her babies hurt," Teh said.
At first, Teh thought the request silly, but she later spoke with others and realized the unease was widespread, with many feeling unsafe in public.
After the attacks, a wide array of Utah's civic and community leaders of Asian and Pacific Islander heritage said rhetoric like calling the coronavirus a "Chinese virus" has instigated attacks across the country and must stop.
"While the motives connected to these horrifying killings are yet to be settled, it is deeply disturbing that many of the fatalities are among the most vulnerable in our communities: women of Asian descent," the group said in a statement.
Its authors included state lawmakers Sen. Jani Iwamoto and Rep. Karen Kwan, and West Valley City Councilman Jake Fitisemanu Jr. The leaders urged Utahns to report racist acts and to call out hate-fueled rhetoric.
The victims of the Atlanta shooting are: Soon Chung Park, 74; Suncha Kim, 69; Yong Ae Yue, 63; Delaina Ashley Yaun, 33; Paul Andre Michels, 54; Daoyou Feng, 44; Xiaojie Tan, 49; and Hyun Jung Grant, 51.
×