Estimated read time: 7-8 minutes
This archived news story is available only for your personal, non-commercial use. Information in the story may be outdated or superseded by additional information. Reading or replaying the story in its archived form does not constitute a republication of the story.
SALT LAKE CITY — In a Sunday night team meeting before Monday's NCAA cross-country championships, BYU women's coach Diljeet Taylor, who had just flown in after spending the previous few days at the NCAA indoor track and field championships, had a message for the split-up crew going in Stillwater, Oklahoma.
"I told them last night they needed to be gold diggers," Taylor said on an ESPNU microphone after Monday's race, "and you saw them dig today."
BYU is coming home with that gold.
A year after the men's cross-country team won its first national championship, the Cougar women harriers scored 96 team points to easily outdistance second-place North Carolina State's 161 in the 6,000-meter race. Stanford (207), Michigan State (212) and Minnesota (239) rounded out the top five.
BYU placed all five scoring runners in the top 50 — including four in the top 35 — led by senior Anna Camp-Bennett's 11th-place finish in 20 minutes, 28.3 seconds.
The Cougars added a 15th-place finish from sophomore Aubrey Frentheway in 20:34.9, followed by senior Whittni Orton at 17 (20:35.6) and senior Sara Musselman at 33 (20:51.3). McKenna Lee finished 41st in 20:59.9 to cap BYU's scorers.
In a year with so many unknowns, from last season's canceled outdoor track and field championships to postponing the cross-country season from the fall to the spring, the Cougars found a way to stick together — both figuratively during the coronavirus pandemic, and literally during the race — to win the program's first national championship since 2002.
"It was such an unknown year and we had two different teams — one competing in indoor and one in cross," said Camp-Bennett, the Millard High grad who led the way to the program's fifth title, all since 1997. "It's just amazing. These girls are the best. And coach Taylor, she's been gone from her home for so long, but she's amazing."
None exemplified the "gold digger" mentality more than Orton. The former basketball standout at Panguitch High (and four-time Class 1A state cross-country champion) suffered an injury as the pandemic pushed the 2020 meet to the spring of 2021. But Orton returned in the past month, returning to training over just 4-6 weeks.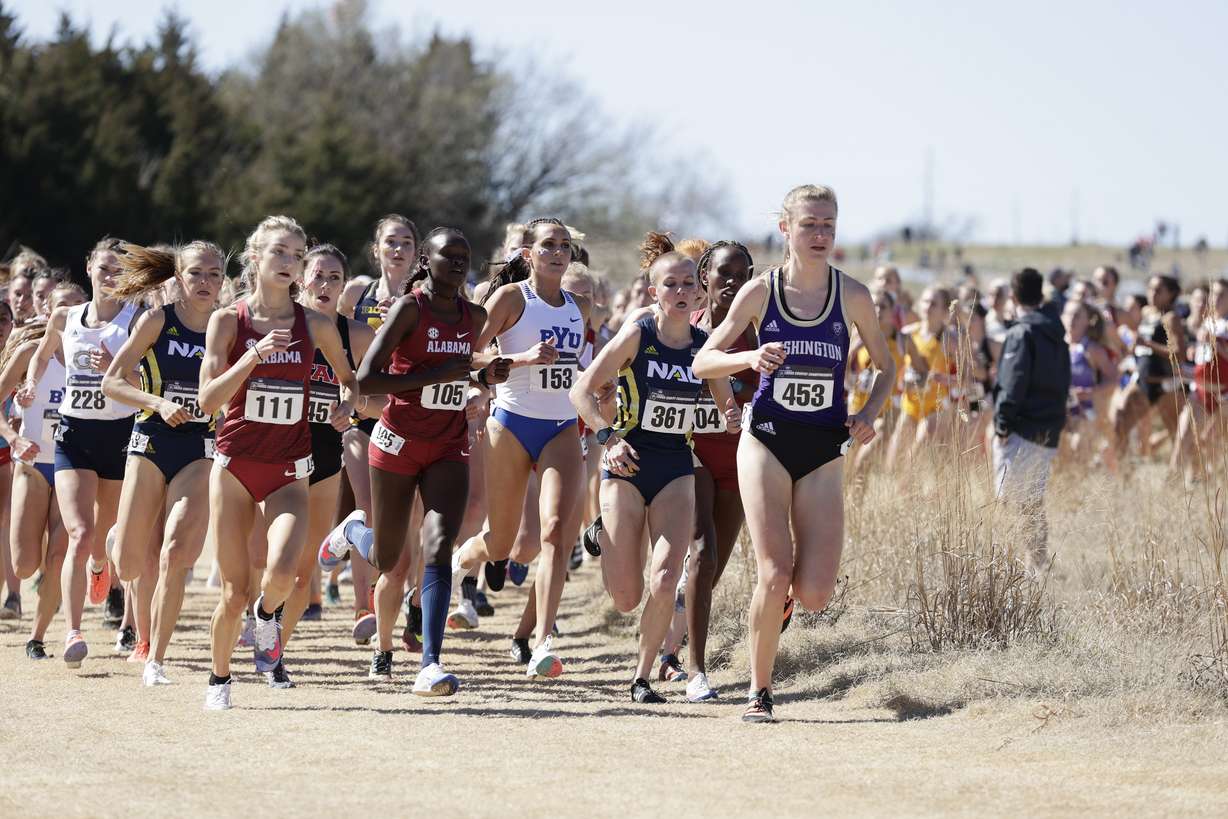 Her teammates called her "Gritty Whitty" for the way she dug deep and finished out the season, a nickname that may now stick after the Cougars' most recent triumph.
"I don't know what would be more of a roller coaster in my eyes," Orton said. "I had a little injury that pushed me back a ton, and I only had four weeks to get here. It was very unreal."
Taylor was at the center of the BYU team's championship, even as the group of harriers rushed their coach with the trophy after she was interviewed on ESPN. Formally the associate director of cross-country and track and field, Taylor — a three-time All-American at Cal State Stanislaus — has worked hand-in-hand with men's coach Ed Eyestone since she arrived at BYU in 2016, and the two have built up a powerhouse distance program in the West and nationally.
Monday's championship was a culmination of the past five years. But it was a moment bigger than athletics, in many ways.
"They're running for something bigger than themselves," Taylor said. "When you can get women to buy into that — when they step on the line, empowered and strong, that is when you see magic happen. And that's what you witnessed this weekend."
The title caps an extraordinary weekend for BYU, which won the distance medley relay at the indoor track and field championships with a time of 10:52.96, the sixth-fastest time in NCAA history and almost a full second faster than the Cougars' previous program record.
It was also the school's first national title in the event.
A day later, Courtney Wayment won the 3,000-meter title to help the Cougars finish seventh overall at the indoor championships in Fayetteville, Arkansas — the program's best finish since 2009.
"The show that Diljeet's athletes put on was amazing," Eyestone said in a news release from the school. "Her group accounted for all the women's points and it was evidence of her getting her athletes prepared."
Weber State's Summer Allen finished seventh overall with a time of 20:23.3. University of Utah junior Poppy Tank came in 27th with a time of 20:45.9, and Utah State senior Katie Struthers finished just inside the top 50 at 43rd (21:01.6).
Southern Utah's Alison Pray was 50th with a time of 21:04.4, and Utah Valley's Maddie Empey finished in 21:45.6.
On the men's side, defending national champion BYU labored to a seventh-place finish. But the Cougars received one of the best individual efforts in program history in Conner Mantz.
In fact, it was the best finish this year.
Mantz used an intense kick over the final 1,500 meters to pull away from the field and win his first national title. The junior's time of 29:26.1 was more than 22 seconds ahead of second-place Adriaan Wildschutt and more than 30 seconds better than Northern Arizona top runner Nico Young (29:58.3).
In many ways, Mantz credited Wildschutt for the win, as the Florida State junior helped break up a windy day on the course to prepare his final kick. The two ran mostly even, but Mantz's final sprint — combined with his "Mantz zone" mentality of pain at setting an enormously fast pace — helped secure his individual title.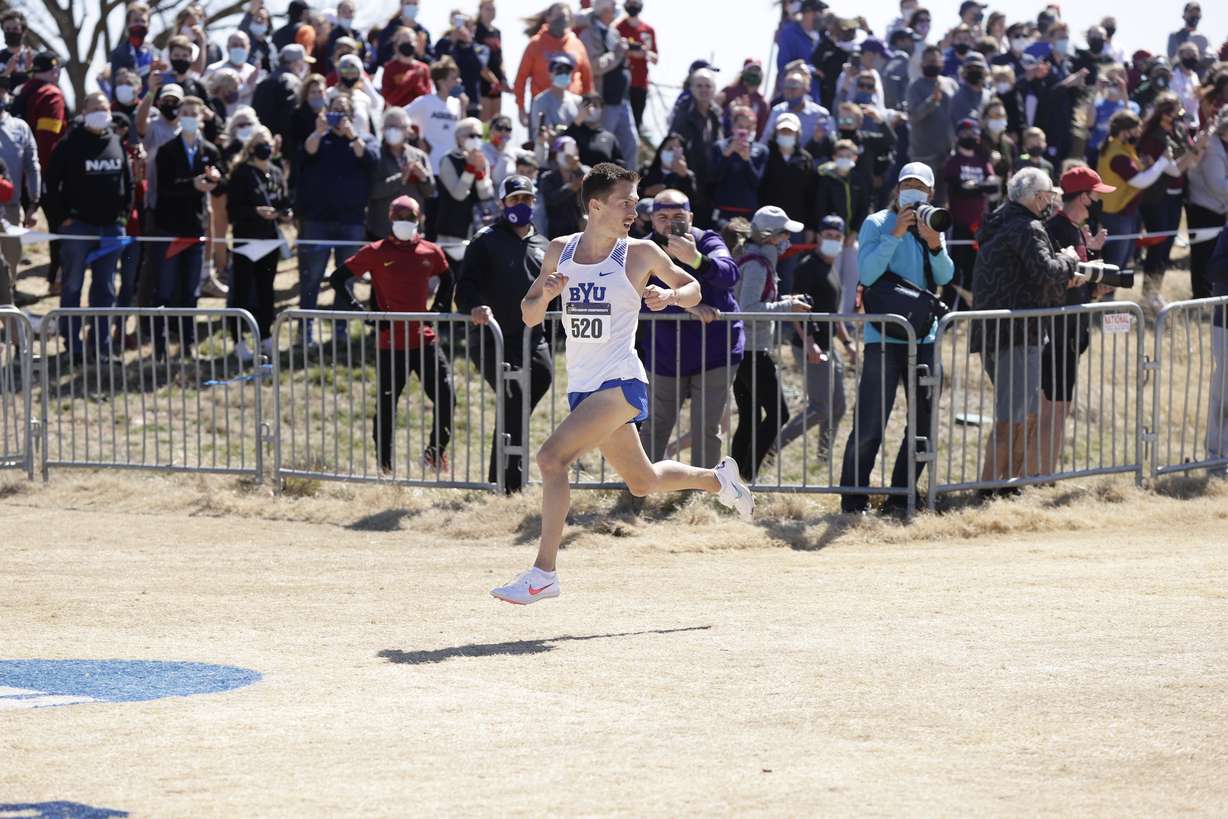 "He took it for a couple hundred meters, I took it for about 1.5K," Mantz told ESPNU. "At about 8.5K, someone yelled at me that I had a lead on the field. I made it a bit early, but I've seen 100-meter leads go before — but this was hurting so bad. I was just happy to hold on, and win an individual title for my team.
The Lumberjacks claimed the team title with four harriers in the top 10, followed by Notre Dame, Oklahoma State, Arkansas and Stanford.
But Mantz's race was a singular achievement for the BYU program, who captured an individual title for the third time in school history and first time since Josh Rohatinsky won in 2006. Eyestone also won the event for BYU in 1984.
"Honestly, I've thought about winning a national title since I went for it in track in 2019, and ended up placing fourth," Mantz told KSL.com before the meet. "I knew the fall would be my time.
"It's there, but you just have to focus on the day-to-day stuff. But I'm not going to head into that race and think that third is good again. I really want that title. It gives me goosebumps just thinking about it."
Mantz is also the first American to win the individual race since Oregon's Galen Rupp in 2008, and it became clear to him quickly — while he was running in "the Mantz zone" of a no man's land in third place, in between the wind-breaking leaders and the pack — that BYU's team race was turning into an individual performance for himself.
The two-time All-American Mantz finished third at the 2019 NCAA cross country championships to pace his team's title run. The Sky View product also finished fourth in the 10,000 meters and seventh in the 5,000 meters at the 2019 NCAA track and field championships, and rolled to the individual title at the West Coast Conference championships last month.
BYU sophomore Casey Clinger finished 13th with a time of 30:19.8.
"My teammates work so hard. We weren't able to have our best day as a team, but a win for one of us is a win for all of us," Mantz said. "I couldn't be more proud of my teammates than I am today.
"Having the team on my mind really helped me out with the pain."
Utah State's Caleb Garnica came in 28th in 30:31.2, and Southern Utah's Christian Ricketts 31st in 30:37.9. Camren Todd added a 42nd-place finish for the Aggies in 30:50.2, and SUU's Noate Osterstock finished just inside the top-50, at No. 48 in 31:00.3.
Men's 10K individual results (local)
Conner Mantz, BYU (29:26.1); 13. Casey Clinger, BYU (30:19.8); 28. Caleb Garnica, Utah St. (30:31.2); 31. Christian Ricketts, So. Utah (30:37.9); 42. Camren Todd, USU (30:50.2); 48. Nate Osterstock, SUU (31:00.3); 52. Stefen Rasmuson, SUU (31:02.1); 83. Ethan Cannon, BYU (31:22.0); 84. Clayson Shumway, BYU (31:23.7); 88. Aidan Reed, SUU (31:24.5); 92. Hayden Cooper, USU (31:28.5); 97. Isaiah Labra, SUU (31:32.1); 108. Bridger Altice, USU (31:35.6); 115. Travis Feeny, SUU (31:39.4); 118. Elijah Armstrong, BYU (31:40.3); 125. Aidan Troutner, BYU (31:54.1); 137. Taylor Dillon, Weber St. (32:04.3); 138. Spencer Nelson, USU (32:05.5); 140. Santiago Gaitan, SUU (32:06.4); 156. Britan Reynolds, UVU (32:18.2); 161. Darren Harman, USU (32:20.6); 176. Mark Crandall, USU (32:29.6); DNF. Brandon Garnica, BYU.
Women's 6K individual results (local)
Summer Allen, WSU (20:23.3); 11. Anna Camp-Bennett, BYU (20:28.3); 14. Aubrey Frentheway, BYU (20:34.9); 17. Whittni Orton, BYU (20:35.6); 27. Poppy Tank, Utah (20:45.9); 33. Sara Musselman, BYU (20:51.3); 41. McKenna Lee, BYU (20:59.9); 43. Katie Struthers, USU (21:01.6); 50. Alison Pray, SUU (21:04.4); 115. Haley Johnston, BYU (21:38.0); 136. Maddie Empey, UVU (21:45.6); 185. Lexy Halladay, BYU (22:14.6).
×
Photos
Related stories
Most recent BYU Cougars stories