PROVO — For the sixth consecutive season, the top-ranked BYU men's cross country team clinched a West Coast Conference title.
For the third-straight year, the women's team is joining them.
The Cougars dominated the conference's 2020 championship meet pushed to Wednesday due to the coronavirus pandemic, led by All-American Conner Mantz, who won his second league title with a winning time of 22 minutes, 54.4 seconds to top the men's race held at Craig Ranch Regional Park in North Las Vegas, Nevada.
The junior Sky View product led six Cougars in the top 10 with his sixth first-place finish of his college career.
"Conner Mantz is a grinder and he's not intimidated by having guys running with him late in the race," BYU coach Ed Eyestone said in a video produced by the WCC. "He's found another gear that he can go to, to get the victory. It's always inspiring to have a guy up front who we know is going to get the job done and I think that gives confidence to the other guys as well."
In addition to Mantz, Casey Clinger placed third in 23:05.9 and Brandon Garnica added a fifth-place finish in 23:25.8. Elijah Armstrong (23:29.9), Aidan Troutner (23:43.4) and Ethan Cannon (23:44.5) also added top-10 performances for the reigning national champion Cougars.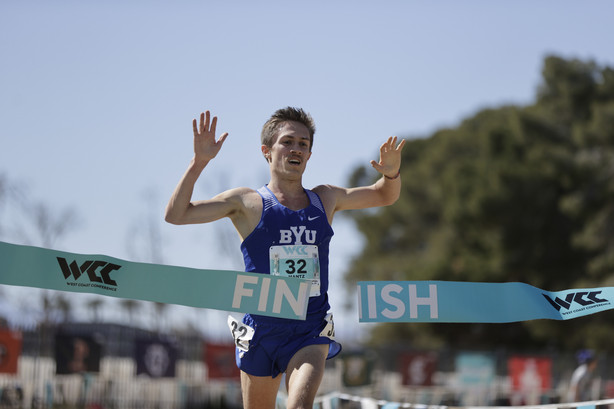 BYU led the race from start to finish, running away with 25 team points. Gonzaga finished second with 51, followed by Portland (62), Santa Clara (108) and Pepperdine (169).
On the women's side, Portland's Anna Pataki went from 11th last year to first place and her first WCC individual title. But Aubrey Frentheway and Anna Camp-Bennet added 2-3 finishes to help the Cougars coast to 28 points and cruise past the Pilots (49).
San Francisco (68), Gonzaga (98) and San Diego (178) rounded out the top five.
Frentheway led BYU in the 6K event with a time of 20:04.4, followed by Camp-Bennet (20:12.7), Sara Musselman (20:28.1) and McKenna Lee (20:41.1).
"Today was actually not our best day as a team; sometimes the final score doesn't tell the whole story," BYU women's coach Diljeet Taylor said. "But I actually like that going into NCAAs — that things weren't perfect today, and we can walk away from this a little bit humble and hungry for the next one."
With the win, BYU advances to the NCAA Division I cross country championships March 15 in Stillwater, Oklahoma.
×
Related Stories