LAS VEGAS — For the third straight season, Utah State will play for a Mountain West Tournament title and an automatic berth in the NCAA Tournament that accompanies it.
And for that third season, the Aggies will face a familiar opponent.
Top-seeded San Diego State awaits Utah State in the championship game of the Mountain West Tournament (4 p.m. MT, CBS), much like the Aztecs have waited — and been beaten — each of the past two seasons. And while the two programs represent a chalk-filled tournament where the top-two seeds in the regular season ended up facing off for that coveted automatic qualifier, there's more to the story than simply a pair of good teams from this year's regular-season meeting for the third time.
The Aztecs, ranked No. 19 by the Associated Press and No. 22 in the NET ratings, are a championship-caliber program, Utah State coach Craig Smith said late Friday after his team's semifinal win over Colorado State.
"They have championship DNA," Smith said. "They lost a lot last year, and they haven't skipped a beat. Jordan Schakel and Matt Mitchell have taken their games to another level. They play big boy basketball, and they make life really difficult."
So, too, do the Aggies, who improved to 17-6 all-time in league semifinal games with a 3-1 mark since joining the Mountain West. Saturday will mark the third time in school history that Utah State has played in three consecutive conference championship games, and the first since 2009-11.
It's no coincidence that these two programs keep meeting under these similar circumstances. And after three long days of basketball, the league once again comes down to these two.
"When you play three games in three days, it's always tough," San Diego State coach Brian Dutcher said. "This is the only time we'll do that.
"Hopefully playing a lot of guys will keep us fresh for (the championship)."
And while the Aggies own the upper hand with back-to-back title game wins over the Aztecs (22-4), they did so with a special player — all-time Aggie great Sam Merrill. The Bountiful High product is no longer walking through the doors of the Thomas & Mack Center, so Utah State will have to find another special player to lift the trophy for a third time.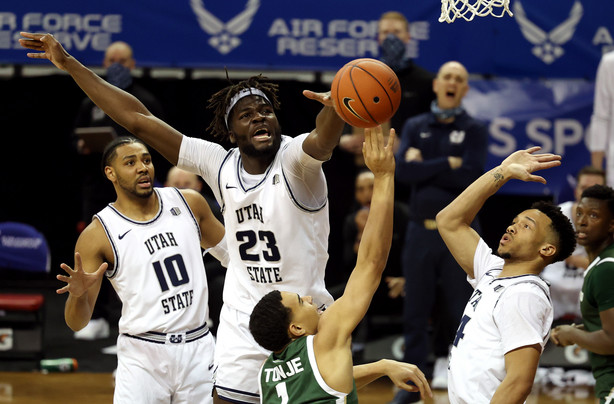 They may have it in Neemias Queta, the 7-foot Portuguese center and all-time great shot blocker who passed on the NBA Draft twice to return for his junior season. Or they may just have to use a different method.
"We just got a really deep group," said Queta, who tallied a school-record nine blocks Friday against Colorado State. "We don't rely a lot on one person; the last few years, we had Sam Merrill and he was a great player for us. But this year, we're the definition of a team. Everybody can step up every game.
"We're a lot more balanced as a team. We can just play basketball and find whoever is in their groove."
That may be the key for this year's Aggies, because the special player may belong to the Aztecs. Voted Mountain West player of the year by the league's coaches (media selected Queta, for what it's worth), Mitchell averages15.4 points, 5.5 rebounds and 2.0 assists per game to become something of San Diego State's own version of Merrill.
Between Mitchell and a stingy defense that features shot-blocker Nathan Mensah, Queta knows what to expect from the Aztecs.
"It's a defensive battle," he said. "Everybody's going to have a really tough time scoring the ball, so we have to make sure we stay together and don't turn it over as much as we did. I just feel like we've got to be prepared for 40 minutes because it's going to be a grind like that."
It all starts with Mitchell, San Diego State's leading scorer. The senior from Riverside, California, was at his best when the Aztecs needed him most, too, pouring in 24 points and eight rebounds in 35 minutes to help San Diego State pull away from Nevada 77-70 in Friday's first semifinal. And the four-year starter has been in this position before — not just making the title game, but losing to Utah State twice in a row.
He also was a part of the team that lost twice in Logan during the regular season. In each of the past two seasons, the Aztecs took the regular-season series from Utah State before the Aggies claimed the postseason matchup. Make no mistake, San Diego State would love nothing more than to do the same thing Saturday, but in reverse.
"I'm happy to be a part of this conference tournament championship (game), and to be on a team like this and play for a program like this that really believes in its guys," Mitchell said. "Coach Dutch says it best: We get better as the year goes on, and as the year goes on, we find a way to win consistently."
Of course, Utah State also has motivation to win Saturday: the Aggies might not make the NCAA Tournament if they don't.
Friday night's win over CSU propelled Utah State back into Joe Lunardi's mock field of 68 on ESPN.com, but not by much. The Aggies are currently among the Last Four In, guaranteed a spot in the First Four and just two spots ahead of Colorado State (and four ahead of Boise State).
But as potential bid thieves emerge throughout the weekend — think Oregon State in the Pac-12 and Cincinnati in the American Athletic Conference — the Aggies could find their own bubble shrinking quickly.
There are few better ways to seize control of your own destiny than to win the autobid. Smiths' done it before — twice, even — and there's little reason to doubt he can do it again.
After back-to-back tournament titles, the Aggies are proving they have championship DNA, too.
"That's how we recruit; we want to recruit guys who love winning and want to be a part of it. And we want guys who get better from year to year," Smith said. "It's hard to win, period, and it's times-10 when you get to March. Everybody knows each other inside out and backwards. But our guys have stayed the course, they haven't flinched, and they just stayed the course.
"I give our guys a lot of credit."
Mountain West Tournament championship game
Saturday, March 13
Tipoff: 4 p.m. MT
TV: CBS
×
Related Stories