Estimated read time: 4-5 minutes
This archived news story is available only for your personal, non-commercial use. Information in the story may be outdated or superseded by additional information. Reading or replaying the story in its archived form does not constitute a republication of the story.
LAS VEGAS — Over Craig Smith's two years as head coach at Utah State, the Mountain West Tournament has had a heavy hitter in Las Vegas.
Two years ago, Nevada entered with a top-25 team, a 15-3 league record and big dreams — before the Aggies' weeklong title run stunned everyone.
A year later, San Diego State was 30-2 overall and 17-1 in conference play, a top-five team nationally before the Aggies stunned the college basketball world on Sam Merrill's late 3-pointer.
Things are very different this year.
The Aztecs (20-4) still sit atop the conference, with two-time defending tournament champion Utah State (18-7) just one game behind in the league standings. But the level of parity has risen dramatically.
It's why Smith spoke of the "wide-open" tournament as he met with the media after Wednesday's practice and ahead of Thursday's quarterfinal against UNLV (7 p.m. MT, CBS Sports Network).
"I think it's a wide-open tournament. It's anybody's ball game," Smith said. "The team that can put together the three best games in three days is going to win it. We're excited to be here, but we're going to have to play really well to cut down the nets Saturday afternoon."
Smith even admitted this year's tournament is more wide open than the past two seasons. While fans won't be allowed at the Thomas & Mack Center, the arena will feature as many as five teams under consideration for at-large selection in the NCAA Tournament. Led by Mountain West defensive player of the year Neemias Queta and all-league honoree Justin Bean, Utah State is definitely one of them.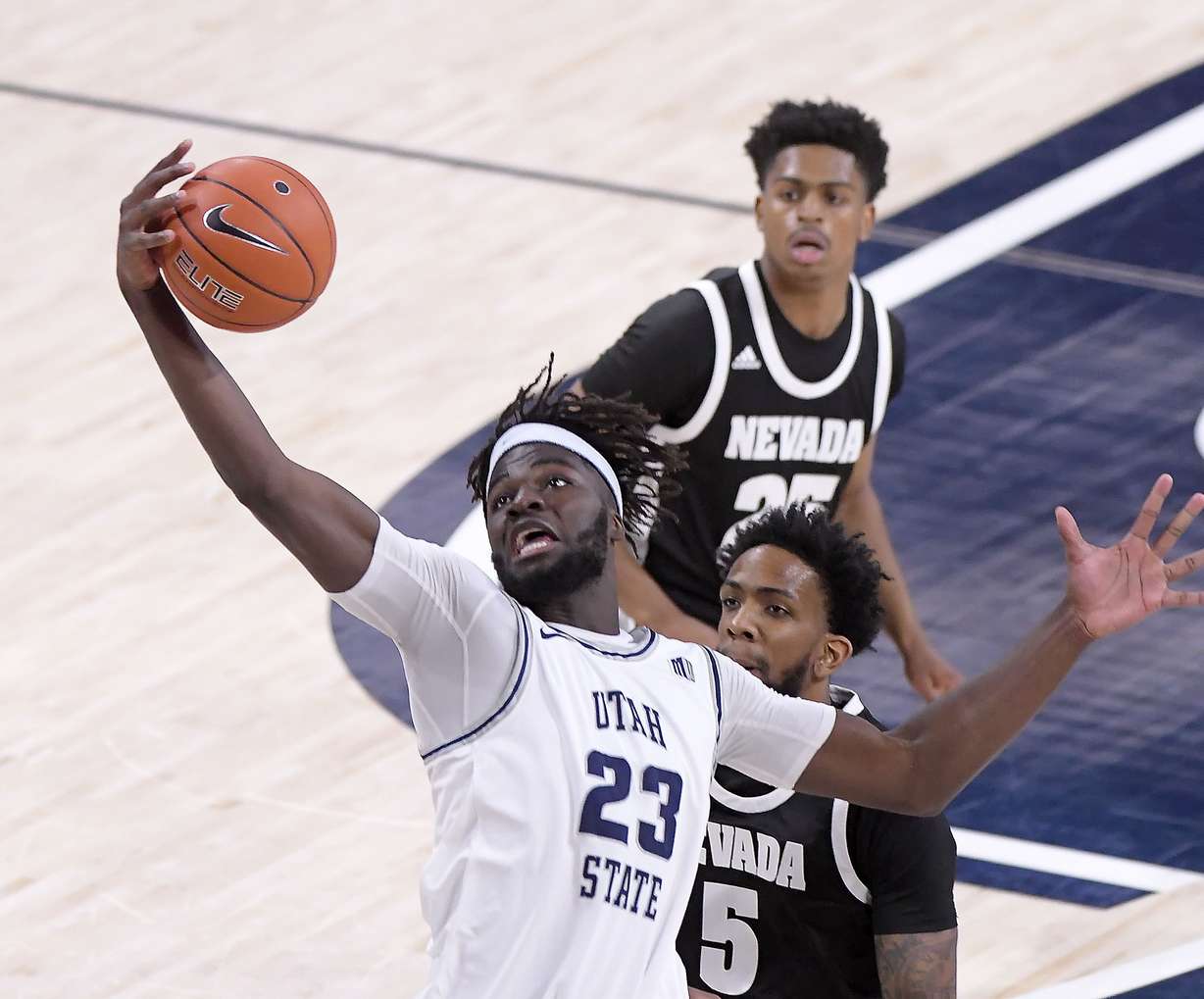 Besides the Aztecs and Aggies — the top two seeds — Colorado State (17-5) and Boise State (18-7) are also riding the NCAA bubble by most noted bracketologists.
"There's been a lot of depth in our conference for quite some time — and I think there will just be more," Smith said. "There are a lot of new players in this league, because of the graduation of so many players.
"I don't think it would be a crazy shock to see any given team win this tournament."
That puts a premium on each game. Utah State doesn't need to beat 10 other teams to qualify for a third straight NCAA Tournament; it just needs three victories.
Good thing, too.
"Every team in this league is good," said Utah State senior Alphonso Anderson, who was named Mountain West sixth man of the year Tuesday. "Whether that's San Diego State, who won the league, or Boise or Colorado State; whoever it is, you've got to be ready to compete.
"You've got to focus on one game at a time, but it's fun."
And it puts a premium on that first game. UNLV (12-14) shot 57% from the field in Wednesday's 80-52 first-round win over Air Force. Bryce Hamilton had 18 points, seven rebounds and four assists for the Runnin' Rebels, who outrebounded the Falcons 38-17 and outscored them 40-36 in the paint, including 14-1 in second-chance points.
The Rebels also have confidence against the Aggies, claiming a regular-season split with a 59-56 win in the same empty arena in Las Vegas back on Jan. 25.
"They're a really physical team. We have so much respect for them," UNLV coach T.J. Otzelberger told the Mountain West Network after his team's win. "Queta and Bean on the interior is probably the best front line in the league.
"It's going to take a great defensive effort. We were fortunate to have that in our first encounter, and we're going to need that again tomorrow."
ESPN's Joe Lunardi has the Aggies as one of the First Four Out of his projected field of 68. But in the path of Utah State are two teams that could improve their postseason fortunes: Colorado State, currently among the "Last Four In," and Boise State, whose bubble status has been secured after losses to San Diego State and Fresno State in the final weeks of the regular season.
The Aggies wouldn't face the Broncos until the league championship game. But a matchup with the Rams seems all-but certain, if Colorado State wins its quarterfinal Thursday night against Fresno State.
Of course, Utah State has to beat UNLV, too — which is why the focus is singular for the Aggies.
"March Madness is always a time where I'd rather be a good team playing great than a great team playing good," Smith said. "A lot of times, the team that is the hottest at the time is doing the best.
"I know it's a cliche, but it truly is 'survive and advance.' At this point, it's a one-game season for almost everybody. You've just got to play well, can't overthink it, and do what we do well every game. It's a new experience for a lot of our guys."
Welcome to March. And welcome to Las Vegas.
Mountain West Tournament
Thomas & Mack Center, Las Vegas
Thursday's quarterfinals
No. 1 San Diego State vs. No. 8 Wyoming, 1 p.m. MT
No. 4 Boise State vs. No. 5 Nevada, 3:30 p.m. MT
No. 2 Utah State vs. No. 7 UNLV, 7 p.m. MT
No. 3 Colorado State vs. No. 6 Fresno State, 9:30 p.m. MT
TV: CBS Sports Network
×
Related stories
Most recent Utah State Aggies stories