Estimated read time: 6-7 minutes
This archived news story is available only for your personal, non-commercial use. Information in the story may be outdated or superseded by additional information. Reading or replaying the story in its archived form does not constitute a republication of the story.
LAS VEGAS — There was something about shooting on the south end of the court at the Thomas & Mack Center.
You know the one, if you've been there. During the Mountain West Tournament, the south end is the one where — during normal years — the band plays and the long media tunnel from the Cox Pavilion opens up into the 19,522-seat arena that hosts UNLV men's basketball. If you happen to be there during a Wyoming game, you can often see the famed "Cowboy Ken" pacing in those seats — barrel and all.
It's opposite the end where Sam Merrill made his greatest memory last year, a 3-point shot to beat San Diego State and hand Utah State its second consecutive Mountain West Tournament title. It was the final shot of his career.
Behind that basket lies an empty arena, with seats removed to make room for the studio set of the Mountain West Network. On the other end — the south end — are a bunch of seats, this year sitting empty due to the COVID-19 pandemic, and only a small tarp covering the tunnel's entrance.
That was the end where Utah State found its shooting form in the second half of Thursday's quarterfinal.
Marco Anthony scored 10 of his 15 points in the second half, to go along with 13 total rebounds and five assists, as the second-seeded Aggies pulled away from the seventh-seeded Runnin' Rebels, 74-53 in the quarterfinals of the Mountain West Tournament at the Thomas & Mack Center.
Neemias Queta had 18 points, 13 rebounds and three blocked shots for the Aggies (19-7) and Brock Miller added 8 points — all in the second half — for Utah State.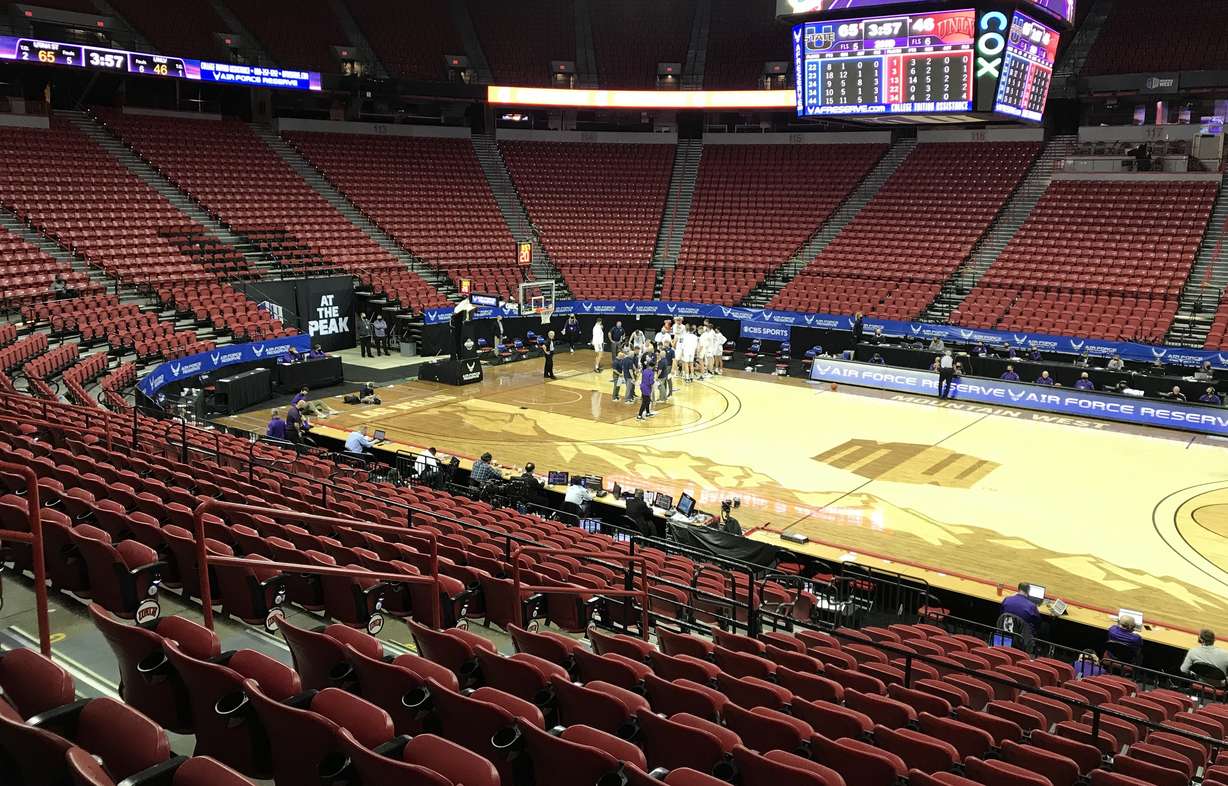 "I thought we started off slow in the first half," said Anthony, the former Virginia point guard who was named to the all-Mountain West defensive team this week. "The meeting in the second half was about taking it up another notch, and we did that in the second half and it led to a win against a very talented team."
Justin Bean had 10 points and five rebounds, and Rollie Worster added 14 points, six rebounds and eight assists as he continues to return from injury for the Aggies. Like his teammates, Worster shot 2 of 4 in the second half and distributed seven of those assists in the same arena where he came up one rebound and an assist shy of his first collegiate triple-double.
Bryce Hamilton had 16 points, five rebounds and two assists to lead UNLV (12-15), and Edoardo Del Cadia added 10 points and five rebounds.
After shooting just 32% from the field, the Aggies were held mostly in check by UNLV's defense en route to a 24-24 halftime tie.
Then something happened after the break. Or more specifically, Anthony happened. Or Miller. Or any of Utah State's biggest shooters or offensive weapons.
"Marco had a heck of a game in every facet," Utah State coach Craig Smith said. "That's what he does. He had 15 points and 13 rebounds — six of those offensive — and five assists. He's such a dynamic player, was named to the all-defensive team and he takes a lot of pride in that. He did a great job on the defensive end again tonight, as did our whole team. It was a really balanced attack on both sides of the ball. We're happy to win. It's survive and advance at this time of year, and we're looking forward to playing another game tomorrow, whether it's against Colorado State or Fresno State."
During the first half — the one Smith said was like "a root canal for both teams" — Utah State went more than five minutes late in the first half without scoring, until Anthony put in a ball from Queta with 4:19 to go until halftime. That pulled the Aggies within 3, 21-18 during an uncomfortable first half.
UNLV's defense was good. It was arguably the best defense the Rebels had played all year, and only the third time the Aggies had been held under 0.8 points per possession.
Despite shooting just 32% from the field against that aggressive UNLV defense, Utah State finished on an 8-3 run to tie the game at 24-24. Worster had 9 points and three rebounds in the first half, and Queta added 5 points, seven rebounds and two blocks before the break for the Aggies.
The Rebels held the Aggies scoreless for 6:02 in the first half — and scored 6 points during the run. UNLV shot 9 of 30 from the field before the break, including 1 of 9 from 3-point range.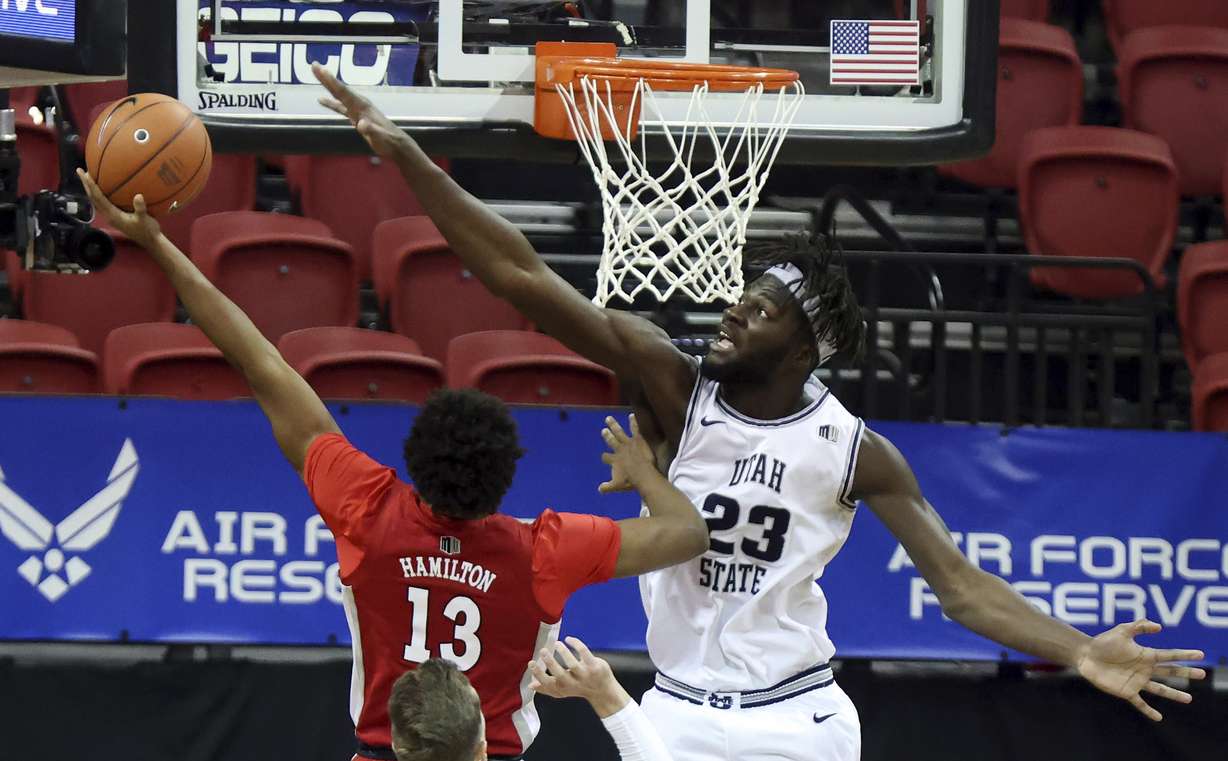 During that run, Utah State went to work on its defense, too. Miller was back in the starting lineup despite struggling with a recurring back injury, so maybe it took him a half to settle in. But while it may have, the Aggies defended their you-know-whats off — the word Smith likes to use in his popular "GATA" mindset.
"Brock Miller hasn't played in two weeks, and he hasn't done anything live in about a month. It's hard to be realistic as a coach, but I had to step back and say, 'here's where we are at?'
"I give our guys a ton of credit. I thought we were able to self-correct, and really settle in."
When the teams switched baskets, Utah State opened on a run. The Aggies used a 12-6 run to open the second half — all shooting on the south end of the court — as Anthony rained two 3s and assisted on a bucket to Bean.
The Aggies had the Mountain West Network studio at their back, and shot 55.9% from the field. They also outrebounded UNLV 25-12 in the second half, and assisted on 13 of 19 field goals with just two turnovers, while holding the Rebels to just 34.5% shooting and 5 of 13 from 3-point range.
After struggling in the first half, Utah State opened the second making 10 of its first 17 shots after the break — including 4 of 6 3-pointers. Behind Miller and Anthony, the Aggies' shooters had woken up.
"We just had to get things going," Anthony said. "When we play connected, that's when we play at our best. I feel like in the second half, we started to do that. And it showed on the scoreboard."
Queta capped a 14-5 run with six consecutive free throws to give Utah State a 65-46 lead with 4:30 remaining, and the Aggies pulled away for good. Miller finished just 3 of 10 from the field, but was 3 of 6 in the second half, including two of the Aggies' four 3-pointers.
The train was rolling again.
Like all teams beg to do in March, Utah State survived, advanced, and moved on to the next one — a Mountain West semifinal against Colorado State. A date with the Rams will likely constitute an elimination game from the NCAA Tournament for one team, with both teams sitting just inside the "Last Four In" bubble in the mock bracket of ESPN's Joe Lunardi.
"You've got to be able to execute in March," Smith said. "You've got to do it most years, but you've really got to do it when you are playing a team a third time like we were tonight."
Mountain West Tournament
Friday's semifinals
No. 1 San Diego State vs. No. 5 Nevada, 7:30 p.m. MT
No. 2 Utah State vs. No. 3 Colorado State, 10 p.m. MT
×
Photos
Related links
Related stories
Most recent Utah State Aggies stories