LOGAN — Sam Merrill fired up the Twitter machine Sunday night, and let out a plea.
He doesn't tweet much — just 2,254 times since joining the social media network in February 2012, including a bevy of retweets, mostly from the Utah State athletic department accounts. But Merrill felt like he needed to say something this time.
So he retweeted a video from USU men's basketball, and he began to compose.
"I know it's a late-night, midweek game," Merrill wrote, "but us seniors would love to see a packed Spectrum one last time. Be there!"
He got exactly what he wished.
"You couldn't have scripted the night any better," Merrill said. "For the fans who were willing to show up on a late night, we know a Tuesday night at 9 o'clock against a not-big brand opponent — it would've been easy to not show up.
"For those that did show up, we are so thankful. It was just a perfect night."
A perfect night, not only for Merrill — who had 18 points and seven assists in Utah State's 94-56 win over San Jose State — but for the other seniors in Diogo Brito and Roche Grootfaam. A perfect night, and a special night for one final time in the Spectrum for Merrill, who grew up an Aggie fan, coming to games with his grandpa's season tickets located just on the second row behind the basket, right next to home bench.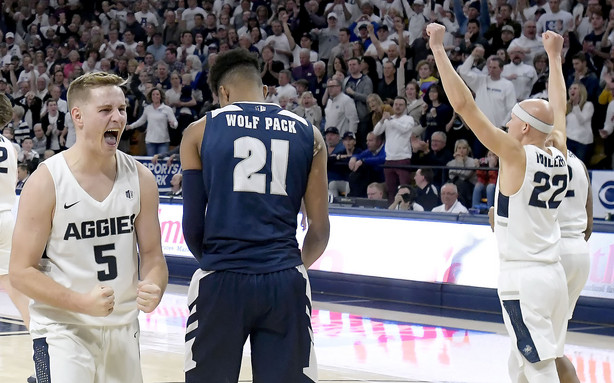 "I tried to not think about that," Merrill said. "I haven't let my parents sit there for four years because my dad likes to yell; I just have them up in the players' seats. But tonight they sat down.
"Checking out for the final time, hearing all those fans and being able to embrace my teammates, turning to see my parents and my wife there — that's when it finally hit me. It was a really great night."
It was also an emotional night.
"Walking on the floor, I just told my mom, 'please don't cry,'" said Brito, a native of Portugal whose parents visited him in Cache Valley this week for the first time in his career. "The only way I cry in public is if my mom starts crying. It just hits me really hard. But she was able to take some deep breaths … and I knew I wouldn't cry with that.
"Walking out on the floor with my parents is something I'll never forget."
But mostly, it was an emotional and twisting and hype-filled late-night tipoff and fitting sendoff to an incredible player, Merrill, who stuck to his longtime commitment to Utah State after receiving late interest from several programs as a senior at Bountiful.
Merrill led the Aggies to a storybook season in 2018-19, the first season under Smith. The reigning Mountain West Player of the Year averaged 20.9 points, 4.6 assists and 3.9 rebounds per game as Utah State broke back into the AP Top 25, earned a spot in the NCAA Tournament for the first time in a decade, and won the double as league regular-season (a tie with Nevada) and tournament titles.
This season, he's kept up his torrid pace, scoring at an 18.9 point clip while dishing out 4.0 assists and 4.3 rebounds per contest.
"Sam Merrill will go down as one of the best players to ever put on an Aggie uniform," Utah State coach Craig Smith said. "He certainly does it on the offensive end — No. 3 in all-time scoring and No. 2 in assists, and it's incredible. But he's also an excellent defensive player, as well."
But Merrill is out to prove Utah State's rise isn't a one-year pony. The Aggies are currently on track for back-to-back tourney bids — at least, if you believe several prominent college basketball reporters and bracketologists.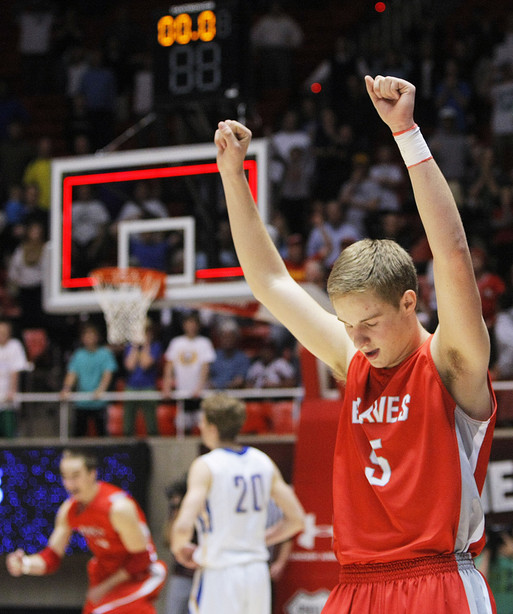 "The Aggies are poised to make the Mountain West more than just a one-bid league, regardless of what happens with San Diego State in the conference tournament," wrote Dave Skretta of the Associated Press. "They've ripped off five straight wins (now six), and behind Sam Merrill's continued offensive brilliance."
The Athletic bracketologist Eamonn Brennan agrees Utah State "should be in" with more than 20 wins, a NET rating of 38 and a top-100 strength-of-schedule, barring a late-season loss such as Saturday at New Mexico.
"Their last two games have plenty of baked-in downside, but assuming the Aggies don't slip up, they should be in," Brennan wrote.
A win over New Mexico in Saturday's regular-season finale will all-but secure an NCAA Tournament berth for back-to-back years for the Aggies, though they could be helped by a win or two in Las Vegas, as well.
Tuesday night was an emotional night. But it's not Merrill's last night in an Aggie uniform. Not by a longshot.
"We know what we're working for," Merrill said. "We know there's a lot to play for; that's been our mindset since mid-January."
×
Photos
Related Stories