LAYTON — In January, Conner Nesbit became the champion florist on HBO's new series "Full Bloom," a show that highlights some of the most talented florists in the country.
After competing in several challenges, including a team challenge recreating a Vincent van Goh painting entirely out of flowers, the Layton resident was able to take home the coveted title of Full Bloom champion, along with $100,000 in prize money.
The 28-year-old florist began his journey with flowers really by chance nearly 10 years ago, when he took a job delivering flowers in his hometown of Logan. According to the young artist, simply delivering flowers was enough to begin what he calls an obsession.
"My boyfriend at the time, who is now my fiance, had a cousin who owned a flower shop and needed help delivering flowers," Nesbit recalled. "I thought it would be an easy job because I grew up in Cache Valley and I knew where everything was. And it was actually a really good job. On Tuesdays and Thursdays, I wouldn't just drive, but I would help with the process of unboxing and cutting and prepping the flowers. It was while doing this when I began to be obsessed with learning more."
Nesbit started researching the different types of flowers and learning how to best cut them. It sparked a passion, and the store owner took notice.
"After three months of being a driver, the store owner came up to me and said, 'You seem to be interested in the flowers,' and then offered me a job making arrangements."
This was back in 2010, and Nesbit had just graduated from high school and was attending Utah State University. According to Nesbit, it was an exciting time full of life and learning new things. He spent the next four years honing his craft and learning as much as he could under the guidance of that local flower shop.
Then, tragedy struck
In February of 2014, at the age of 22, Nesbit was diagnosed with testicular cancer. While grappling with his own diagnosis, he would lose his mother after her short battle with ovarian cancer just three months later.
It was during this time in Nesbit's life when he realized how, much like a flower, life is delicate. He also began to understand first-hand the contrast between light and dark, and how life has a way of teaching balance through experiences.
"I lost my mom to cancer while I was going through my own diagnosis," Nesbit said. "It was an extremely dark time for me, while at the same time, it taught me so many things. If there is a silver lining to losing someone near and dear, is that it helps you savor those around you. You can't know light without darkness, and things become more beautiful because you know darkness."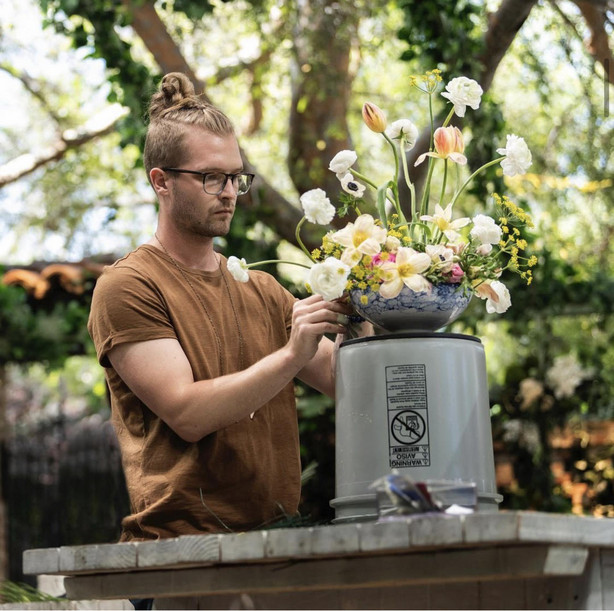 Turning life experiences into winning art
The "Full Bloom" competition, which began filming in August 2020, had seven challenges to narrow the field of florists down to the final two, and Nesbit was able to earn his spot at that final challenge. The challenge would be to create what was called an immersion room, which was more than just a room full of flowers; it was a room that told a story, giving people an experience.
Nesbit knew that he needed to tell his story, which he said is essentially everyone's story: the story of the balance of life.
"For my final piece, I wanted to represent the juxtaposition of life," Nesbit said. "On one side there is life and the other is death, and in between there are the things that make up life: happiness and sadness, love and hate, hot and cold. I wanted to create a room that represented the duality of life and show that life is a journey between these things. Even though these things are opposites, they also help balance each other. We know what happiness is because we've experienced sadness."
The immersion room Nesbit created had a path going through, dividing the contrast in mood and experience to allow people entering the room to feel what he was trying to create.
"When creating the room, I used dried lotus leaves to represent the delicate balance that we all walk," Nesbit said. "I also split the room into two distinct palettes to make sure the contrast was readable.
"Life is complex, and my hope is that we can all support each other on this journey."
Nesbit was able to bring his vision to life, with his room winning the overall title.
What to do with the $100,000
The $100,000 winnings couldn't have come at a better time, according to Nesbit. The economic turmoil of 2020 hit Nesbit hard, as he had recently started his own business creating floral arrangements for weddings and other events. He and his fiance had also just purchased a home and were worried that they might lose it. Additionally, the home they purchased has space where Nesbit has hopes of turning into a home shop. Not having a steady income was threatening his home and livelihood.
"The money from the show creates a sense of security for me because I know I'm not going to lose my home," Nebit said. "It also allows me to move forward with my ability to grow my business. This couldn't have come at a better time."
Nesbitt's floral business is Leuca Floral, named for his favorite flower, the Leucadendron.
To see more of Nesbitt's creations, check out LeucaFloral's Facebook page and @connernesbit on Instagram.
---
×
Photos