PROVO — One year after returning from a devastating ACL injury that took away her sophomore season and forced her to redshirt, Shaylee Gonzales was out to prove she was — once again — the best player in the West Coast Conference.
The dynamic BYU guard did just that Tuesday.
Gonzales was named WCC co-player of the year alongside Gonzaga's Jenn Wirth, and BYU coach Jeff Judkins earned coach of the year honors in a vote of league coaches announced Tuesday by the conference.
Gonzales' "Big Three" teammates of Lauren Gustin and Paisley Johnson Harding joined the Gilbert, Arizona product as conference first-team selections. Graduate transfer Teegan Graham and senior Sara Hamson were named All-WCC honorable mentions.
It's a group of players with swagger, but also a lethal mentality, be it in scoring, rebounding or defense.
"We have that killer instinct, especially Shaylee Gonzales; that is her," Harding told KSL.com. "I think I have that same instinct. When we're both on the court and as leaders of this team, we'll find a way. I think Teegan has that fighters' mentality, too, and so many girls who have bought into that mentality. Whatever it takes, we're driven to do greatness."
Pacific's Valerie Higgins was named defensive player of the year, San Francisco freshman Ioanna Krimili took newcomer of the year honors, and Gonzaga's Melody Kempton was sixth woman of the year.
It's the second major honor in three years for Gonzales, who was WCC newcomer of the year as a freshman in 2018-19. The redshirt sophomore started all 21 games of BYU's regular season, averaging 18.5 points on 47.1% shooting, 5.2 rebounds, 3.7 assists and 2.4 steals per game while leading the Cougars to a 13-3 record in conference play.
Gonzales is the sixth BYU player to earn WCC player of the year honors since the Cougars joined the conference in 2011, and the first since Cassie Broadhead in 2017.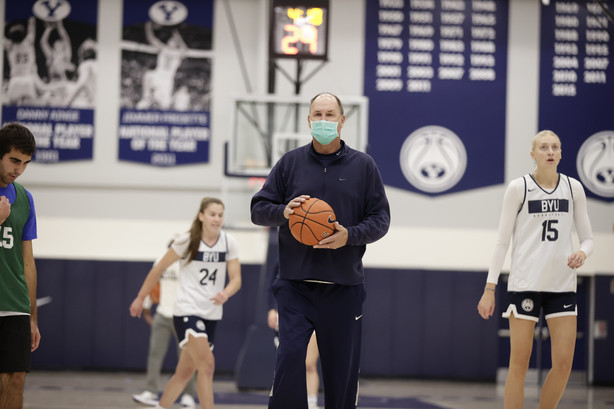 BYU's all-time winningest basketball coach, Judkins guided the Cougars to a 13-3 record in conference play, including an upset of Gonzaga that helped give BYU a legitimate case for an NCAA Tournament at-large berth, en route to becoming just the fifth coach all-time with 130 wins in WCC play. Judkins' career winning percentage of 74.7 ranks third in league history among coaches with at least 100 games, and his squad finished second in both scoring offense and defense, and first in defensive field-goal percentage.
It's the first coach of the year honor since 2016 for Judkins, who was also Mountain West coach of the year three times.
"I've tried to help my teams prepare to play their best basketball now. It doesn't always happen, but it can, if you plan it right," Judkins said last week when asked about this year's squad.
"You watch a lot of teams right now, and you can just tell that they're done. But this team has handled COVID-19 as good as anybody, while coming to practice every day willing to learn, to do what they have to do, and to work hard — and of course, they want to win."
Harding averaged 13.7 points per game to earn All-WCC first-team honors for the second time in her career. The senior guard also averaged 3.4 assists and 2.2 rebounds while starting all 21 games on the schedule, including a season-high 28 points against Saint Mary's on Feb. 13.
Gustin, a transfer from Salt Lake Community College, averaged a double-double with 11.8 points and 12.9 rebounds per contest en route to all-WCC first-team honors for the first time in her career. The 6-foot-1 Salem Hills product led the WCC with 13 double-doubles in 20 games, and ranks third nationally in rebounds per game.
Ms. Versatile

The #WCChoops Co-Player of the Year
@shayleegonzales | @byuwbbpic.twitter.com/N3eR4Nbxq3

— WCC Basketball (@WCChoops) March 2, 2021
2020-21 All-WCC Women's Basketball Major Individual Honors
Co-Player of the Year: Shaylee Gonzales, BYU; Jenn Wirth, Gonzaga
Coach of the Year: Jeff Judkins, BYU
Defensive Player of the Year: Valerie Higgins, Pacific
Newcomer of the Year: Ioanna Krimili, San Francisco
Sixth Woman of the Year: Melody Kempton, Gonzaga
2020-21 All-WCC Women's Basketball First Team
Haylee Andrews, Portland
Jordyn Edwards, San Diego
Alex Fowler, Portland
Shaylee Gonzales, BYU
Lauren Gustin, BYU
Paisley Harding, BYU
Valerie Higgins, Pacific
Ioanna Krimili, San Francisco
Jill Townsend, Gonzaga
Jenn Wirth, Gonzaga
2020-21 All-WCC Women's Basketball Second Team
Lucie Hoskova, San Francisco
Ariel Johnson, LMU
Myah Pace, San Diego
Lindsey VanAllen, Santa Clara
Merle Wiehl, Santa Clara
2020-21 WCC Women's Basketball Honorable Mention Selections
Malia Bambrick, Pepperdine
Tegan Graham, BYU
Sara Hamson, BYU
Ashlyn Herlihy , Santa Clara
Madeline Holland, Saint Mary's
Sydney Hunter, San Diego
Melody Kempton, Gonzaga
Brooklyn McDavid, Pacific
Lianna Tillman, Pacific
Kayleigh Truong, Gonzaga
Taycee Wedin, Saint Mary's
LeeAnne Wirth, Gonzaga
×
Related Stories