KAYSVILLE — Just weeks before the coronavirus pandemic forced Utahns to stay at home and avoid large gatherings, hundreds joined together to honor the life of a woman who fought cancer years longer than her oncologist told her she likely would.
It's now been more than a year since Kim White passed away, but the positive influence she had on tens of thousands of people lives on and continues to provide strength to people during this challenging time.
White, known on Instagram as @kimcankickit, was diagnosed with adrenal cortical carcinoma in February 2014 when she was 18 weeks pregnant with her baby boy. During her pregnancy, she learned she had high blood pressure; and after none of the medications prescribed to her were helping to bring it down, she went in for an ultrasound on her kidney, where a tumor was detected, her husband, Treagan White, said.
Kim, then 26 years old, had also developed HELLP syndrome and her liver was quickly deteriorating. Although her baby was perfectly healthy, the only way to save Kim's life was to deliver the baby, who was too young to survive the birth.
After that traumatic experience, Kim and Treagan learned the tumor they were originally told was probably benign was, in fact, cancerous. Their oncologist told them it was likely she would die within the year and that it was nearly impossible that she would live more than five years. Kim lived six.
Treagan White said he gets messages from people who tell him Kim was so inspiring.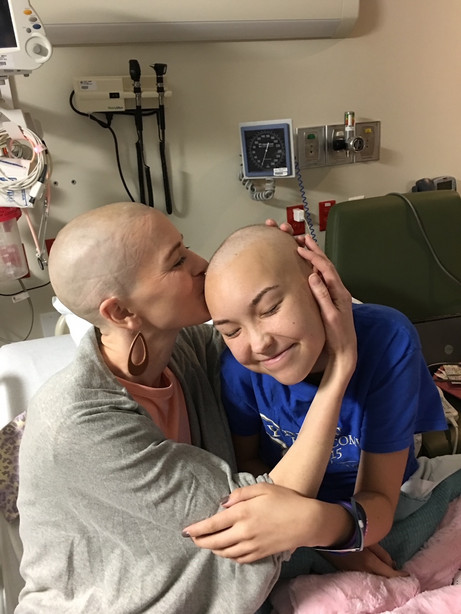 "She was so positive and stubborn, in a good way," White said. "She was not willing to let the bad and the scary and all of that negativity bring her down. She was actively seeking out positivity and optimism and helping others and not wallowing in the sadness and the pain ... they would just see her not be affected by what should bring her down."
Treagan said Kim wasn't initially that way when she was diagnosed with cancer. He said she felt very negatively about her situation for the first year or two after her diagnosis; and if she would have died when the oncologist predicted she would, people would not know her name like they do today.
However, through surrounding herself with positive influences and diligently keeping a gratitude journal, Kim turned her perspective around.
"When she turned things around, it was like all of a sudden it was a perfect case of making your weakness your strength, because everything she is known for and that made her inspiring is something that she actually developed while she had cancer," Treagan White said.
Even on her hardest days, Kim strived to pick something to be grateful for to write about in her gratitude journal. She would write things she was grateful for about Treagan, their daughter Hensleigh, and life in general. She would then write out positive affirmations.
Kim inspired others through speaking engagements, hospital visits and phone calls to strangers, and she even started a nonprofit organization called Lifted By Angels to assist young mothers with cancer.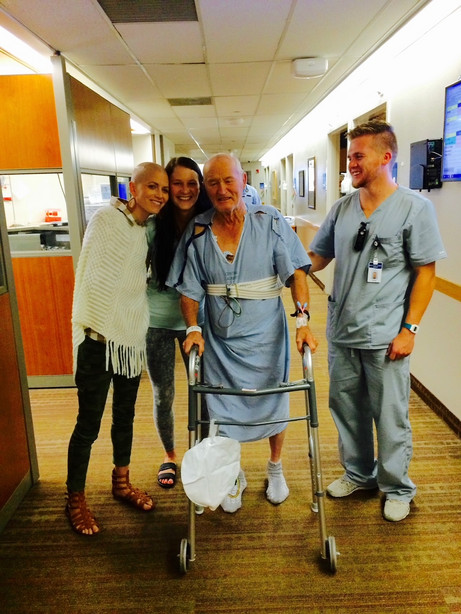 Treagan White said Kim felt very fortunate to be supported in so many ways during her journey with cancer.
"We were just always getting flooded with people that wanted to help in some way, and she realized that it wasn't normal and that it wasn't even necessarily deserving, it was just because of certain things that happened to put her in the eye of the public and it just slowly grew," Treagan White said. "So she just felt undeserving of it."
Kim wanted others in her situation to feel they had a community supporting them, so she started Lifted By Angels, which collects donations to assemble care packages for young moms with cancer in Utah. The care packages include things like hats for when the women go through chemo, warm socks for the hospital, and organic products like chapstick and lotion. The money left over from the generous donations is split between the 32 annual recipients.
Since her death, many people have reached out to Treagan to tell him that during their difficult days of the pandemic, Kim's Instagram page has inspired them to be more positive since she was able to stay optimistic through her illness.
Although Treagan feels it would have been nice to be quarantined together as a family during the pandemic, he is grateful the timing of her death allowed so many people to attend her funeral.
"She loved big gatherings … loved being around people, and I'm sure that's how she pictured (the funeral)," Treagan White said. "Because it was such a devastating blow, for support, seeing that many people that cared about her was huge for me. It helped me a whole lot. If it had happened during the pandemic, we wouldn't have had that, it would have been a lot darker place for me, I think."
Kim and Treagan White thought about writing a book to tell their story, but another opportunity arose. Before she died, she worked with video production company Stiry to film a documentary called "Breaking into Beautiful" about her journey. Treagan White said the film is about how Kim was broken into something different and was able to make it something beautiful. He said Kim saw the documentary as a huge blessing to be able to share her story. There is not yet a release date for the documentary, but those interested in finding out more can watch a preview here.
---
×
Photos