This archived news story is available only for your personal, non-commercial use. Information in the story may be outdated or superseded by additional information. Reading or replaying the story in its archived form does not constitute a republication of the story.
SANDY — After his friend was diagnosed with a rare, aggressive cancer, Imagine Dragons lead singer Dan Reynolds decided to take action to help raise money for her.
Kimberly Olsen White, 26, was diagnosed with adrenocortical carcinoma in March. Her sister, Jenny Bowen, said White was 14 weeks pregnant at the time of her diagnosis and when she went in for a weekly checkup, the doctor discovered that her blood pressure was abnormally high. Doctors prescribed White medication and monitored her for several weeks, but there was no change.
After being referred to a specialist, Bowen said doctors found a tumor the size of cantaloupe on White's kidney. Three days after doctors discovered the tumor, White's body began to shut down with a life- threatening pregnancy complication called HELLP Syndrome — a form of preeclampsia. As a result, White had to have an emergency C-section and the baby did not survive.
"She was pretty much dying," Bowen said. "The doctors told her that they had to take the baby or Kim would die. So they had to take the baby at 18 weeks. It was a little boy."
After White had healed from the surgery, she went to Huntsman Cancer Institute and had another surgery to remove the tumor. Bowen said that was when doctors realized that the tumor was cancerous.
With a 1-year-old daughter and her husband recently graduated from dental school, Bowen said the family felt overwhelmed with White's medical bills. A family friend decided to reach out to Reynolds to see if he would be willing to help.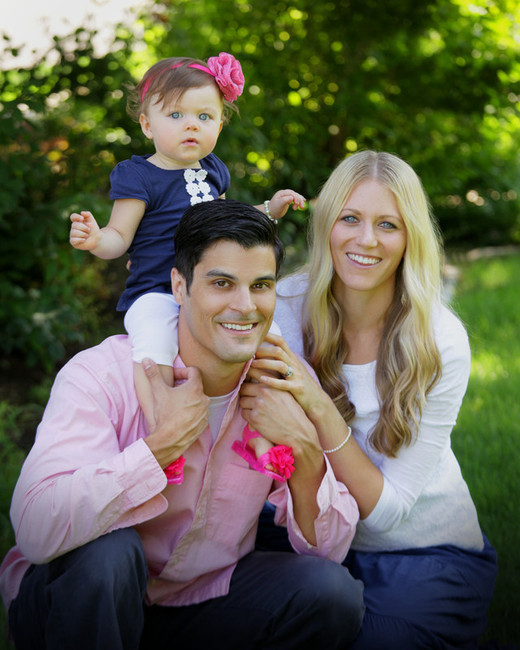 "I just wanted to do something to help," Reynolds said. "I just wanted to do something for her and I said that I definitely wanted to be involved."
Reynolds met White in 2007 when he was an LDS missionary in Iowa and she was playing soccer at Iowa Western Community College. White said that she had attended an LDS Institute activity with her teammates and Reynolds had been playing guitar and singing at the devotional. The two stayed in touch throughout the years and White said she had attended one of his concerts in October before her diagnosis.
"My husband told me (about the benefit concert) a few days before Imagine Dragons had posted it on their website," White said. "I immediately started crying and I was just overwhelmed. He is such a sweetheart and such a sweet guy. I was very overwhelmed and very grateful for his generosity to do it."
Reynolds said that despite his busy schedule touring Europe with Imagine Dragons, he wanted to take the time to do something meaningful for a friend.
"Things are really crazy and every day I'm in a new place, but you kind of have to prioritize and some things are more important than others," he said. "I think that this is one of the most important things that I could spend my time doing. You just make it work."
Reynolds will play an acoustic concert on July 17 at 7 p.m. at the Sandy Amphitheater, and he said all the proceeds will go to the White family. Bowen also set up a GoFundMe account* and said that they hope to raise $10,000. Reynolds said he has been amazed by the number of people he has met who have been so willing to help.
"It's pretty incredible, the power of people when they really come together. There are people from all over the world that when we (posted) about the show that had never even met her that said, 'You know, I can't make it, but I want to donate. How can I do that? ' I think it shows that the world is a lot better place than we think."
---
*KSL.com has not verified the accuracy of the information provided with respect to the account nor does KSL.com assure that the monies deposited to the account will be applied for the benefit of the persons named as beneficiaries. If you are considering a deposit to the account you should consult your own advisors and otherwise proceed at your own risk.</http:></http:>
×
Photos
Related Links