Estimated read time: 5-6 minutes
This archived news story is available only for your personal, non-commercial use. Information in the story may be outdated or superseded by additional information. Reading or replaying the story in its archived form does not constitute a republication of the story.
PROVO — The BYU women's basketball team picked up a crucial win for its postseason aspirations this week.
No, this isn't another story about the Cougars' 61-56 win over then-No. 16 Gonzaga, though that game will be mentioned plenty.
Two days later — less than 48 hours, due to a 2 p.m. MT tip in the Marriott Center — the Cougars were back at it, looking to build on the crucial win over the Zags and shore up their at-large resume to the NCAA Tournament in San Antonio.
Despite a few hiccups, BYU passed with flying colors.
To use the vernacular of most of the college students playing and watching the team: best, period, week, period, ever, period.
"We've been looking forward to playing Gonzaga again for a while, and even to playing Portland since our first game (was canceled)," said Lauren Gustin, who had 17 points, 16 rebounds and five assists in a 75-68 win over the Pilots, her 12th double-double of the year. "We were on Cloud 9 after Thursday, and Friday, we really had to focus up. Even though it was a great win, we had to move on.
"It's been a great week. we're all a little beat up. But we couldn't have asked for a better ending."
In a season unlike any other, women's basketball has seen more top-25 upsets than most years in recent memory. But that doesn't make them any harder to pull off.
Perhaps the only thing more difficult, though, is following up a win over a top-20 opponent by turning around less than two days later — and doing it again.
But that was the challenge the Cougars faced.
BYU (16-3, 12-2 WCC) came out flat against Portland, letting the Pilots out to a 9-3 lead early before battling back. The Cougars chipped away at that lead, though, pulling ahead 20-14 after the first quarter and before ultimately clinging to a 33-31 edge at halftime.
It wasn't always pretty.
But it was the mark of a team that has been through big wins before — and knows how handle them.
"I have great leadership on this team," BYU coach Jeff Judkins said. "Some of them have been in this situation before in their career, and they understand it. I have a couple of players who love challenges, and they want to be good every minute of every second."
The Cougars' leadership has come in large measure through its three double-digit scorers, the Splash Sisters of Shaylee Gonzales (18.1 ppg), Paisley Harding (13.6 ppg) and Gustin (12.3), the former Salem Hills standout and JUCO All-American at Salt Lake who also averages 12.9 rebounds per game.
But there's more veteran savvy than those three. From point guard Maria Albiero to Colgate graduate newcomer Tegan Graham to Sara Hamson, the reigning WCC Defensive Player of the Year with 51 blocks on the year.
But the heartbeat is Gonzales, the redshirt sophomore who returned from missing all of the 2019-20 season with a torn ACL to average 18.1 points, 5.2 rebounds and 3.9 assists for the Cougars. Gonzales, a 46.9% shooter, was at her usual high-scoring self last week, first scoring 16 points with seven assists against the Zags before following it up with 26 points and three dimes two days later.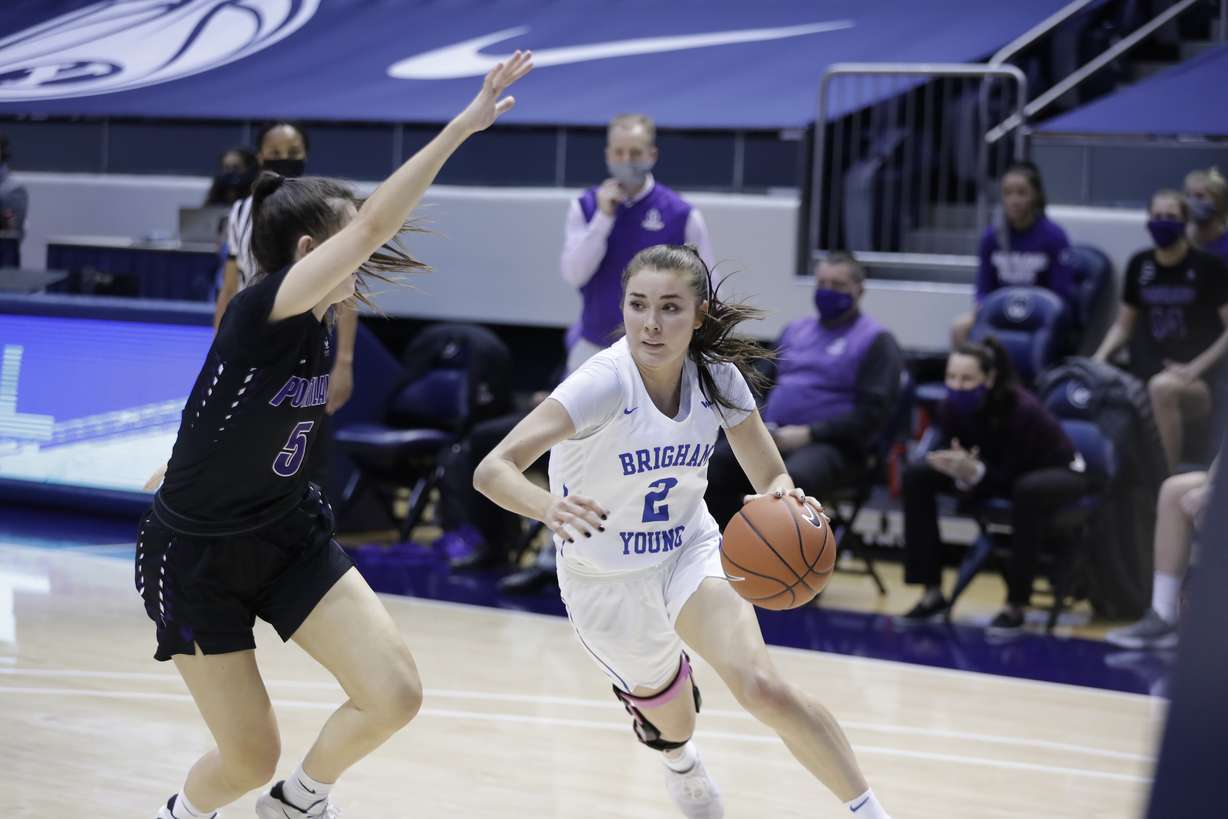 "Shaylee had another great game tonight," Judkins said. "She just took over and did some things where, when it all comes down to it, was here. She did some things that make me as a coach look really good and really smart."
Perhaps the more impressive performance, though, was the one that didn't garner the national media attention, SportsCenter highlights or hype of the win over the Zags. But the 5-foot-10 baller and budding TikTok star from Gilbert, Arizona knew her team needed her more than ever.
"I think it's super important for all of us to be locked in before every game, and to bring energy throughout the game," said Gonzales, who was named West Coast Conference player of the week Monday. "I tried to bring energy against Gonzaga, but I also think it's important to have fun and not be so tied up. We're here to play other teams, to have fun, and to win games."
The Cougars were plenty hyped to face the Zags, after the top-20 conference rival pulled away in the final minute en route to a Spokane-sized loss earlier in the year. But they also had to get amped up emotionally for Portland.
Check, and check.
"We were on Cloud 9 after that Gonzaga game, but we knew coming into this Portland team that we couldn't look over them," said Gonzales, who credited graduate senior Teegan Graham for elevating the team's energy against the Pilots. "Portland's tough; they won the WCC (Tournament) last year, and we knew we needed to work our butts off.
"Getting both those wins is a great feeling, and we're just excited to travel to California next week."
The Cougars head to the final week of the regular season, with games Thursday at Santa Clara and Saturday at San Francisco, with as good a chance as they've ever had at pulling in an at-large bid to the NCAA women's tournament next month. Wrapping up an unbeaten 9-0 mark at home, BYU also has a neutral-site win over LSU to add to its home win over Gonzaga.
Among the Cougars' three losses: a 77-48 loss to Washington in Las Vegas in the second game of the season; a 7-point loss to Gonzaga in Spokane, ranked No. 19 at the time; and a 2-point loss at San Diego less than a week after opening conference play.
Add it up, and it's enough for ESPN's Charlie Creme to put the Cougars as the Last Team In to his 64-team bracket last week — and last week's results shouldn't change that for a team ranked No. 48 in the NCAA's latest NET rankings.
BYU has won seven in a row, 10 of its last 11 games, and appears to be peaking at the right time. With or without a WCC Tournament in Las Vegas, the Cougars are looking like an NCAA Tournament team.
Of course, come March, you're only as good as your last result. BYU knows that as well as anyone.
"Hopefully we learn from this," Judkins said Saturday afternoon, "because it doesn't do any good to win a big game if you lose some games you shouldn't lose."
×
Related stories
Most recent BYU Cougars stories