Estimated read time: 6-7 minutes
This archived news story is available only for your personal, non-commercial use. Information in the story may be outdated or superseded by additional information. Reading or replaying the story in its archived form does not constitute a republication of the story.
PROVO — It didn't take long for the BYU women's basketball team to hear that their 2020-21 schedule, already delayed and pushed back to the last minute, was being modified.
A week ago, the Cougars' assistant coaches gathered the players before practice and explained to them that UT Martin, a top mid-major program from the Ohio Valley Conference that went 22-10 a year ago, was pulling out of the South Point Shootout in Las Vegas.
The Skyhawks were supposed to be the Cougars' second opponent, after opening Friday against LSU (7:30 p.m. MST).
"It's kind of hard because we scouted them and had film and are thinking we are going to play that team," said BYU point guard Shaylee Gonzales, who admitted the primary game prep was for LSU. "I feel like it's all going to be up in the air. We don't know what's going to happen. Just being hopeful, and still getting prepared for that team is what we're going to do."
BYU isn't alone in moving games around. Utah Valley University and Southern Utah University were both supposed to play at the University of Utah this week. But when a rise in COVID-19 infections forced the Utes to temporarily shut down the program, the Wolverines and Thunderbirds quickly signed a game contract and will play Saturday at 2 p.m. MST in Orem.
The Cougars still had an opener Friday, and for that they were grateful. After all, who better to open the season than an SEC program coming off a 20-10 record in the 10th season of head coach Nikki Fargas?
And who better to follow up that game than Pac-12 foe Washington?
Yes, BYU fans, after a week of reports and speculation the Cougars and Huskies will play this Saturday night (7:30 p.m. MST) — in women's basketball.
Welcome to 2020, where the changes keep on coming.
There's bound to be plenty of disruption this season in college basketball, which is trying to play in bubbles, without fans, and with as much of a "controlled environment" as possible amid a global pandemic. But all of that beats the alternative — canceling the season — like the NCAA did last March before the NCAA Tournament.
Plenty of schools have already paused basketball activities. So, the Cougars are just happy to be playing.
"Yesterday I heard Utah was going to miss a few games this weekend, then UConn. You hear about football, but now it's a reality in your sport," BYU head coach Jeff Judkins told reporters Tuesday after practice. "It's tough; it's all tough mentally. Tom Golightly is working his tail off here as our sports psychiatrist. It's not just mental with the players, but with the coaches.
"It's a tough, tough thing. But it's going to make us better, and that's the key. Hopefully we can get through this, have a conference tournament, and then an NCAA tournament, too."
In 31 seasons of coaching, including the last 20 as head coach of the Cougars, Judkins has never seen anything like it.
"For me, as a coach, this is going to be one of the hardest coaching years of my life," said Judkins, emphasizing the increased mental struggles of playing in a pandemic. "It's not that I don't have good players, but how am I going to work with them?"
Fortunately, Judkins has those good players. There's Gonzales, who won 2018-19 West Coast Conference newcomer of the year and all-league first-team honors before sitting out last season with a torn ACL; two-time WCC defensive player of the year Sara Hamson, a Lisa Leslie Award watch list contender given to the best center in women's basketball; and senior Paisley Johnson Harding, who averaged 15.5 points, 3.8 rebounds and 3.1 assists per game a year ago en route to All-WCC firs-team honors.
Then there are the newcomers, including Colgate grad transfer Tegan Graham, who scored 7.1 points per game on 46% shooting in three years with the Raiders — and whom Judkins called one of the better pure passers he's coached, in the mold of fellow New Zealander Kalani Purcell; and Kayla Belles-Lee, a 6-foot-3 Michigan State transfer who will be immediately eligible for the Cougars in 2020-21.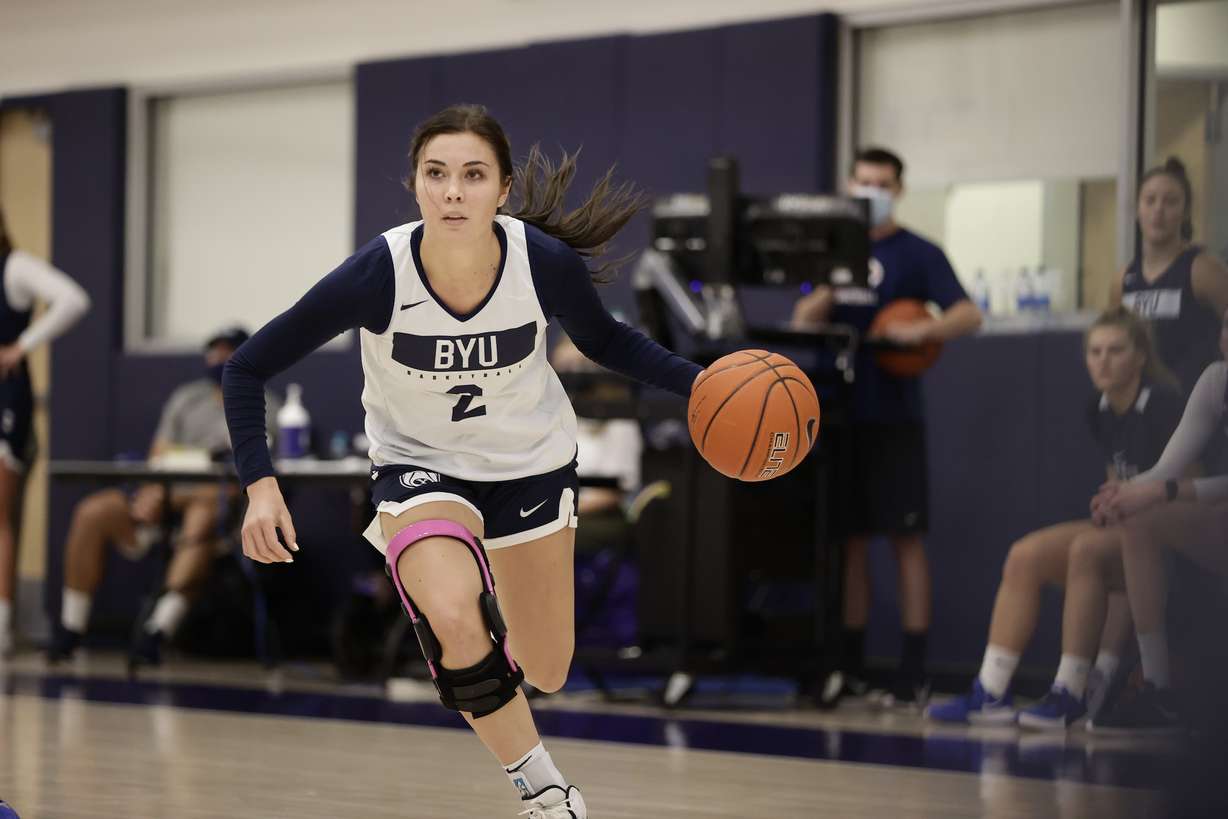 "I know my team is ready to start playing games," Judkins said. "It's been a long summer and a long preseason of practices. It's hard to play two tough games in a row, but that's how you get better. We're looking forward to the challenge."
The Cougars also have depth — possibly the most in Judkins' 20 seasons, he admited somewhat cautiously, adding plaudits for reserves like Kaylee Smiler, Lauren Gustin, Tahlia White and Malli Perri.
"We are a great team," Gonzales said. "We're so deep, and have players who can play lots of different positions."
The chance to prove themselves comes early Friday. But Harding wouldn't have it any other way to begin her first of two senior seasons.
"For me, I'm more than thrilled," said Harding, who married BYU men's basketball guard Connor Harding in the offseason. "I want to play a tough team every time; not only can I learn from them and get better, but it also helps our RPI. We played Washington my freshman year, and lost — so I'm really excited to get revenge. I feel like we come into these types of games as underdogs; no one sees BYU as a powerhouse school, so I get really excited. I love walking into games where girls are underestimating us.
"It will be a wake-up call, but I think it will be a good wake-up call. It will keep us very interested for the rest of the season."
South Point Shootout (Las Vegas, Nev.)
Friday, Nov. 27
BYU vs. LSU
Tipoff: 7:30 p.m. MST
Live stream: Watch here
Saturday, Nov. 28
BYU vs. Washington
Tipoff: 7:30 p.m. MST
Live stream: Watch here
×
Related links