Estimated read time: 4-5 minutes
This archived news story is available only for your personal, non-commercial use. Information in the story may be outdated or superseded by additional information. Reading or replaying the story in its archived form does not constitute a republication of the story.
PROVO — The BYU women's basketball season ended the 2018-19 season on a high note, advancing past Auburn in the NCAA Tournament before bowing out to host Stanford.
But it set up immense expectations for a young team, with only senior Caitlyn Alldredge set to depart the starting lineup and a squad hungry to get back to the tournament to surpass those expectations.
In the middle of summer tragedy struck.
Shaylee Gonzales, the Cougars' leading scorer from a year ago — who averaged 17.0 points, 5.6 rebounds and 4.1 assists per game as a freshmen — went into surgery Thursday to repair a torn anterior collateral ligament and lateral meniscus, she announced via Instagram.
The injury, which Gonzales said was suffered in practice, effectively ends what was supposed to be her sophomore season. In just her second season at BYU, Gonzales has a redshirt available.
"I know that God has a plan for each and every one of us, even if it goes in the opposite direction we want it to," Gonzales wrote on Instagram. "This will be one of the hardest things I go through, not playing the sport I love this next season, but I am very motivated to get back on the court and come back even better.
"Thank you all for your support."
Even without Gonzales, the Cougars return seven of their top eight players from last year's squad that went 26-7, including a 15-3 record in West Coast Conference play with a WCC Tournament title. That includes Paisley Johnson and Brenna Chase, the other two parts of the high-scoring guard trio that averaged 14.5 and 12.8 points per game, respectively.
Redshirt freshman Kaylee Smiler and Khaedin Tato, a USC transfer who also hails from New Zealand, could also help fill the gap left by Gonzales' injury. BYU head coach Jeff Judkins said incoming freshman Leilani Otuafi, a 5-foot-9 guard who averaged 12.0 points, 5.0 rebounds, 3.1 assists and 3.4 steals as a senior at Churchill County in Fallon, Nevada, will play right away and not redshirt as originally intended.
"I feel bad for her," Judkins said of Gonzales. "She's worked so hard and wanted to have a great sophomore season, to show that (her freshman year) wasn't a fluke. That part of it is hard. But I think we'll get through this. This team will get through it, and Shaylee will be involved."
Additionally, 6-foot-7 center Sara Hamson has said she will redshirt the upcoming fall season with the BYU women's volleyball team to focus exclusively on basketball. The former WCC defensive player of the year averaged 4.6 points, 5.9 rebounds and 2.8 blocks per game in 2018-19.
"Sara has looked really good while not having to worry about volleyball," Judkins said. "She's gotten a lot stronger and a lot better with her feet."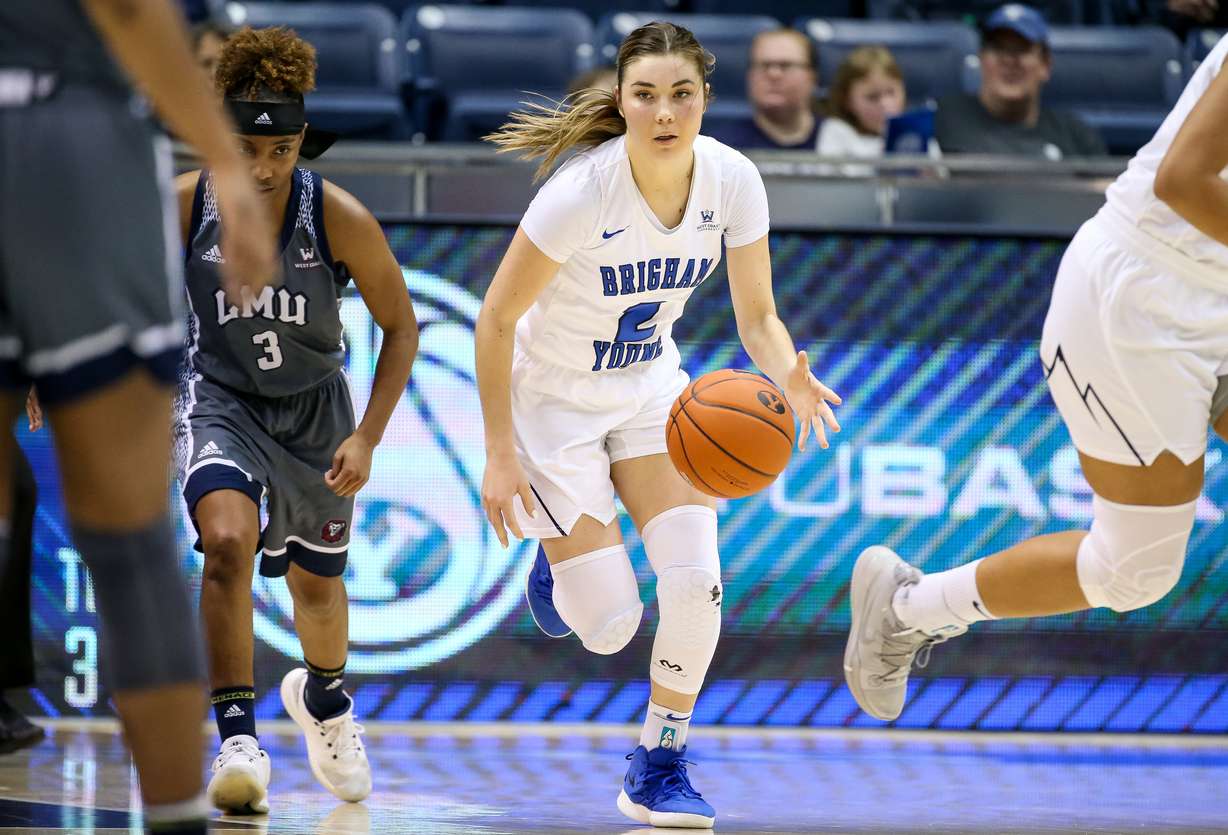 It's another change in an offseason filled with change for head coach Jeff Judkins. After top assistant Dan Nielson took the head coach job at nearby Utah Valley University, Judkins added former men's basketball assistant Lee Cummard and ex-player Melanie Pearson Day to his staff of assistant coaches.
Day played three years at UCLA before transferring to BYU, where she played a key role on Judkins' first Sweet Sixteen team in 2001-02, with 11.8 points and 3.6 rebounds per game en route to Mountain West third-team honors. A resident of Lehi, Day was also an assistant coach at UNLV from 2004-07, helping the Rebels to a 48-42 record and a pair of appearances in the WNIT.
Cummard joins the women's hoops staff after his lone season as an assistant coach in the final year of BYU coach Dave Rose. After a lengthy career in Europe, the three-time All-Mountain West selection received a master's degree in public administration from BYU in 2018.
While Alldredge was the only senior that played a significant role to depart the team, the Cougars also lost reserve wing Abby Mangum, who transferred to Division II Westminster College in Salt Lake City, and guard Ashley Beckstrand to Dixie State in St. George. Former Mountain View star Tahlia White, who redshirted last year, is currently serving an 18-month mission for The Church of Jesus Christ of Latter-day Saints in Spokane, Washington.
×
Related stories
Most recent BYU Cougars stories