SOUTH PADRE ISLAND, Texas — As much of Texas hunkers down in the midst of a record-breaking arctic storm, dozens of people are braving the frigid temperatures to rescue one of Texas's most vulnerable creatures: the endangered sea turtle.
Along with the rest of the state, South Padre Island — off Texas's southern coast — has suffered widespread power outages and dangerously cold temperatures over the past week as the historic winter storm continues to pummel much of the southern U.S.
This leaves many people concerned for the thousands of endangered sea turtles that call the island's waters and shores home.
Cold weather and drops in water temperature can be extremely dangerous — even deadly — to the cold-blooded creatures, according to seaturtles.org. When the water dips below 50 degrees, sea turtles experience a "cold stun," a hypothermia-like condition that slows the heart rate, hampers circulation and causes paralysis of the flippers.
Cold-stunned turtles often die of drowning, stranding or starvation.
Last year, Sea Turtle, Inc. – a nonprofit that focuses on rehabilitation, conservation and education on the island — took in just 20 cold-stunned turtles and treated them in their warming facility. But when this storm rolled in, officials at the center began preparing for a crisis situation.
"We knew this was not a regular cold stun," Sea Turtle, Inc. spokesperson Sanjuana Zavala told the Washington Post. "We knew we had to do something."
They weren't alone. The people of South Padre refused to abandon the reptiles to this frigid fate. Once Sea Turtle, Inc. issued the call for help, dozens of volunteers ventured out on foot and by boat, pulling turtles from the freezing waters and shorelines in an effort to save their lives, according to NPR.
My mom is retired, & she spends her winters volunteering at a sea turtle rescue center in south Texas. The cold snap is stunning the local turtles & they're doing a lot of rescues. She sent me this photo today of the back of her Subaru. It's *literally* turtles all the way down. pic.twitter.com/xaDRNjLDoQ

— Lara (@lara_hand) February 15, 2021
One woman's Twitter photo of her mother's Subaru filled to the brim with turtles has garnered nearly 150,000 likes and a shoutout from the automaker itself.
The rescue efforts have rounded up more than 4,500 turtles and counting since Feb. 14.
"The love and support of people who just want to help things that can't help themselves is overwhelming," Wendy Knight, executive director of Sea Turtle, Inc., told NPR.
With the help of volunteers, the city council and businesses like SpaceX, the nonprofit has been able to provide shelter and treatment for the displaced and sick reptiles, despite a power outage at its main facility, according to CBS News. When the turtle hospital reached its maximum capacity, the town's convention center became the official overflow shelter.
Volunteers are working to keep the turtles warm using bins, tarps, kiddie pools and boxes, according to Sea Turtle, Inc.'s Facebook page.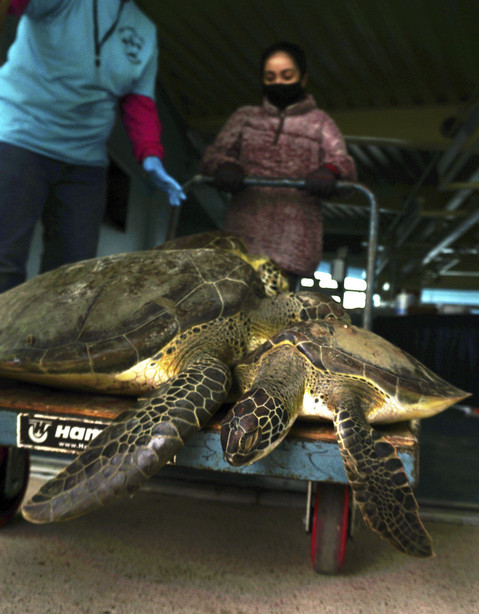 "It is a huge, huge community effort," volunteer Gina McLellan told the Post. "We very often don't even think about the (cold's) impact on animals, because we're so worried about our own electricity and water. With this kind of event, it's a classic display of humanity toward animals."
Despite all the hard work, the rescue mission is far from over. Knight told the Post the lack of power is a huge problem since the turtles need warm water and heaters for adequate treatment. Even then, many of the rescued reptiles may have already succumbed to the cold.
"If we don't get some relief from a power standpoint, we're not going to be able to sustain this," she said.
Sea Turtle, Inc. is actively seeking donations on its Facebook page* to help cover the "massive" treatment costs.
*KSL.com does not assure that the money deposited to the account will be applied for the benefit of the persons named as beneficiaries. If you are considering a deposit to the account, you should consult your own advisors and otherwise proceed at your own risk.
---
×
Related Stories