Estimated read time: 3-4 minutes
This archived news story is available only for your personal, non-commercial use. Information in the story may be outdated or superseded by additional information. Reading or replaying the story in its archived form does not constitute a republication of the story.
SALT LAKE CITY — Love is in the air! This Valentine's weekend, more than 190 rescue animals from Puerto Rico will be flying their way into the hearts and homes of their new two-legged soul mates in the U.S.
The Sato Project, a nonprofit that rescues abused and abandoned dogs from one of the poorest regions in Puerto Rico, teamed up with Wings of Rescue, an organization that saves shelter animals from being euthanized, for the "Love is in the Air" project. The goal: rescue as many at-risk animals as possible, find lonely pet lovers, and foster a forever love match.
On Saturday, 175 dogs and several rescue cats will catch their "Freedom Flight" from Puerto Rico and make their way across the Atlantic to the United States mainland, where they'll make stops in New York and Florida for big dates with their new families.
"These healthy, friendly pets have been in supervised care for a minimum of eight weeks, completed a mandatory 30-day quarantine period, been tested for and certified free of infectious and contagious disease, are vaccinated and spayed or neutered. All pets traveling will have health certificates signed by licensed veterinarians," according to a Sato Project press release obtained by People magazine.
The Sato Project focuses its efforts in Yabucoa – the poorest of Puerto Rico's municipalities. Due to poverty and hardship, many people abandon their pets, leaving them to starve. Volunteers work to find the animals, provide veterinary care, and get them ready to find new homes.
"We take our rescue mission very seriously. Rescuing dogs means more than just pulling them off a beach or the streets," The Sato Project's website reads. "We are dedicated to each and every one of our dogs and we want to give them the greatest chance in life. After what they have been through, what they have witnessed, we never want them to suffer again."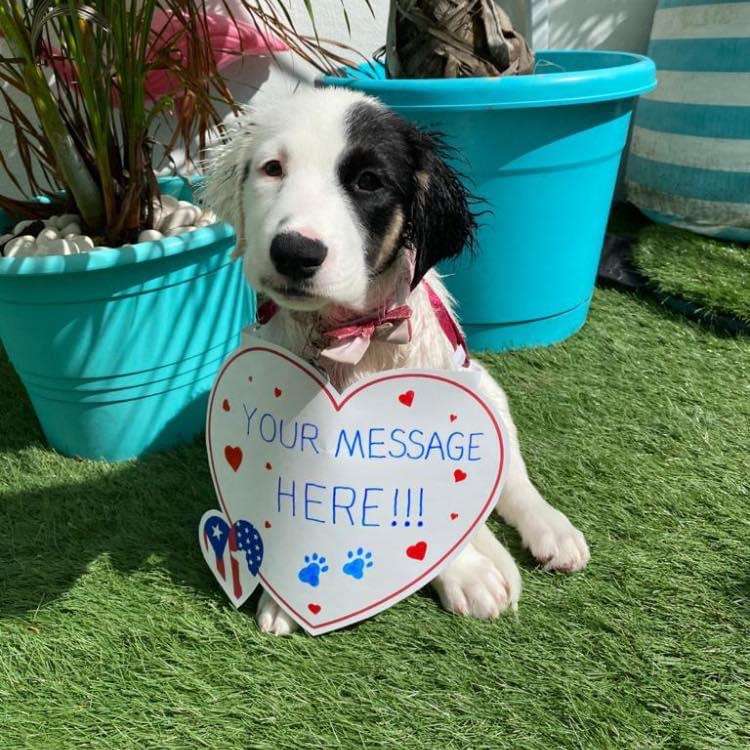 While at least 70 of the pups have found their perfect match, dozens of others still need a loving home. Those looking to "swipe up" on a new canine companion can browse adorable profiles here and fill out an adoption application here.
For those with commitment issues, there's still a way to help. The Sato Project is offering a broad range of Valentine's Day-themed "Thank You" gifts for any and all donations —100% of which will go directly to veterinary and transportation costs.
"It is not too late to send your valentine a personal message on Valentine's Day donned by an adorable sato puppy," the organization wrote in an Instagram post featuring one of the adorable rescue dogs. "Or you could also put your name or special message on the side of a lucky sato's travel crate while it flies to a forever family."
If you want to bring out the big guns to impress your valentine, a cool $10,000 will buy you the chance to decorate the plane itself!
"A decal of your name (or company logo) will be emblazoned on our plane," the website reads. "Do you want to propose in a big way? How about having some Puerto Rican treasures doing the asking for you?"
It's a cause that has Cupid flying high because, after all, even four-legged friends deserve a good love story.
---
×
Photos
Most recent Uplifting stories