Estimated read time: 4-5 minutes
This archived news story is available only for your personal, non-commercial use. Information in the story may be outdated or superseded by additional information. Reading or replaying the story in its archived form does not constitute a republication of the story.
LOGAN — There was no press release or public recognition when Craig Smith signed an extension with Utah State University to stay with the Aggies for an extended period of time.
That was by design, athletic director John Hartwell told a local radio station recently.
But the two parties are sticking together.
Smith signed an agreement in late 2020 to stay with Utah State through the 2024 season, a six-year amendment confirmed by a new contract obtained Tuesday by KSL.com via a public-records request.
"What it did was, even at the end of this year, he'll have five more years left on his deal; it was really a six-year deal," Hartwell told 106.9 The Fan in Logan last week.
"We really didn't publicize it. But obviously we believe in Craig; every day, that guy amazes me."
Much of the contract was discussed both formally, as well as in late-night text messages happening between 11:30 p.m. or midnight, "when most sane people have gone to bed," Hartwell joked.
The deal turns Smith's initial contract signed March 25, 2018, into a six-year deal worth approximately $3.9 million over the course of the contract. Smith is projected to make an annual salary averaging $550,000, tiering up as high as $850,000 in base compensation by 2024. The amendment also adds an additional year for qualifying for the NCAA Tournament, beginning April 1 through March 31.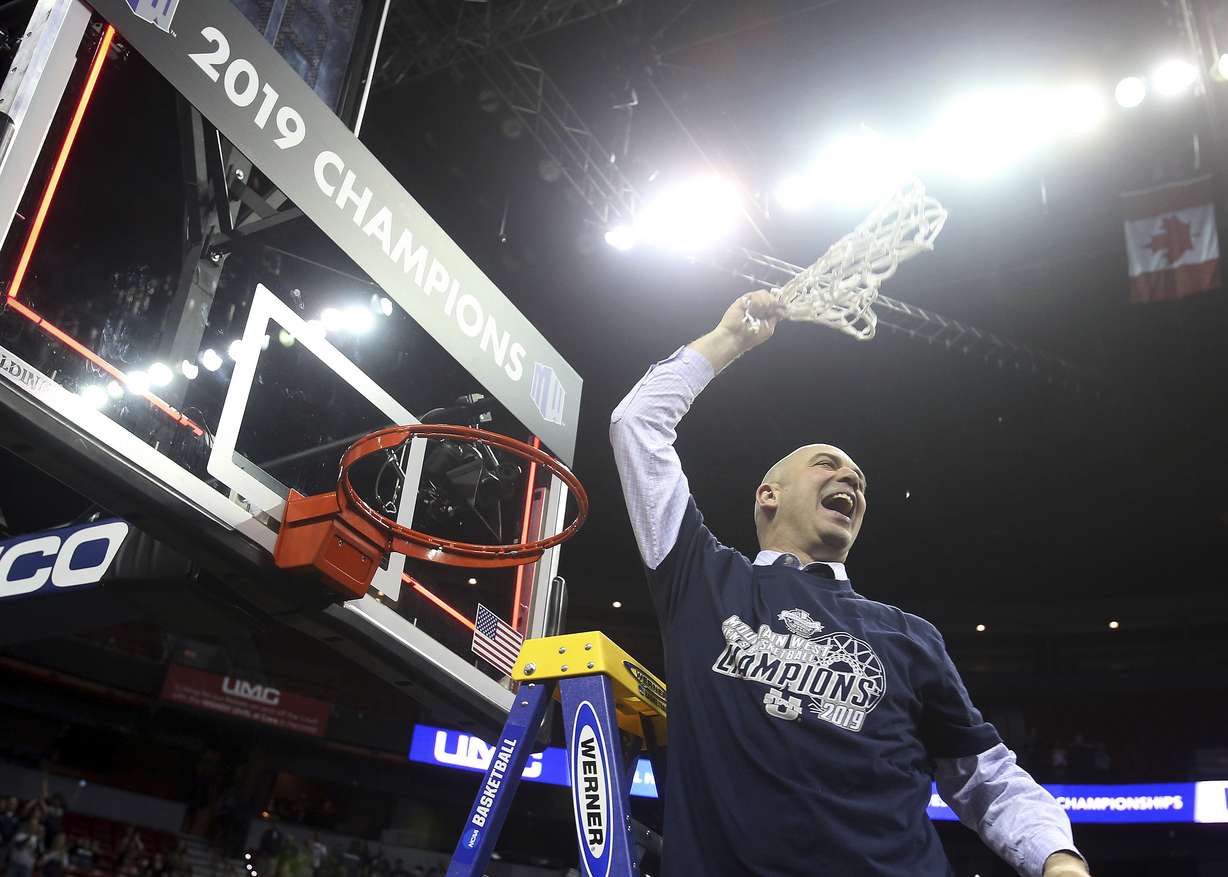 The new deal also includes $1.35 million in media compensation, primarily for Smith's attendance on his weekly coach's show. The new amendment also sees increases to assistant coaches Eric Peterson, Austin Hansen and David Ragland, with as much as $215,000 for Peterson, the top assistant, according to the contract.
"We had been in talks for a while about some things," Smith told reporters Tuesday before leaving for this week's two-game series at Boise State. "We're excited about it. We love Utah State; it's been an amazing place for my family.
"My wife Darcy and I have been married for 25 years, and we have four kids, but my oldest is a sophomore at Utah State. It's been a great move for our family, we love it here, it's a tremendous league, and we're surrounded by amazing people."
Incentives in Smith's contract include $100,000 for winning a national championship, $50,000 for a Final Four appearance, and $25,000 for each conference tournament or regular-season title (of which Smith has three, including back-to-back Mountain West tournament titles in his first two seasons).
The coach will also receive bonuses between $10,000 and $50,000 for appearances in the Associated Press Top 25, as well as $5,000 for each win in rivalry games, defined as wins over BYU or the University of Utah.
Under terms of the new deal, a mutual buyout between $650,000 and $850,000 was agreed to in the event either Smith or the university part ways prior to March 31, 2024. The buyout would begin at $775,000 by March 31, 2021 and tier up incrementally to the maximum price by the end of the sixth season.
The Aggies paid South Dakota, Smith's previous stop, a buyout of $206,250 when they hired Smith in 2018 when the initial hire was made. Smith compiled a 79-55 record over four seasons with the Coyotes, including a pair of postseason appearances in the NIT and CBI as well as the 2017 Summit League title. He also spent time as an assistant at Nebraska and Colorado State, and went 72-29 in three seasons at Mayville State in North Dakota, including an appearance in the NAIA Division II championship game in his third season.
But at Utah State, Smith has found another level of success. He took a team led by all-time Aggie Sam Merrill and Portuguese shot blocker Neemias Queta to back-to-back Mountain West tournament titles, a regular-season co-championship in his first year, and what would have been back-to-back NCAA Tournament selections in 2019 and 2020 were it not for the COVID-19 pandemic.
Under Smith, the Aggies are 68-20 with a 38-11 mark in Mountain West play. Named the conference coach of the year following his rookie season, Smith currently owns the best winning percentage in Mountain West history when combining league play and tournament play, a .796 mark that tops BYU's Dave Rose (.781), Nevada's Eric Musselman (.781), San Diego State's Brian Dutcher (.726) and Utah's Rick Majerus (.698).
But mostly, he's just happy to be in Cache Valley.
"This has been a phenomenal place to live and experience," Smith said. "We're sure excited to continue this journey at Utah State."
Utah State (14-5, 11-2 MW) is coming off three-straight postponed games with Fresno State and Wyoming when it opens against Boise State (16-4, 12-3 MW) in a battle of the top teams in the league at 7 p.m. MT Wednesday. The game will be broadcast on CBS Sports Network from Extra Mile Arena in Boise, Idaho.
And all this is playing out during a global pandemic that threatened to bring college sports to a halt, including canceling the NCAA Tournament last year.
"I think we're trending in a positive direction, but we're not out of the woods yet," Hartwell said. "If you had told me 11 months ago that we'd still be where we are now — it's probably better I didn't know that."
×
Related stories
Most recent Utah State Aggies stories