LAS VEGAS — Just stay poised.
That was the message Utah State coach Craig Smith delivered to his players at the 9:39 mark of the second half of the Aggies' Mountain West quarterfinal against New Mexico.
The Lobos had just built a 57-46 advantage, threatened to take down Utah State like it had done last weekend in Albuquerque, and were facing plenty of momentum with Utah State stars Sam Merrill and Neemias Queta saddled with foul trouble.
"It was just me, Sean (Bairstow) and then (Justin) Bean bringing the ball up," Diogo Brito recalled. "Coach called that timeout then, just said to keep our poise. And I think New Mexico also lost a little bit of the fire that they were feeding off from their fans."
To complicate matters, starting point guard Abel Porter was out with back pains, an issue that has plagued him for most of his junior campaign that will be his last in an Aggie uniform.
But back to the poise.
Utah State was rattled a week ago in the Pit. The Aggies were clearly rattled Thursday night in Las Vegas.
They were visibly frustrated: at the officiating, at a series of lengthy scoring droughts, at New Mexico's full-court press that forced 17 turnovers and turned them into 17 points.
But off the bench came Merrill, four fouls aside.
The senior from Bountiful put his team on his back, calmed the five-man rotation, and finished with 29 points on 10-of-15 shooting — 18 of them in the second half — and the Aggies ended the game on a 24-10 run to rally by the Lobos for a spot in the league tournament semifinals, 75-70.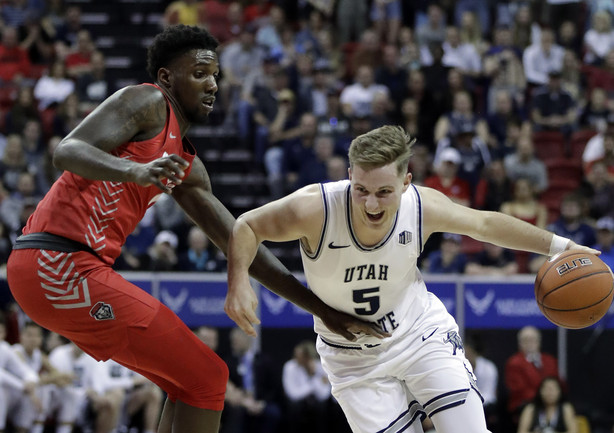 "Sam Merrill, Sam Merrill, Sam Merrill," New Mexico coach Paul Weir said. "I'm going to see this kid in my ... for a long time. Trey Knell, part two.
"Sam Merrill. He's amazing. He should be in the NBA draft. He kicked our (expletive). He kicked my (expletive). He's a great basketball player. I wish him all the best. He was exceptional tonight."
Merrill won't take credit on himself for his play, preferring to defer to his teammates. That's understandable; it's part of his role, as a senior, as a leader, as the Aggies' full-time floor general — sometimes, even when Porter is running the point.
"I think we did a lot of damage with our length and guys like Diogo and Justin up top who do a good job of communicating with each other and are really smart," Merrill said like a senior politician. "So I know of just sat in the corner and, I don't know, I just basically sat there.
"Not my best defensive game. But as a team we just, like coach said, we just found a way and that's how it has to be."
Make no mistake, though; Merrill, again, put on a clinic, scoring in different ways and showing a side of himself that has him risen to become the Aggies' second-best scoring leader all-time, behind just Jaycee Carroll.
Merrill hit 10-of-15 from the field, made 2-of-5 threes, and saddle up to the line to shoot 7-of-9. He finished with a game-high 18 plus-minus, the only player besides teammate Bean and New Mexico's Kurt Wegscheider to finish with a double-digit positive mark.
He was 5-for-5 from the field in the second half, and also had three rebounds, an assist, a steal — and drew nine fouls, including an and-one play down the stretch that helped Utah State come back to take control.
"You don't get to coach guys like him real, real often," Smith said. "And his accolades speak for themselves.
"Utah State has a great tradition of basketball, although we're a relatively new member of the Mountain West Conference. But that young man, when we got hired, all everybody ever said about Sam — and he could have went anywhere in the country, basically anywhere in the country — all everybody ever said about him is, all he wants to do is win. And it's amazing how his focus is always winning."
That's all the Aggies (23-9) can focus on, too. That loss in the Pit knocked Utah State to a precarious position, an NCAA Tournament at-large potential team on the cusp of the bubble; CBS' Jerry Palm and ESPN's Joe Lunardi both mention Utah State as one of the "last four in" in their latest bracketology reports.
Thursday night's win over New Mexico will help make their case for a bid. A loss would have been devastating to the cause, at least.
So, too, will a win over Wyoming help; the No. 11 seed stunned third-seeded Nevada 74-71 in Thursday's late-night quarterfinal. The Pokes are just 9-23 on the season, so a loss by the Aggies would also damage their resume — perhaps to a demonstrable level. Utah State may not be able to afford a loss Friday night (9:30 p.m. MT, CBS Sports).
Survive and advance. It's the theme of March, as much a part of the landscape as brackets and 'One Shining Moment.'
And it's the mantra of Merrill.
"When I went out with my fourth foul, I was just hoping that they didn't go on too big of a run," he said. "And we found a way to stay close-ish, and then found a way to win that game at the end. It's definitely one of the most emotional games I've played in, for sure."
×
Related Stories