Estimated read time: 3-4 minutes
This archived news story is available only for your personal, non-commercial use. Information in the story may be outdated or superseded by additional information. Reading or replaying the story in its archived form does not constitute a republication of the story.
SALT LAKE CITY — Utah declared pornography a public health crisis in 2016, prompting the late Larry Flynt to send every member of the state Legislature a copy of his Hustler magazine.
The pornographic magazine apparently started showing up at lawmakers' offices and homes in a brown envelope.
Rep. Lowry Snow, R-St. George, immediately tossed his copy in the trash.
"It's a stupid way to try and make a point," he told the St. George News. "It's unfortunate and low class. … I really didn't think he was serious."
The stunt was one of several connections between Utah and Flynt, who died Wednesday at the age of 78. The Washington Post described him as one of America's most notorious pornographers and self-proclaimed champions of First Amendment rights.
Utah became the first state in the country to declare pornography a public health crisis, and called on the industry and businesses to help keep "evil, degrading, addictive" materials away from children.
The day after Gov. Gary Herbert signed the resolution, Flynt declared that he would send copies of Hustler to each of Utah's 104 legislators as well as the governor to show them that porn was "no danger to the public, only to the repressed."
In the years since, Utah lawmakers have passed bills tightening filters on wireless internet at public libraries and getting information to parents about controls available at home. A new bill this year proposes to require makers of cellphones and tablets to have porn filtering software installed and switched on for all Utah sales. More than a dozen states have moved to declare pornography a public health crisis since the Utah resolution.
In 2012, Flynt offered $1 million for Republican presidential nominee Mitt Romney's tax returns and information about his finances.
"What is he hiding?" read a reward notice Flynt took out in The Washington Post and USA Today. The cash offer also was good for "details of his offshore assets, bank accounts and business partnerships."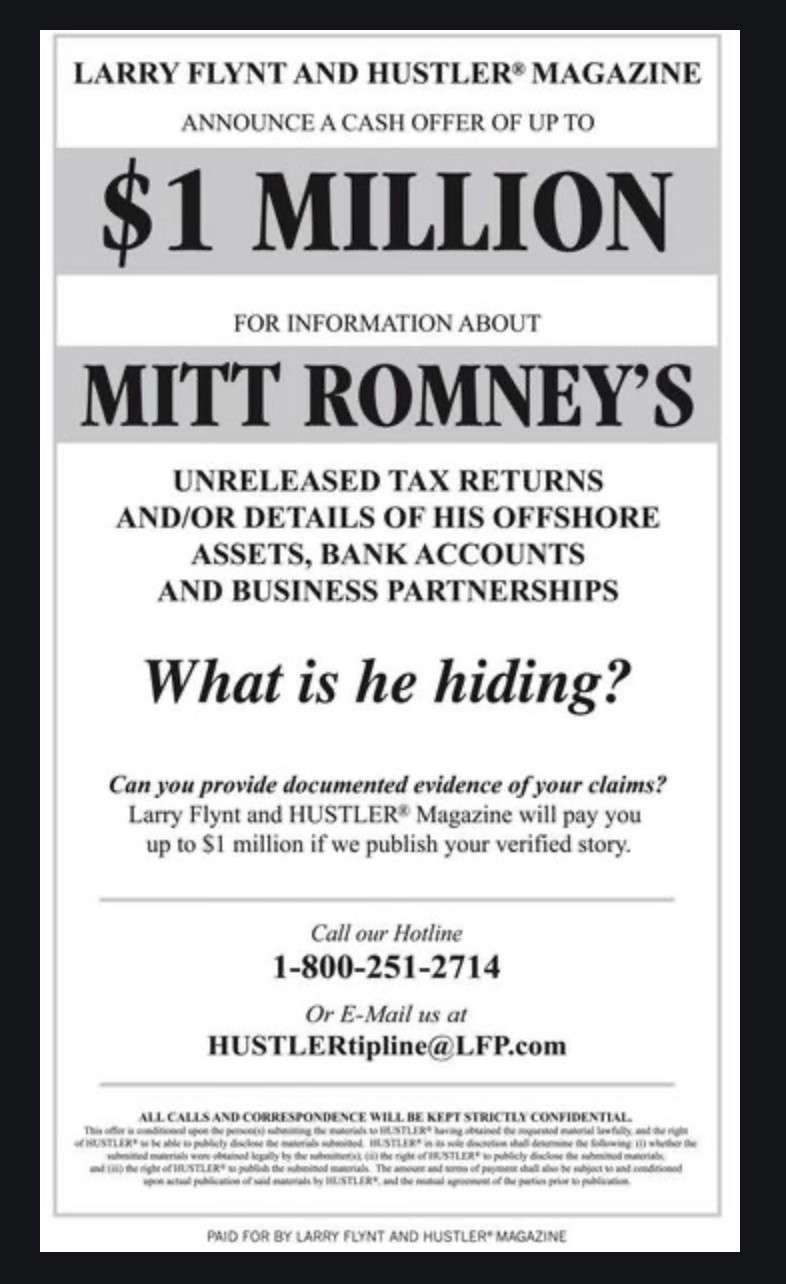 Political bounties weren't uncommon for Flynt. In 2017, he took out a full-page ad in the Post offering $10 million in cash for any information leading to the impeachment of now former President Donald Trump.
After months of political pressure during his presidential campaign, Romney, now a U.S. senator from Utah, released his most recent tax return and limited information from previous years about six weeks before the 2012 election.
Flynt's other connection to Utah came through Joseph Paul Franklin, the man who confessed to shooting him near Lawrenceville, Georgia, courts where he was on trial for an obscenity charge. The shooting left Flynt paralyzed and in a wheelchair for the rest of his life.
Franklin, a white supremacist who objected to Hustler's portrayal of interracial couples, killed two Black men — David Martin, 18, and Ted Fields, 20 — who were jogging with two white women in Salt Lake City's Liberty Park in 1980. Franklin positioned himself with a high-powered rifle in a vacant field just outside the park on the corner of 900 South and 500 East.
Franklin was convicted of eight murders: two in Madison, Wisconsin; two in Cincinnati, Ohio; two in Salt Lake City; one in Chattanooga, Tennessee; and one in St. Louis County, Missouri. He was never tried for shooting Flynt, and was executed in Missouri in 2013.
×
Related stories
Most recent Utah stories