Estimated read time: 4-5 minutes
This archived news story is available only for your personal, non-commercial use. Information in the story may be outdated or superseded by additional information. Reading or replaying the story in its archived form does not constitute a republication of the story.
SALT LAKE CITY — While there's a partisan rift over how to handle the land in San Juan County where Bears Ears National Monument exists, the monument's growing popularity is less debated.
That's why there's now a plan for bipartisan legislation aimed to create an advisory committee that would review the need for a visitors center outside Bears Ears National Monument.
Utah Reps. Phil Lyman, R-Blanding, and Doug Owens, D-Millcreek, who are sponsoring the bill said Monday that a visitors center would address the monument's popularity growth in recent years. They cited a study conducted by Utah State University's Institute of Outdoor Recreation and Tourism, which showed visitation to the area rose about 73% in the first three years after the monument in San Juan County was established in 2016.
The proposal invites the Navajo Nation, Ute Mountain Ute Tribe, Hopi National, Zuni Tribe and Ute Indian Tribe of the Uintah Ouray to serve as five of the eight committee members. The other three would be appointed by the Utah Legislature with at least one member of those three representing a minority party.
The advisory committee would also be allowed to select its leadership or other officers of the committee. Their job would be to look into "the feasibility, location, functions, and other important matters surrounding the creation of a visitor center at Bears Ears." If passed, it would call for close to $14,000 to be appropriated to the committee in the 2022 fiscal year to look into the issue.
The bill is expected to be officially numbered in the coming days before it is introduced at the Utah Legislature.
The creation and shrinkage of Bears Ears National Monument over the past five years has been one of the best examples of differing opinions regarding federally operated public lands in Utah. President Barack Obama designated 1.3 million acres of land for a new national monument in 2016; President Donald Trump signed a proclamation in 2017 that shrank its size about 85% to a little more than 200,000 acres.
One of the first items of legislation President Joe Biden signed after taking office last month was an executive order to review the changes that were made to the Bears Ears National Monument boundaries during Trump's term. The order also reviewed changes to Grand Staircase-Escalante National Monument, also located in southern Utah.
While views of both actions — and now Biden's review — have been debated by Republicans and Democrats alike, there's really no debate over the spike in the land's popularity. That shows in the unlikely pair introducing the bill.
Lyman said Monday he remains opposed to the national monument's creation, saying that he was pleased with Trump's proclamation but would have "preferred to see it rescinded." He explained that he initially opposed the idea as a county commissioner because he believed it would bring more attention to the land and lead to more land vandalism.
Owens, on the other hand, said he "strongly supports" ongoing efforts to restore the national monument to its original size. He also pointed out that he represents one of the state's more Democratic-leaning areas and fought for various other conservation efforts in Utah throughout his career.
"Clearly, there's a lot Rep. Lyman and I are going to disagree on … but we got to talking and we found that we have a considerable piece of common ground," he said during a press briefing at the Utah Capitol Monday. "And I found Rep. Lyman to be utterly sincere in his beliefs, and you can work with sincere people. So that's how this political odd couple got started."
They agreed that in addition to growth in popularity, there really haven't been any ways to inform visitors about the region "in a respectful manner." They also agreed that the national monument was the site of "amazing" Native American cultural resources that not only deserved protection but needed to be celebrated.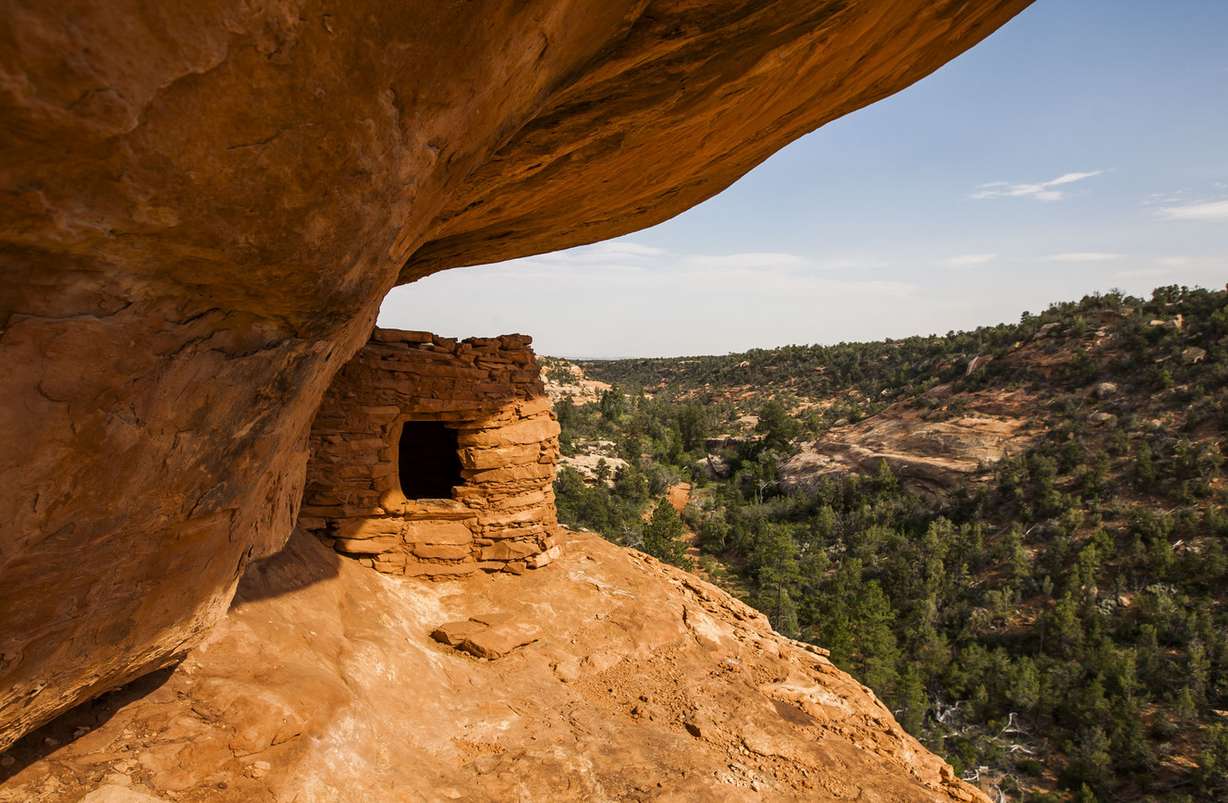 Their hope is that they are able to get both political parties at the Capitol, as well as all five Native American tribes in the region, on a facility that could help educate visitors about the location and its importance to Native American tribes.
"We both came to the same conclusion that there should be a facility there to help direct and educate the people who are coming to see that area," Lyman said while standing at a podium in front of members of the media.
"There are amazing people with a long, long history in that region; and the monument's desire to respect those people, respect their culture, to help them preserve it and display it and kind of inform the world of who they are and what's important to them — that rises above all politics," he added. "And, hopefully, it rises above any of the differences we may have here at the state Legislature."
Lyman said the measure they are proposing isn't intended to influence any of the federal debate over the size of the monument. Owens said they have been in communication with the region's tribes regarding the bill and that the tribes were reviewing the bill.
"It's an invitation to this point," he said. "We are in discussion with the tribes."
×
Related stories
Most recent Outdoors stories