LEHI — It was a sight (and a site) not normally seen: a dog on top of a roof.
A cat, maybe. But a dog?
On the afternoon of Feb. 5, a concerned citizen in Lehi saw the young black lab sitting perched atop the roof, and then knocked on the door to notify the owners. When no one answered, the citizen did the next best thing: snapped a picture and posted it to the community Facebook page. The post was successful in reaching the owners, but not before the community had some fun commentary.
"Santa clearly lost his dog," one person noted.
"What a great watchdog," was a kind comment left in support of the rooftop dwelling canine.
"We used to have a neighbor years ago whose dog would always go out their upstairs window onto their roof. I just laughed when I saw this since it brought back memories," someone reminisced.
The owners of the 10-month-old lab named Lacy are Dakota and Brittany Philips, who said that this is pretty much normal behavior for their family pet.
"We have a deck in the back where she can jump up on, and then on to the roof," Dakota Philips told KSL.com. "The back door has an open window that looks into the living room and kitchen, and she will usually stay there and whimper when she wants to come in."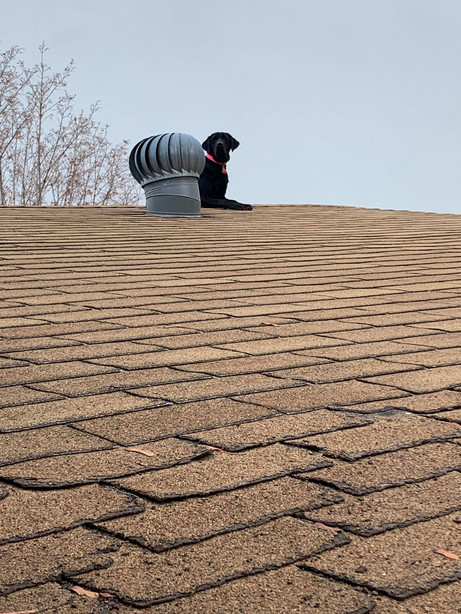 As far as sitting on the roof, Brittany Philips said that comes from Lacy's love for the family — particularly Dakota.
"A lot of the reason she is always on the roof is because she is super close to my husband," Brittany said. "When he runs somewhere quick, she waits for him or she loves to chill on the roof."
Dakota confirmed that he and his dog have a great relationship.
"I grew up having black labs, and when we got Lacy we just had this bond," Dakota said. "Since the day I picked her up, she's always been with me. She will be found carrying around one of my shirts and just lay with it. When I FaceTime my wife when I'm at work, Lacy will recognize my voice and try to find me. I guess you could say I've been the alpha from the beginning."
Dakota said he understands the concern when people see her on the roof, and even the curiosity because it isn't something people see every day. He said, however, that they are well aware and don't see it as a concern.
"We've had several people come knock on our door to let us know that Lacy is on the roof, and we know she's there," Dakota said. "She just stays up there, doesn't bark at people, and doesn't show any signs of being a danger to herself or others. She is a very obedient dog and when we call her down, she comes right down."
Dakota and Brittany said they are grateful for kind citizens but want them to know that Lacy is just as comfortable on the home as she is in the home.
The Phillips' set up an Instagram dedicated to their young pup's antics well before the infamous neighbor sighting, and it can be found by going to @lacythewatchdog.
×
Photos