Estimated read time: 6-7 minutes
This archived news story is available only for your personal, non-commercial use. Information in the story may be outdated or superseded by additional information. Reading or replaying the story in its archived form does not constitute a republication of the story.
PROVO — In most scenarios, a player on the defending Super Bowl champion who leads his team's defense in tackles and has a knack for making some of the biggest plays of the season would probably rank among the top jersey sellers in the National Football League.
But not Daniel Sorensen — and that's just fine with him.
The former BYU safety nicknamed "Dirty Dan" has earned a reputation as one of the top run-stuffing defensive backs in the NFL, wracking up a team-high 91 tackles, including 68 solo stops and two forced fumbles in helping the Kansas City Chiefs return to the top of the game for the second consecutive year in Super Bowl LV.
But for this Chiefs master, living a life of anonymity is about as good as it can get.
"This is just my personality; I've never been the player who necessarily enjoys the attention and the limelight," said Sorensen, who will suit up against Tom Brady and the Tampa Bay Buccaneers on Sunday (4:30 p.m. MT, CBS). "I've been that way since I was a kid.
"Even at BYU, I never really pushed or desired to be the person who gets a lot of attention; I actually prefer to just do my job, make my plays, and do my role. I'm satisfied with that. I don't necessarily need any attention from the media or the role. As long as I'm doing my job and keeping myself accountable to my teammates and my coaches, those are the only people I really care about."
As defending champions, the Chiefs (16-2) have a shot at rarified air in the history of the NFL: becoming the first team to win back-to-back Super Bowl titles since the New England Patriots in 2004 and 2005. Of course, it won't be easy.
On the other side of Sunday's game will be the home team, the Tampa Bay Buccaneers (14-5) — led by the quarterback that led the Patriots to six Super Bowl championships, Tom Brady. A win for Brady, of course, will likely cement the 43-year-old signal-caller as the greatest quarterback in the history of the professional game.
There are a lot of legacies on the line Sunday night in South Florida.
But Sorensen doesn't care what his stats look like or what kind of honors he receives Sunday night after the game — just as long as it ends in a win. He cares more that his wife Whitney can find a freshly-minted "Sorensen" jersey on the rack than that his number is emblazoned on every chest at Arrowhead Stadium on a given Sunday.
He'll leave the multimillion-dollar contracts and the big-time marketing budgets to guys like quarterback Patrick Mahomes, who signed a 10-year contract worth up to an NFL-record $503 million after leading the Chiefs to last year's Super Bowl title.
The rest of the Chiefs know how important "Dirty Dan" is to their success. Defensive backs coach Dave Merritt singled out Sorensen and another safety, Tyrann Mathieu, as being instrumental to Kansas City's success — both last year in winning a title in the club's first Super Bowl appearance in 50 years and in making it back to the NFL's biggest stage a year later.
That experience and camaraderie has been vital for the Chiefs, Merritt said. He added that "I'm glad he's on our side" about Mathieu — but truthfully, he could've been saying the same thing about Sorensen.
"You always try to draw on the past," Merritt said. "What they're about to embark on is something special, for their entire family and their community."
An undrafted free agent when he left BYU as the Cougars' all-time leader in pass breakups in 2014, Sorensen anchored the No. 3 total defense nationally with the 11th-most pass breakups in 2012. Playing under former head coach Bronco Mendenhall, the 6-foot-2 product of Colton, California, racked up 201 tackles, eight interceptions and 23 pass breakups in four years in Provo before departing for the NFL.
But instead of hearing his name called in the NFL draft, Sorensen waited by the phone for an opportunity. He estimates a half-dozen or so NFL teams called him — but only one head coach.
When Sorensen picked up his phone to hear Chiefs head coach Andy Reid, the two former Cougars and devout members of The Church of Jesus Christ of Latter-day Saints instantly connected.
"There are a lot of ties to BYU, but the church is such a big part of my life … it defines who I am as a person, our family and the choices that I make," Sorensen said after recalling the call with the beloved football coach. "I know it's the same with coach Reid. … To be able to share that with the head coach means a lot.
"We've had the opportunity over the last couple of years to share some intimate moments with our beliefs that mean a lot," he added. "I'm just grateful I've been able to be around him and to see the man that he is, even outside of football."
In Kansas City, Sorensen has found a way to shine, despite his no-draft status.
Much like he did under Mendenhall's defense, Sorensen immediately took to special teams to prove himself. Sorensen was often the first player in the Chiefs' training facility for individual workouts, and among the last to leave, as he worked on technique — both on defense and special teams.
When he arrived in Kansas City, he found a locker room much like the one he left at BYU — even more than two programs that were led by active Latter-day Saint head coaches.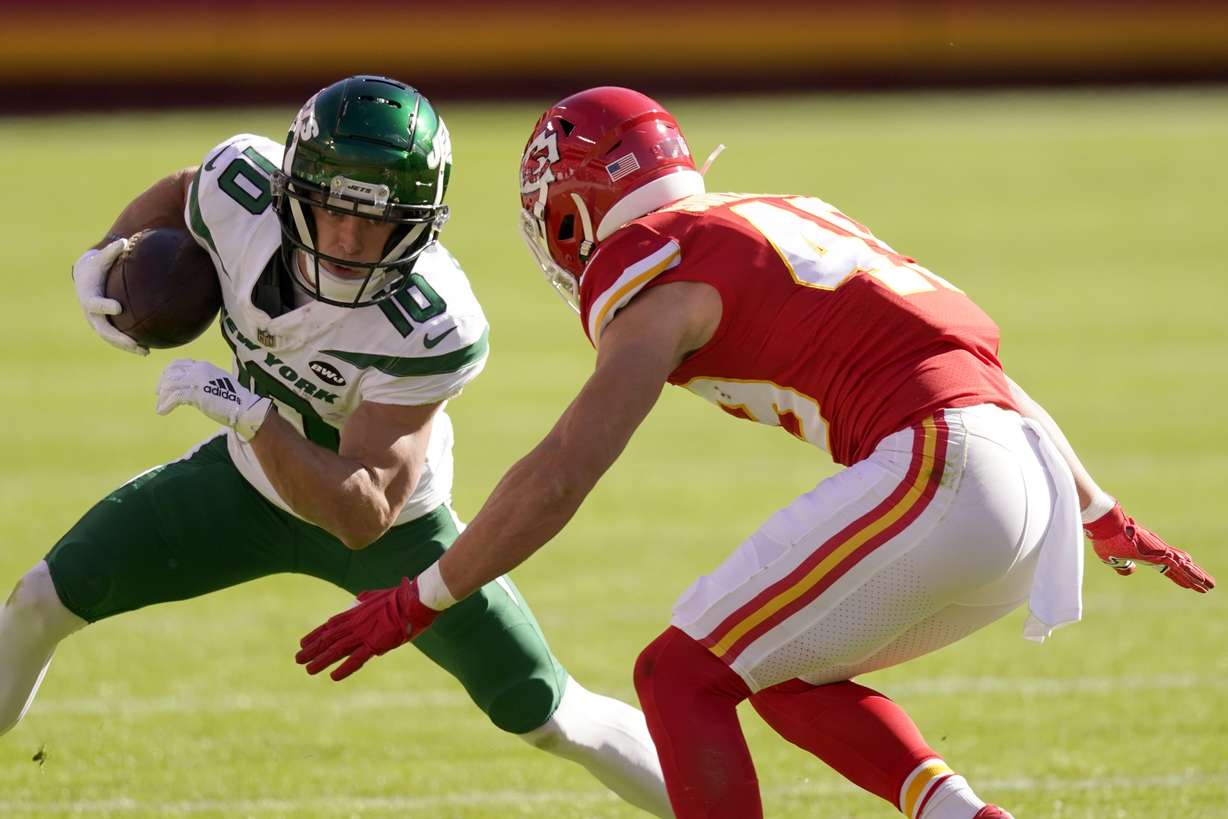 "When I got here to Kansas City, that was my role, contributing on special teams," Sorensen said. "I made my career starting there, and it was something that helped me transition to the NFL.
"But even more than that, it was the locker room and the kind of guys that the organization brings in. It's a very tight-knit family; we're as close as any team, and a lot of that is the reason for the success that we've been able to have."
Sorensen spent six weeks on the club's practice squad in 2014 and started just one game over the next three seasons, before an unfortunate Achilles' injury to safety Eric Berry in 2017 gave the BYU product a shot at a full-time job.
That year, Sorensen started the remaining 14 games, tallying a career-high 88 tackles, 1.5 sacks, five tackles for loss and seven quarterback pressures.
The rest, as they say, is history — the world champion kind, even.
"This was never in my sights or realm of possibility," Sorensen said. "It's hard to picture that I could be in this position where I'm at today. But it's pretty cool. It's pretty exciting.
"To be able to potentially walk away after this weekend with another championship, it's exciting for my family and my kids. To be able to have the opportunity to show them what's possible is pretty cool."
×
Photos
Related stories
Most recent NFL stories