Estimated read time: 5-6 minutes
This archived news story is available only for your personal, non-commercial use. Information in the story may be outdated or superseded by additional information. Reading or replaying the story in its archived form does not constitute a republication of the story.
AROUND THE SHIELD — Big Red is headed back to the Big Game.
After five decades between Super Bowl appearances, the Kansas City Chiefs are bringing head coach and former BYU offensive lineman Andy Reid back to the game's biggest stage.
Patrick Mahomes threw for 325 yards and three touchdowns, including 118 yards and two scores to Travis Kelce, to send the defending Super Bowl champions back in search of a repeat with a 38-24 win Sunday night over Buffalo in the AFC Championship game.
The Chiefs will face Tom Brady and the Tampa Bay Buccaneers in Super Bowl LV. Kickoff is scheduled for Sunday, Feb. 7 at 4:30 p.m. MT on CBS in a battle between a top up-and-coming quarterback in the league against one many describe as "the GOAT."
"It seems like we've had a couple of those, and every one of them is tremendous," said Reid, who won his 17th career postseason victory. "I wouldn't expect this one to be any less.
"Those two have a lot of respect for each other. … We look forward to the opportunity to play them. I know Pat does with Tom, and Tom likewise does with Pat. It should be a heck of a football game."
But for Reid, whose coaching career began as a graduate assistant at his alma mater in 1982, the game marks a chance to build on his first-ever Super Bowl title.
Reid became the first head coach since the 2002-04 Eagles to lead the hosts of the AFC title game in three consecutive seasons. He was also the head coach in Philadelphia when accomplishing that fate.
In his second AFC threepeat, he did his previous job one better.
Somewhere underneath Arrowhead Stadium, after Reid had wrapped up his injury updates and postgame comments with the media, the former BYU lineman promised to sit back and think about that opportunity — right before getting to work on the game plan to face the Buccaneers.
"I'm going to sit there and go, dog gone, how about this one?" Reid said. "This is better almost than beating Miami that year I was at Missouri; they were No. 1 in the country, and we almost beat them
"But we've got some work to get done. We understand that, and the guys understand that."
The Bills jumped out to a 9-0 lead when Josh Allen hit tight end Dawson Knox for a 3-yard touchdown strike moments after the Chiefs fumbled a punt near the goal line with 6:14 left in the first quarter.
But it was all Kansas City from there.
Mahomes led the Chiefs on a 38-6 run, capped off by his second scoring strike to Kelce via a 5-yard pass with 7:36 left in the fourth quarter.
The ability to rally took a special group of players. But it also took a special group of coaches, led by the man dubbed "Big Red" with a penchant for cheeseburgers.
"I'm proud of these guys," Reid said. "They did a phenomenal job, and hats off to the Buffalo Bills and the great job they did all year, and most of all, listen, we have the Lamar Hunt Trophy back in Kansas City.
"Now we have to get the big one."
His young, hotshot, gunslinging quarterback agreed before he faces the older, hotshot, gunslinging quarterback whose Super Bowl appearances require two hands to count.
"The job's not finished," Mahomes said from a socially distanced podium surrounded by his teammates, team executives and Hunt. "We're going to Tampa, and we're going to try to run it back."
Former BYU safety Daniel Sorensen finished with six tackles — two off the team high — and a quarterback hurry for the Chiefs.
In addition to Reid, Kansas City's coaching roster includes former Brighton High and Utah linebacker Alex Whittingham, who is in his third season as a defensive quality control assistant with the Chiefs. Additionally, BYU graduate and Wayne County native Porter Ellett is in his first season on offensive quality control, after spending three years as senior assistant to the head coach in Kansas City.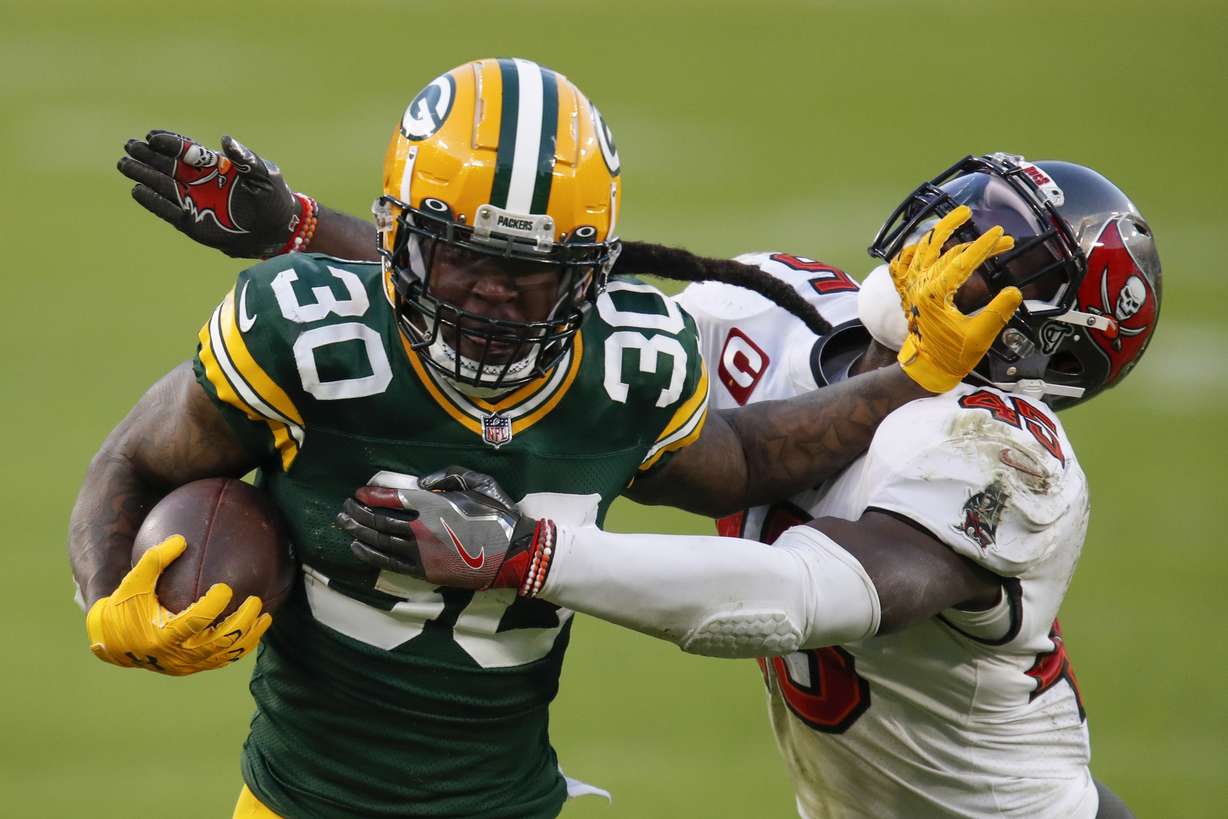 Tampa Bay 31, Green Bay 26
Tom Brady completed 20-of-36 passes for 380 yards, three touchdowns and three interceptions to book a spot in his NFL-record 10th Super Bowl, helping the Buccaneers become the first team in league history to play for the Lombardi Trophy in its home stadium.
Brady threw for 2020 yards and two touchdowns in the first half, but it was Tampa's defense that kept the Packers off balance. Jason Pierre-Paul had two of the Buccaneers' three sacks, and the visitors held Green Bay to just 42 rushing yards before the break.
After Brady led the Bucs to a 21-10 halftime lead, the 43-year-old quarterback let the Packers back into the game with three interceptions, including two to Jaire Alexander.
But after Aaron Rodgers threw back-to-back TD strikes in the third quarter to pull within five, the Packers curiously called for Mason Crosby's 26-yard field goal with 2:05 remaining, and Tampa Bay ran out the clock the rest of the way.
Pressed into increased action by the first-half chest injury to Aaron Jones, former BYU running back Jamaal Williams totaled 47 yards of offense in a backfield alongside Rodgers, who threw for 346 yards and three touchdowns with one interception.
But in an NFC championship focused on two of the top quarterbacks of the modern era, the defense took center stage.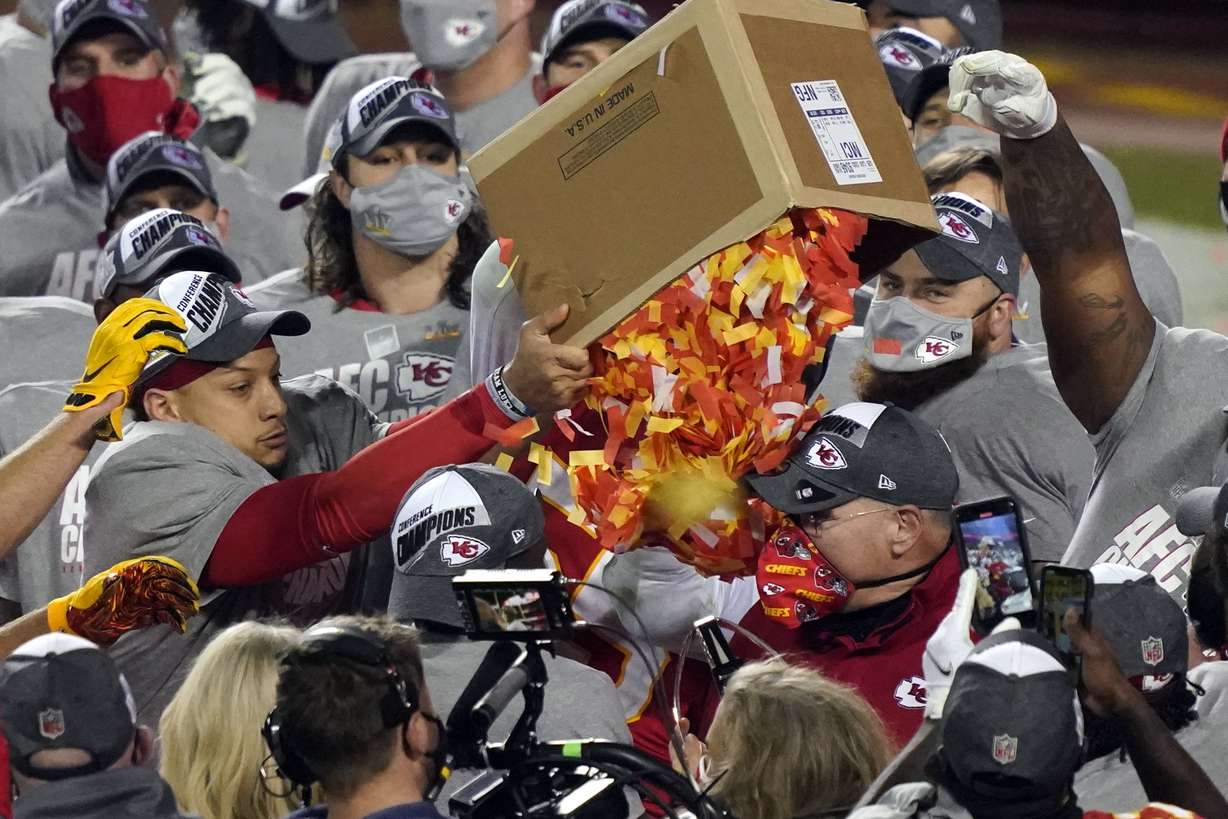 NFC Championship
TAMPA BAY BUCCANEERS (14-5)
No locals on the active roster
GREEN BAY PACKERS (14-4)
Jamaal Williams, RB, BYU: Starting tailback ran for 23 yards on 7 carries, caught 4 passes for 22 yards; also played on special teams.
Jordan Love, QB, Utah State: Rodgers' backup did not play.
Tipa Galeai, LB, Utah State: Practice squad.
AFC Championship
KANSAS CITY CHIEFS (16-2)
Daniel Sorensen, S, BYU: Starting safety made 6 tackles, 1 QB hurry in the win.
Darwin Thompson, RB, Utah State: Playing as a reserve.
Marcus Kemp, WR, Layton/Hawaii: Elevated to the active roster Saturday to play on special teams, secured late onside kick attempt for the Chiefs.
BUFFALO BILLS (15-4)
Taron Johnson, CB, Weber State: Starting nickel back made 5 tackles, 2 pass breakups in the loss.
Jordan Devey, OL, American Fork/Snow College/Memphis: Not active for AFC championship.
Star Lotulelei, DT, Bingham/Snow College/Utah: Inactive for the 2020 season due to COVID-19.
Zack Moss, RB, Utah: Placed on injured reserve (ankle).
×
Photos
Related links
Related stories
Most recent NFL stories