AROUND THE SHIELD — Andy Reid has won the big game.
If you're a Chiefs fan, or a Philadelphia fan, or a fan of any team that has been led by Reid in his career, you've probably wondered if you would ever utter those words.
After 222 career wins in the NFL, Reid went out on top Sunday.
The 61-year-old coach won his first Super Bowl as a head coach Sunday night with Kansas City's 31-20 win over San Francisco, with a little help from friends like Patrick Mahomes (286 yards passing, 2 TDs), Damien Williams (104 yards rushing, 2 total TDs) and a defense that held the 49ers scoreless during a 21-0 fourth-quarter rally.
It was the second straight postseason rally for the Chiefs, who won their first Super Bowl since 1969. That, too, goes back to their head coach.
"We have heart," Mahomes said. "From day one, coach pushes us to be the best people we can be. We never give up. The leaders on this team have that mindset, and we're going to fight until the very end."
One final time, Big Red, so the people in the back of Hard Rock Stadium can hear you.
"How 'bout those … Chiiiiieeeefs?!" he crowed.
HOW
'BOUT
THOSE
CHIEEEEEEEEEEFS?!?! pic.twitter.com/nIBNc1ILKr

— Kansas City Chiefs (@Chiefs) February 3, 2020
"Man alive, how great is that?" Reid said with his arm around Terry Bradshaw during the postgame trophy presentation. "Pat Mahomes and all of his boys, our defense taking care of business, our coaches. They all did a great job of keeping things right at the right time.
"It was a beautiful thing."
Reid, a Cougar offensive lineman from 1978-80 and graduate assistant in 1982, becomes the third BYU alum to win a Super Bowl as a head coach. He joins Mike Holmgren — for whom he worked on the offensive staff as an assistant with the Packers in the 1997 Super Bowl — and former BYU tight end Brian Billick, who led the Ravens to the 2001 title.
Almost universally beloved across the NFL, Reid was becoming known for taking his teams far — but only to a point. He was unceremoniously fired by the Eagles following the 2012 season, but Philadelphia management struggled with the decision — even saying the coach will be a surefire Hall of Famer in the press release announcing his firing.
Justified or not, bringing the Vince Lombardi Trophy to Kansas City for the first time in 50 years will go a long way toward defining Reid's legacy. His spot in pro football immortality seems all but guaranteed now.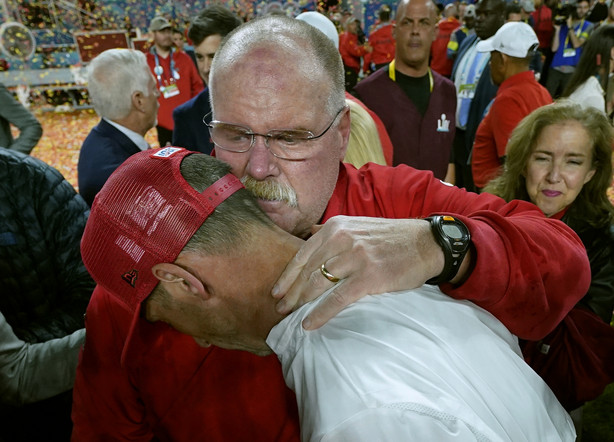 "There are many great coaches in the league that might not have as great of a character reputation as Andy," former BYU teammate Tom Holmoe said. "And there's some really great people in the league that aren't very good coaches.
"And he's a combination of both."
That appreciation includes the organization that currently employs the NFL's sixth-winningest active head coach.
"I can't think of a better conclusion to the 100th season of the NFL than receiving this trophy," Chiefs CEO Clark Hunt said. "I'm so happy for our players, coaches and fans — and especially Andy Reid. Nobody deserves this trophy more than Andy Reid."
Kansas City Chiefs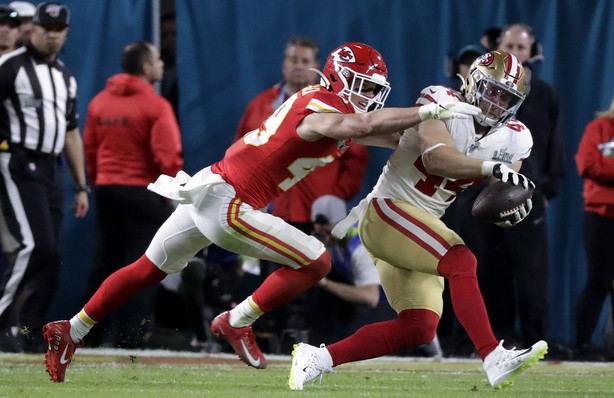 Daniel Sorensen, BYU
The former BYU safety compiled six tackles, one off the game-high set by Bashaud Breeland, who also had two tackles for loss and an interception.
Sorensen won his first Super Bowl title in the first appearance of his six-year career, one that started as an undrafted free agent in 2014 before the Chiefs signed him to a two-year, $930,000 free-agent contract by Reid's personal invitation.
Darwin Thompson, Utah State
Thompson had just one carry and one target in limited action on offense in the Chiefs' win. Thompson exited Utah State with a year of eligibility remaining, a move that paid off when he was selected in the sixth round by the Chiefs.
He finishes his rookie campaign with 128 yards and a touchdown in the regular season. "Darwin Thompson, the Super Bowl champ," he tweeted from a jubilant Chiefs postgame locker room. "Now that and my degree is what they can never take. Thank God, Call God, and tell him thank you for me! GODS PLAN."
Darwin THOMPSON the super bowl champ.. now that and my degree is what they can never take. Thank God, Call God, and tell him thank you for me! GODS PLAN.

— DARWIN THOMPSON (@DTRAINN5) February 3, 2020
Jackson Barton, Utah/Brighton High
Barton was inactive for Super Bowl 54, but became the 31st Utah high school football product to make a Super Bowl (along with Chiefs' teammate Marcus Kemp this year).
Marcus Kemp, Layton High
Kemp was placed on injured reserve in the middle of the regular season by the Chiefs.
San Francisco 49ers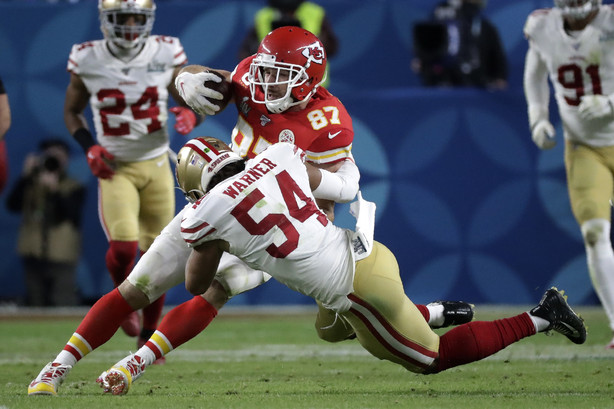 Fred Warner, BYU
Warner totaled seven tackles — the second-most on the team — to go along with a tackle for loss and an interception in the Niners' loss.
But with his first career postseason interception, the former BYU linebacker looked like he was ready to seal the victory for the #Faithful. Warner picked off Mahomes midway through the third quarter, and 49ers cashed in with a 1-yard touchdown run by Raheem Mostert that give San Francisco a 20-10 lead with 2:35 left in the third.
LIV Legendary @fred_warner‼️ pic.twitter.com/4jbLrn8xaA

— San Francisco 49ers (@49ers) February 3, 2020
Mitch Wishnowsky, Utah
The former Ute punter drew the first touch of Super Bowl 54 with the opening kick, then held for Robbie Gould on a 38-yard field goal that gave the Niners a 3-0 lead.
It was the only thing Wishnowsky had to do — holding and kickoffs — until the fourth quarter; the 49ers did not punt until the 8:53 mark of the fourth quarter, a 46-yarder by the Australian boomer.
After scoring on four of their first five possessions, the Niners punted on back-to-back drives in the final stanza, and added a turnover on downs and an interception to seal the loss. Wishnowsky punted twice for 86 yards, with one punt downed inside the 20.
×
Related Stories