PROVO — Looking beyond the national power that is top-ranked Gonzaga, there lies a bevy of teams in the West Coast Conference whose season is picking up steam as conference play rolls on.
BYU has won seven of its last eight games, for example, with the only loss to the aforementioned Zags. And while Saint Mary's, the other side of the usual "Big Three" has sputtered out of the gate with a 1-3 start to league play, others like Pacific have picked up the slack with the Tigers' 5-2 record.
And then there's the Cougars' next opponent, Pepperdine, which just handed those Tigers a 17-point setback Thursday night.
The Waves (6-6, 2-1 WCC) are among the hottest teams in the conference, led by junior forward Kessler Edwards, who recorded his 1,000th career point Thursday with a career-high 37 against Pacific.
Pepperdine makes its way to Provo on Saturday (8 p.m. MST) for the first of a back-to-back, home-and-away series with the Cougars, having won consecutive games in league play and boasting the second-best scoring offense in the WCC at 78.0 points per game.
The Waves are led by Edwards, the 6-foot-8, 215-pound forward averaging 18.9 points and 6.4 rebounds per game, and Colbey Ross, the 6-1 senior point guard who scores 15.9 points and dishes out 7.75 assists — with back-to-back games with double-digit dimes that include a career-high-tying 11 assists Thursday night.
"They got a lot of challengers," BYU coach Mark Pope said. "Coming into the season, I think everybody thought they would be in the top three in this league. Colbey Ross is a pro, and Kessler Edwards might be a big-time pro.
"They really shoot the ball, one through five … They're a problem. Defensively, they're really talented on the wings and can really guard you. They've got some length."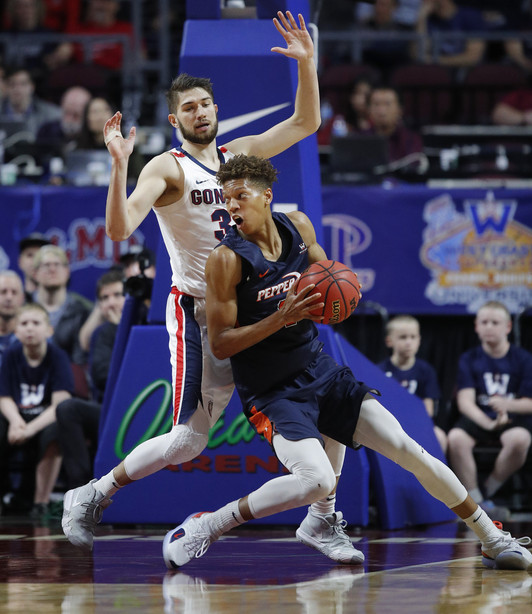 The Waves also get it done defensively. They top the league with a .281 3-point field goal defense, which could prove effective against BYU, which is second in the conference with a cumulative .351 3-point field goal percentage.
Edwards' 18.92 points per game trails only Gonzaga's Corey Kispert among conference foes.
Thanks to Ross, Pepperdine is also second in the WCC with a 1.25 assist-to-turnover ratio — only trailing Gonzaga's eye-popping 1.70.
Perhaps the Cougars' biggest advantage — beyond its roster that includes top-10 scorer Alex Barcello (15.87 ppg) and leading shot blocker Matt Haarms (1.92 bpg) — is the fact that the Cougars have already prepared for the Waves.
The two teams were originally scheduled to face each other in the conference opener Dec. 31, but the Waves had to postpone the game due to a positive case of COVID-19 within its program. BYU was on the flight to Malibu when it received word of the temporary cancellation, when it turned around and flew back to Utah.
"It's heartbreaking being on the plane, preparing all week to play a game and to have it postponed. But I think we're extremely prepared," Barcello said. "Pepperdine is a great team, and we're going to have to play them back-to-back."
That will lead to the Cougars' first back-to-back opponent of the season, with the rubber match coming next Wednesday, Jan. 27, at 1 p.m. MT in Malibu, California.
"I think our guys are ready," Barcello added. "Our coaches do a great job with our scout and film, and the guys do a really good job of listening to them and executing it on the court.
"I think it's going to be a battle. We have to play them back-to-back, which doesn't happen often, but I'm excited. I know the coaching staff is, too, so let's get it."
On the Air
Game 16: BYU (12-3, 3-1 WCC) vs. Pepperdine (6-6, 2-1 WCC), 8 p.m. MT
TV: ESPN2 (Dave Flemming, Sean Farmham)
Streaming: WatchESPN
Radio: BYU Radio, KSL Radio 102.7 FM/1160 AM (Greg Wrubell, Mark Durrant)
Series: BYU leads, 16-7
×
Related Stories