Estimated read time: 4-5 minutes
This archived news story is available only for your personal, non-commercial use. Information in the story may be outdated or superseded by additional information. Reading or replaying the story in its archived form does not constitute a republication of the story.
PROVO — Portland's Latrell Jones was having a day against BYU, dropping four 3-pointers and 15 points in the first half to welcome the Cougars back to the Marriott Center for the first time in 31 days.
BYU could afford to let him; Matt Haarms was having his way.
Haarms scored 23 points and pulled down six rebounds with three blocked shots to lead the Cougars to a 95-67 win over the Pilots on Thursday night, stretching their winning streak to three-in-a-row and seven in the last eight games while dropping Portland to winless in its last six.
The win marks the highest offensive output against a Division I opponent this season for BYU, and the most points since a 108-59 win over Division II Westminster in the season opener Nov. 25.
It was an other worldly shooting night, in many ways, but one that was also replicated for Haarms, who described a previous 9-for-9 effort in a previous life at his former school, Purdue.
"I did have a game like that actually, I think exactly like this one, when I was at Purdue when we played Illinois at home my redshirt sophomore year," Haarms said. "They were playing a really gimmicky defense, and it was working for me.
"In the first half, I didn't really establish myself but then they really helped me have a great game."
Haarms scored every way he could think of Thursday night. Driving to the rim? No problem. A mid-range floater? Check, and check. A 3-pointer from the wing? Haarms hit that with 8:02 remaining, then dunked over a hapless Portland defender on his next trip down the field.
The 7-foot-3 graduate transfer from Amsterdam by way of three seasons at Purdue shot 9-for-9 from the field, including the aforementioned triple, and added a 4-for-4 performance from the free-throw line to help the Cougars (12-3, 3-1 WCC) ease past their overmatched opponent in the conference home opener.
Haarms poured in the most consecutive makes for a BYU post player since Kresimir Cosic, the legendary Croatian big man who played for BYU from 1970-73.
"Any time you can put your name with Kresimir, that's pretty cool," BYU coach Mark Pope said. "And our bench nearly fell over in enjoying the last one, a three from the top of the key that bounced in.
"Matt's a terrific shooter, and it was a terrific performance by him."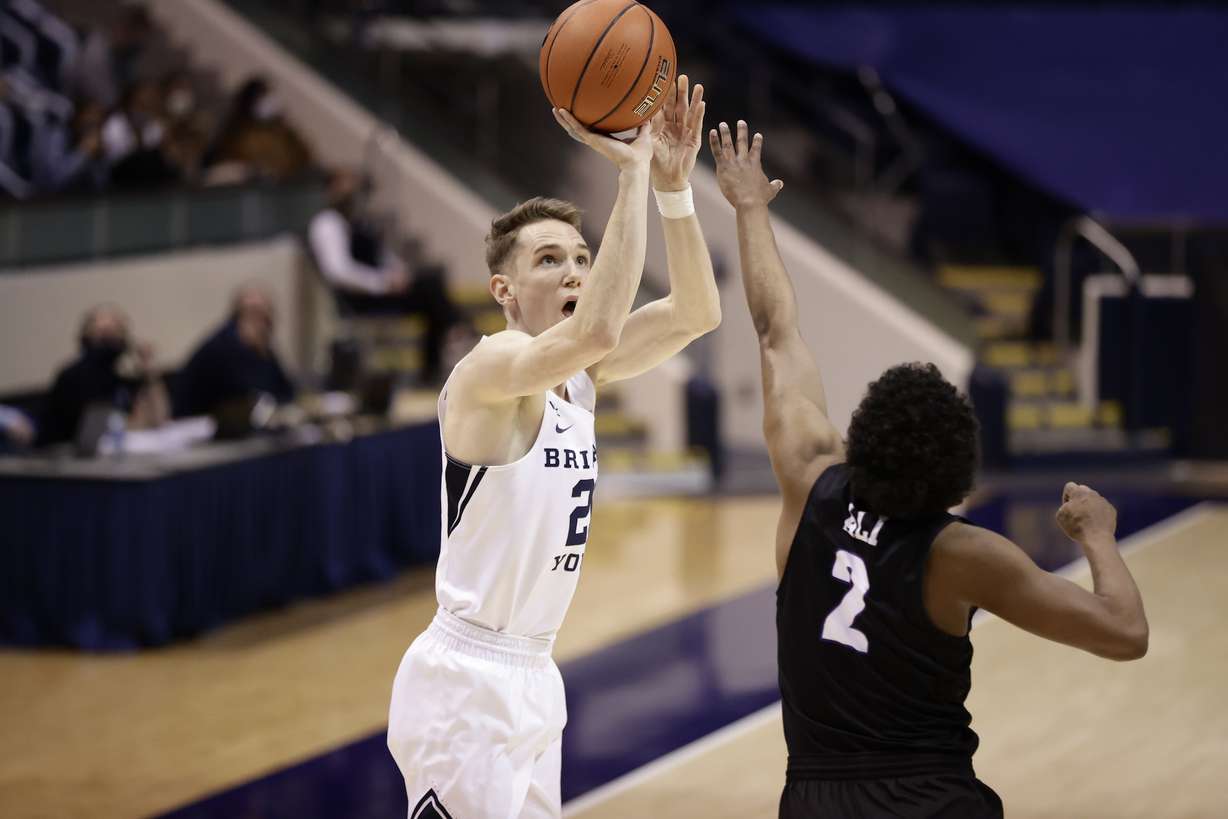 It couldn't happen to a better player, either, per his point guard and roommate Alex Barcello. When Haarms dropped in that 3-pointer — his first successful trey in more than nine tries, dating back to a 67-64 win Dec. 5 over Utah State — the bench erupted. If he could've tackled Haarms, he would have, Barcello noted.
Instead, at Haarms' urging, he ran back into his gap on defense.
"He works so hard every day … and how great of a teammate is he?" Barcello quipped. "It was unbelievable, and I was extremely happy to see him do so well tonight.
"I told him I wanted to tackle him when he hit that three, but was screaming at me to get back on defense and get in the gap. I'm excited for him as a player, and I think that gave him a lot of confidence. He's such a dominant force in the paint."
After ragging on Barcello for not doing the dishes or some other chore in their apartment, Haarms admitted it's "been a struggle" as he's tried to figure out his long-range game, despite his 7-3 frame.
"I'm really confident; I know I can hit, and it's why I keep shooting them like I do in practice," Haarms said. "But in games, they haven't gone in for a while. Everyone knew that, so to be able to hit one today felt really good — and they were extremely happy.
"It's really awesome to be part of a team like this."
Haarms' play opened up the perimeter, too. The Cougars shot 14-of-33 from 3-point range, including a pair from Barcello in a 10-point, eight-rebound, six-assist performance.
Brandon Averette added 12 points and four assists, and Trevin Knell made three triples on his way to 9 points in his third-straight start for the Cougars.
Richard Harward added 12 points and five rebounds off the bench, and freshman Caleb Lohner supplied 9 points, six rebounds and six assists for the Cougars, who outscored the Pilots 39-21 off the bench.
Jones finished with 21 points to lead Portland (6-8, 0-5 WCC), and Ahmed Ali added 12 points and four assists for the Pilots.
"One of the strengths we have is we have a lot of pieces," Pope said. "During the course of a game, you get to feel out a lot of pieces.
"Our guys have done a good job of responding with a lot of pieces. And energy-wise, our guys are on the floor fresh for a whole game. I think that wears on teams."
BYU hosts Pepperdine at 8 p.m. MT Saturday, its first of back-to-back games against the Waves after an early cancellation due to COVID-19 protocols two weeks ago.
×
Photos
Related links
Related stories
Most recent BYU Cougars stories